HashBiter: A Leading Cloud Mining Platform for Earning Passive Income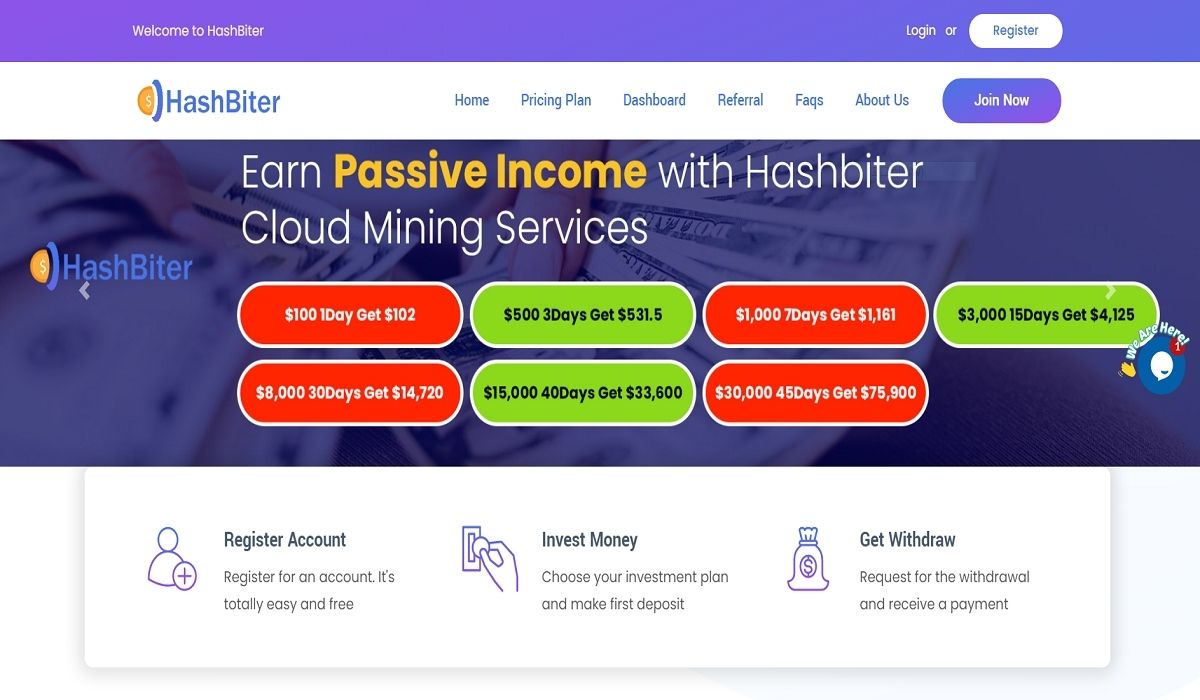 At a time when trading cryptocurrencies does not seem profitable or a little bit too risky then mining high-valued digital coins is a better and more sensible investment strategy that could produce profit in the long run without depending on the volatility of the market sentiments. But you cannot just begin investing in crypto mining without proper knowledge about the options available. According to experts, cloud mining is one of the safest ways to put your hard-earned money to work. But there are very few trustworthy options for a cloud mining platform that is safe, easy, versatile, and also profitable.
HashBiter is a renowned cloud mining company with numerous data centers located all across the globe catering to its hundreds of thousands of users on a daily basis. HashBiter is most famous for offering an easy method to increase one's passive income through simple investments in mining capabilities. The company relies heavily on physical miners which allows them to maintain low fees and provide high-grade mining capabilities. To start with HashBiter, all you have to do is:
Register your email address with HashBiter
Pick a suitable mining plan from 7 different plans
Make the first deposit for the plan chosen securely
Earn profits when the contract ends by requesting for withdrawal
Background:
The company leading HashBiter has ensured that all of the demands of a first-timer cloud mining investor are met through their platform in the simplest of ways and without causing any confusion. Keeping a global presence has allowed this platform to serve more than 785,000+ investors from different parts of the world. According to website statistics, a total of $821,565+ has been withdrawn from as fixed return (which is inclusive of bonus depending on the mining plan chosen for investment). The total number of transactions to have occurred on the HashBiter platform is north of 3,265,000.
Let us get to the mining plans available through HashBiter in detail in the following section;
1. USDT: for new users
This one is specifically for new sign-ups on HashBiter and thus requires the least amount of initial deposit than other plans. No maintenance fees are charged for opting for HashBiter mining plans.
2. USDT: Mining I
This plan is worth 5 times more than the entry-level plan but that is why this plan offers more as a bonus. The contract remains active for around 3 days without charging even a penny as maintenance fees.
3. LTC: Mining I
Litecoin, one of the top cryptocurrencies is supported on HashBiter for people to invest in through this risk-free mining plan. The duration for LTC Mining I plan continues as a 7-day contract which can be terminated by the user through a request for withdrawal.
4. ETH: Mining I
Ethereum is one of the most profitable mining investments as compared to other trending cryptocurrencies in the market. This plan is a bit expensive but totally worth a try for all those who have been looking for a worthwhile investment in Ethereum.
5. BTC: Mining I
Rather than losing a significant amount of money in trading bitcoin or being in a constant dilemma to wonder whether to sell or buy BTC as per the market's condition, it is much safer to invest in a BTC Mining plan via a cloud mining service with fixed return policy ensuring one never loses their initial deposit.
6. LTC: Mining II
This plan also involves Litecoin but the deposit, payout, and bonus amount is way more than the first plan. The contract remains active for 40 days without any maintenance fees during which various physical miners at the HashBiter data centers actively mine LTC.
7. ETH: Mining II
This is one of the most expensive mining contracts offered by the HashBiter platform to its elite users who are serious about investing money in cloud mining of ETH rather than doing it by themselves or wasting a huge amount of money by trading at the wrong time.
Reasons why HashBiter is best for cloud mining:
Instant withdrawals are one of the biggest reasons why associating with HashBiter's service is recommended by experts and long-time investors in cloud mining services.
Having a 24/7 reachable support line comes in handy when you wish to make any last-minute changes to your active mining plan. For this reason, HashBiter has a dedicated team of expert customer support available.
As a booming platform that is still attracting thousands of new sign-ups, HashBiter is offering a referral program through which users can earn more commissions via shared referrals links.
Security has always been a concern for cloud mining companies and has continued to raise suspicions about their services but HashBiter is unique as they provide top-tier SSL Security which guards the platform against DDoS and other such attacks.
To learn more about hashbiter, visit their website https://www.hashbiter.com to view mining plans and begin your mining journey.