Planet Finance Review — Everything You Need To Know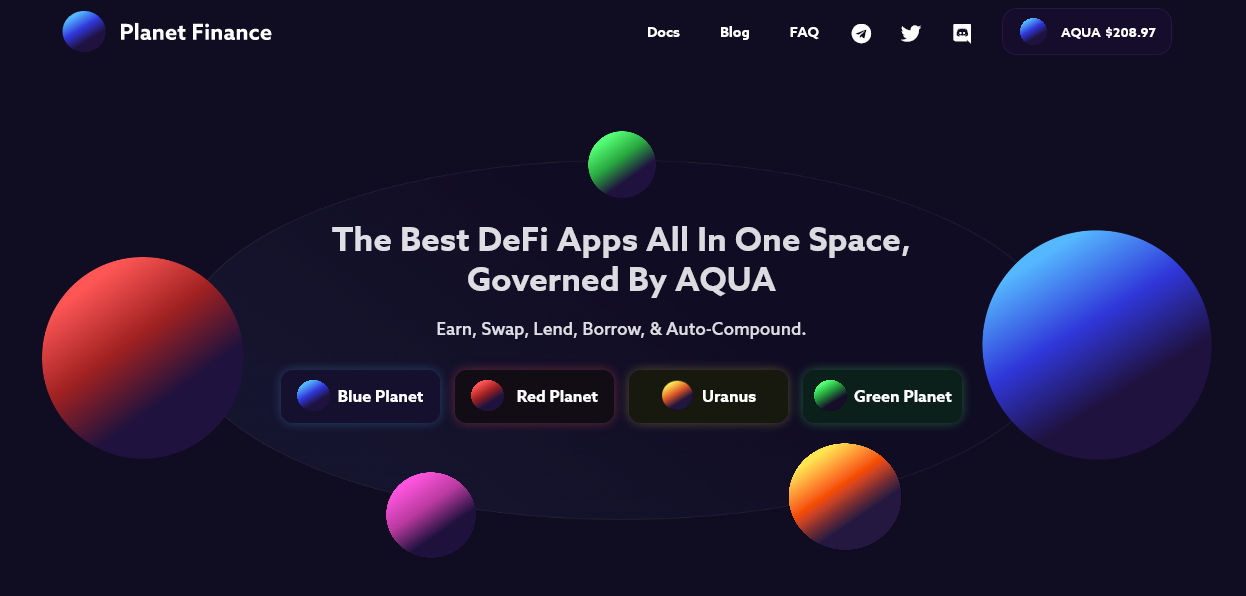 Have you heard about Planet Finance and its fancy Planet Apps? In this article, we are going to give you an extensive Planet Finance review. In a flat market, every investor and organization in the world wants to earn money. Lending and liquidity providing are two excellent methods to do this. For stable coins, the Blue Planet on Planet Finance will be the ideal spot to do so.
Individuals and businesses may plan financially by earning steady profits in flat markets. But let's not do this fast pace. Let us break down what Planet Finance is before diving in deeply. Let's get started.
What is Planet Finance?
Founded in 2021, Planet Finance is the brainchild of an anonymous team of blockchain experts from four different countries. To achieve the goal of uniting all of the greatest aspects and prospects of decentralized finance in one location.
As a financial protocol, Planet Finance is made up of several planets, each with its app, that allows anybody to activate their capital and bring it to work. The finest DeFi applications in one spot, with big returns and little risk, that's what Planet Finance is all about.
Powered by Binance Smart Chain, Planet Finance is an interstellar financial environment controlled by AQUA. At the height of high yields and little risk, Planet Finance brings together all of the greatest DeFi applications in one location. As a stable coin yield aggregator on Binance Smart Chain, The Blue Planet's objective is to be the best in class.
In DeFi, The Red Planet strives to be the greatest cryptocurrency aggregator. Coming soon will be a platform for real-time lending and borrowing, called The Green Planet. For those of you who don't know what a yield aggregator is, here is a breakdown.
Yield Aggregator in a Nutshell
A manual search for yield on each platform might be time-consuming because returns can vary widely between platforms. Functionalities for automating this procedure are introduced in new protocols. Use DeFi platforms and their yields to optimize profit for a user using Yield Actuators On top of that, yield aggregators make it easier for users to locate great offers by streamlining the process.
Aggregators not only move funds across DeFi platforms with the highest yield but also figure out how to maximize profits while keeping Ethereum network gas costs low. When it comes to risk management, the perfect yield-aggregator provides investors an in-depth risk management plan based on their selected personal risk tolerance profile. In this regard, Planet finance does not disappoint us. In addition to finding the finest return methods, yield aggregators may also assist investors to avoid tedious labor by finding the safest ones.
The AQUA Token
The token distribution in AQUA is the most equitable of any project. Neither team tokens nor a presale will be available. You can Earn $AQUA by investing your money in vaults and pools on Planet Finance. An early start offers definite advantages. For a starter, there will be a weekly distribution of 500 $AQUA for 200 days. Each block will contain 0.01736 $AQUA, which equates to $0.01732. (Every 3 seconds). Isn't this amazing? But what will happen after 200 days? Let us walk you through.
The quantity of $AQUA that is burned each day will depend on a variety of factors. A portion of the protocol fees from a variety of features will be distributed to holders of $AQUA. There will be no more $AQUA created. Most "assets" are increasing, thus the price of a single unit of $AQUA will be quite rare.
The AQUA Token is specifically designed to use for:
Use to receive fees from the protocol on the Planet Finance.
For purchasing NFTs on the platform.
They are used for voting on governance issues, which influence how Planet Finance develops & improves over time
Contrary to most major cryptocurrencies, AQUA cannot be purchased directly with fiat currency, despite being listed on several crypto exchanges In any case, you may still purchase AQUA by first purchasing Bitcoin from any fiat to crypto-exchange, and then transferring it to the exchange that trades AQUA.
There will only ever be 100,000 AQUAs in the entire world. Planet Finance has different apps called planets. On each planet, a percentage of profits will be used to burn AQUA. When it comes to generating value for all token holders, burning tokens is the most effective method to do so. As a result, each AQUA holder's share of the overall supply increases. When all fiat currencies are expanding at substantial rates, and most cryptocurrencies have unlimited supplies, something else was needed.
Planet Finance Apps
This is the finest stable coin aggregator, with the best auto-compounded yields in DeFi. Putting your BUSD in a vault on the Blue Planet, for example, starts generating interest instantly. To make things even easier, Planet Finance's protocol converts your yield into BUSD and auto-adjusts the compounding for you. On top of that, you'll also receive AQUA. ‌
There's a good chance that more cryptocurrencies may be introduced to Blue Planet in the future. High-quality crypto-currencies under secure smart contracts is the ultimate objective of this project." The community will be able to vote on whether or not to add additional cryptos.
Currently, Cryptocurrencies such as AQUA, BNB, BUSD, USDT, USDC, DAI, and VAI are being supported on Blue Planet.
The Red Planet provides the greatest auto-compounding returns on the best cryptocurrencies in DeFi, including Bitcoin and Ethereum. Cryptocurrencies that will power the world's infrastructure in the future are a remarkable thing to have in your possession. Investing in cryptocurrency and earning substantial returns is a whole different ballgame.
As an example, putting your Bitcoin (BTCB) in a vault on Red Planet will instantly begin to create a return for your investment. Profits are subsequently turned into Bitcoin and automatically compounded via Planet Finance's protocols. Additionally, you'll earn AQUA.
We should expect to see even more cryptocurrencies on the Red Planet. High-quality crypto-currencies under secure smart contracts is the ultimate objective of this project." The community will be able to vote on whether or not to add additional cryptos. Currently, Cryptocurrencies such as AQUA, BNB, BTCB, CAKE, ETH, LINK, SXP, and XVS are being supported on Blue Planet.
Green Planet (Soon)
On the Green Planet, you can use your crypto for good. Meanwhile, your crypto is being borrowed by borrowers at a fixed rate. In exchange for the use of your funds, this interest is given to you as the lender directly. To reduce risk and increase leverage, more sophisticated DeFi users employ loans.
For borrowers, rolling interest is a game-changer. Lenders were traditionally paid regularly such as monthly or quarterly. Nothing much happens in a day. When you lend your money on Planet Finance, you get paid in real-time.
Your supply balance grows as you lend your money to the Green Planet. What you have here is your security. To borrow bitcoin, you must have Green Planet collateral. In freeing up your collateral, the amount you acquired and must return will gradually grow at the current APY you're paying to borrow the cash. for more information visit official medium announcement
As far as auto-compounded shitcoin yields are concerned, Uranus is the greatest choice in DeFi. On Uranus, you'll find folks who are persistently in search of a new 100x crypto.
From PancakeSwap, all of the pools listed below are imported straight into Uranus. You will get claimable AQUA in the form of CAKE won from these pools. Thanks to multipliers applied to each, you may expect a large boost in your yields from these new vaults on Uranus.
Planet Finance is presenting a whole new strategy with the introduction of Uranus. Total Earnings now has two buttons. AQUA earned in two methods makes up the total earnings. As a result of the token distribution, "Collect" (blue button) claims the AQUA that was earned. "Claim Boost" (green button) converts everything CAKE earned into AQUA, which is then paid out to you in real-time.
Pink Planet
Pink Planet is an upcoming Planet app that is coming soon to Planet Finance. The app will give users a unique marketplace to create, buy and sell digital assets known as NFTs. For those of you who don't know what are NFTs? Here is a quick guide.
"Non-fungible token" is what NFT stands for. "An NFT" refers to data that has been saved or recorded in a digital ledger system, and this data reflects something particular. Such a file can be anything from a work of art to a music album to various sorts of digital data. The possibilities are endless! Isn't that all?
Convert LP – the Breakthrough in Planet Finance
If you have Liquidity Pool tokens, you may use Convert LP to convert them into a single token with only one click. Adding and withdrawing liquidity from vaults is now easier for the user.
Planet Finance is the first blockchain and DeFi project to offer this functionality! For DeFi to become widely adopted, this is both historic and a huge step forward.
Final Verdict – Owning the Infrastructure of Future
Smart contracts on blockchains utilizing tokens are reshaping the world's economic landscape today. It is possible to hold a portion of the protocol with the cryptocurrencies that "win." This is momentous. Planet Finance might be another game-changer in the future of the crypto industry. The Variety of features it is offering surely attracts a lot of users.
Let us know how's been your experience with Planet Finance? Have you tried the Yield Aggregator yet? We would love to hear your thoughts about this. Join us and be a part of this great community.