Ripple CEO's Diehard Claim on XRP Over JPM Coin – Says XRP is Best Positioned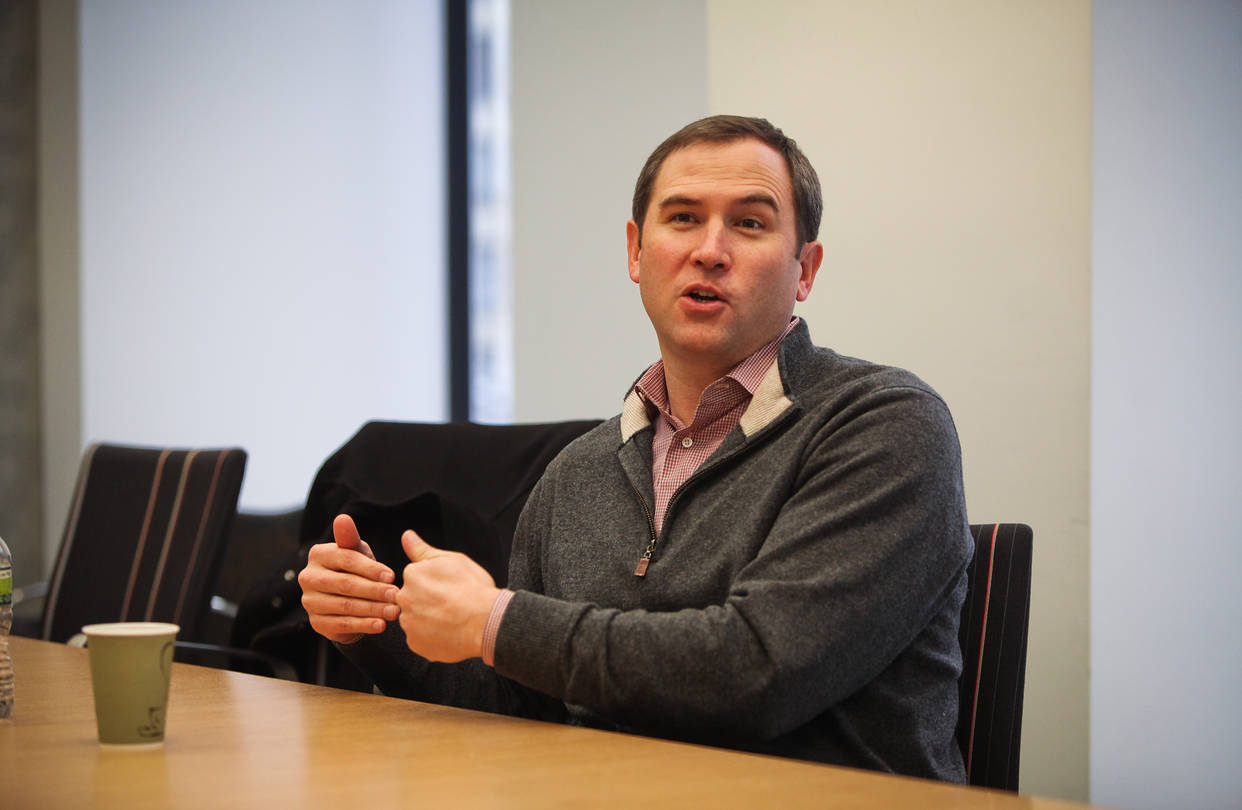 So the announcement of JMP coin, a bank-backed cryptocurrency is rolled out. Although, it's the first time in the world that the US's largest bank, JP Morgan is launching its own cryptocurrency called JPM Coin. At the same time, Ripple which is constantly enabling banks to employ blockchain and enter into a crypto era with its native coin, XRP cannot be avoided.
As predicted, banks are changing their tune on crypto. But this JPM project misses the point – introducing a closed network today is like launching AOL after Netscape's IPO. 2 years later, and bank coins still aren't the answer https://t.co/39EAiSJwAz https://t.co/e7t7iz7h21

— Brad Garlinghouse (@bgarlinghouse) February 14, 2019
While everyone is busy talking about new JPM coin, Ripple CEO, Brad Garlinghouse released a blog, entitled 'The Case against bank coin'. It is quite important to note that JP Morgan's cryptocurrency is a stablecoin, backed by the US dollar.
XRP is Best Positioned
Brad in his blog post talks about how few banks introduced a new coin in past and how it became 'misguided'. While talking about the 'utility settlement coin', introduced by UBS, Deutsche Bank, Santander, and BNY Mellon, Brad says 'it is deeply misguided'. He says;
While this development signals significant market traction for institutional use of digital assets, I have to say it's deeply misguided. A bank-issued digital asset can only really efficiently settle between the banks who issued it. Then, two scenarios can play out.
He further explains the two scenarios wherein one rarely possible that banks around the world adopt the same digital assets with agreeable terms. And on the other hand, banks not being with the issuing group will issue their 'digital asset' consequent to their own set of rules and regulations.
It Must Be Universeral Currency
We're kinda seeing this already, Brad said. By referring to FT's article, he points;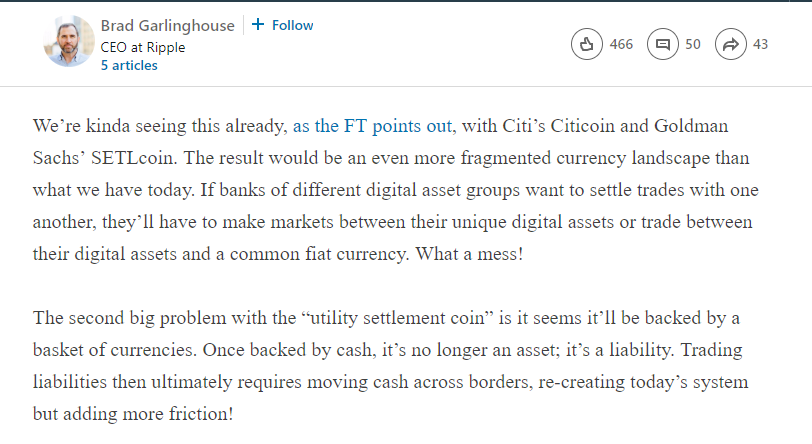 Explaining the issues with bank backed digital currency, Brad referred XRP, the best for banks. He believes banks to have an independent digital asset that enables inefficient settlement. Brad call 'cryptocurrency must be universal currencies' that gives the currency a sense of universality. Such universal currencies would enable global reach and settle transaction much faster. Brad further conclude by saying;
Compared head to head with other independent digital assets (like bitcoin or ether), XRP settles the most efficiently cross-border, in just seconds. In fact, we've run tests with global banks to prove XRP can lower liquidity costs for cross-border trades. More to come on that front.
So reader, what do you think about Brad's claim on JPM coin? share your opinion with us