Ripple Price Analysis – XRP Price Is Likely To Hit $0.35 Once It Moves Past $0.31 Resistance
Recently, the price value of XRP broke two crucial resistances $0.31 and $0.32 respectively by posting a price rally of around 10 percent. These breakouts brought the price value of the fifth-ranked cryptocurrency at a point where it had a pretty good chance to break above the figure of $0.33 as the coin surged as high as to reach $0.329 on the trading platform of the United States-based cryptocurrency exchange Kraken, according to the data from Trading View. However, the coin could not handle the heavy resistance at the $0.33 level and dropped again below the psychological level of $0.30. But it has not completely gone bearish and may head toward $0.35. For that, the breakout of $0.31 is necessary.
Statistics of XRP
As per the data from CoinMarketCap, the statistical data of XRP is given below:
Out of the entire digital currency market capitalization, XRP's market cap is revolving at around $12,979,254,157.
The 24-hour trading volume is $4,023,198,096.
45,404,028,640 XRP is the total circulating supply of the fifth-ranked digital currency.
Current Price Value
At the press time, the price value of XRP is trading down 2.45% in the past 24 hours while standing at around $0.2799.
Price Analysis: XRP Price Is Currently Consolidating
Since the time the native cryptocurrency of the San Francisco-based blockchain remittance payments firm Ripple entered into the $0.28 – $0.29 range, it's been trading slightly reddish. Though the overall sentiment is not bearish, there are still effects of bearishness surrounding the coin while making it difficult for the coin to go upward and show some bullish rally.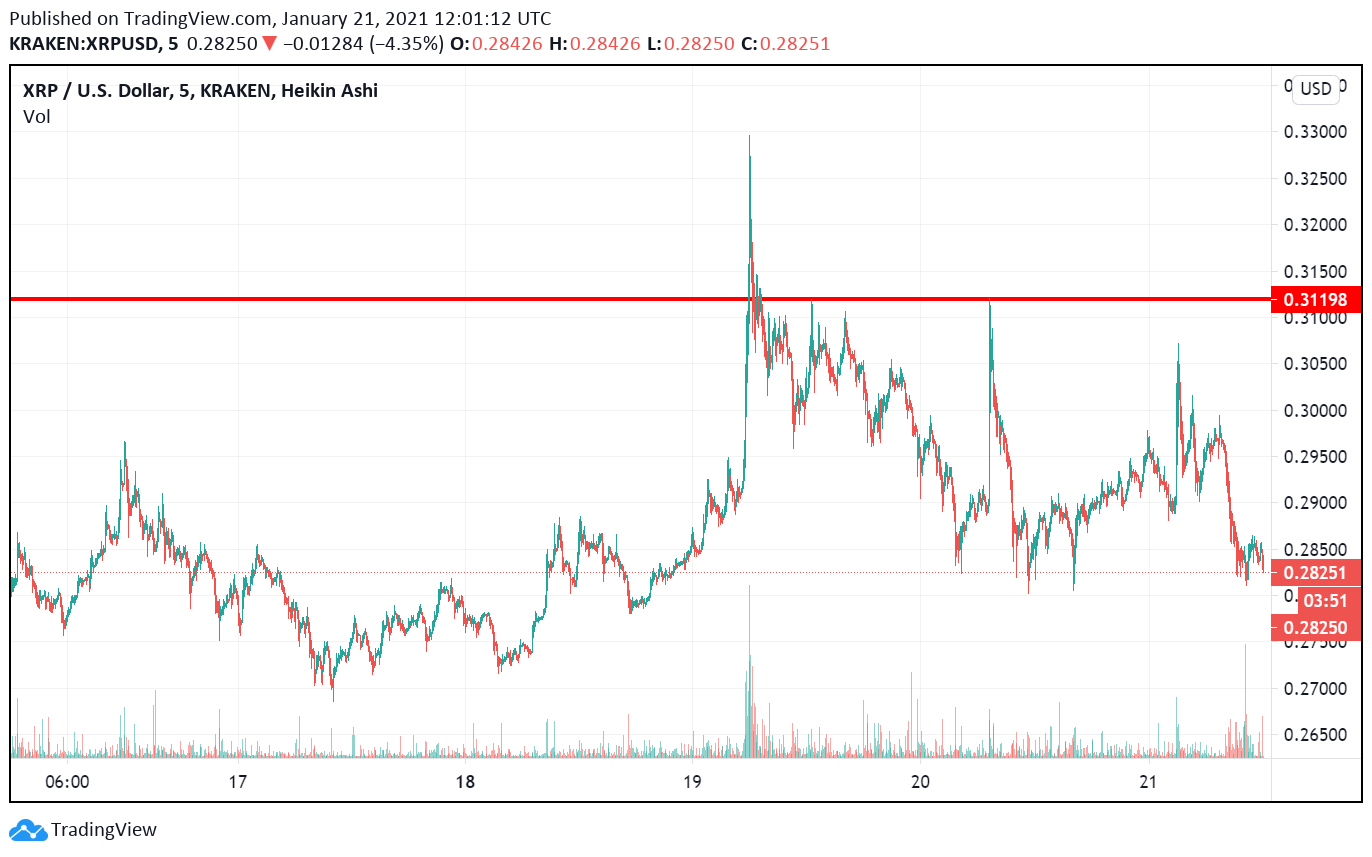 Source: Trading View
It has broken its psychological resistance of $0.30 a few times during the past 48 hours, but it got rejected at the $0.31 resistance level, which is a crucial one for the coin. It is currently looking to sneak through this price resistance so that it could move ahead towards the next bullish mark. XRP might hit the price mark of $0.35 in the next few days if it is able to get over the tough-to-break resistance of $0.31 in the short-term case scenario. Like earlier, it is expected to show a sharp price rally towards $0.40 as well if this resistance is broken.