Ripple Technical Analysis XRP/USD, XRP/BTC April 27, 2018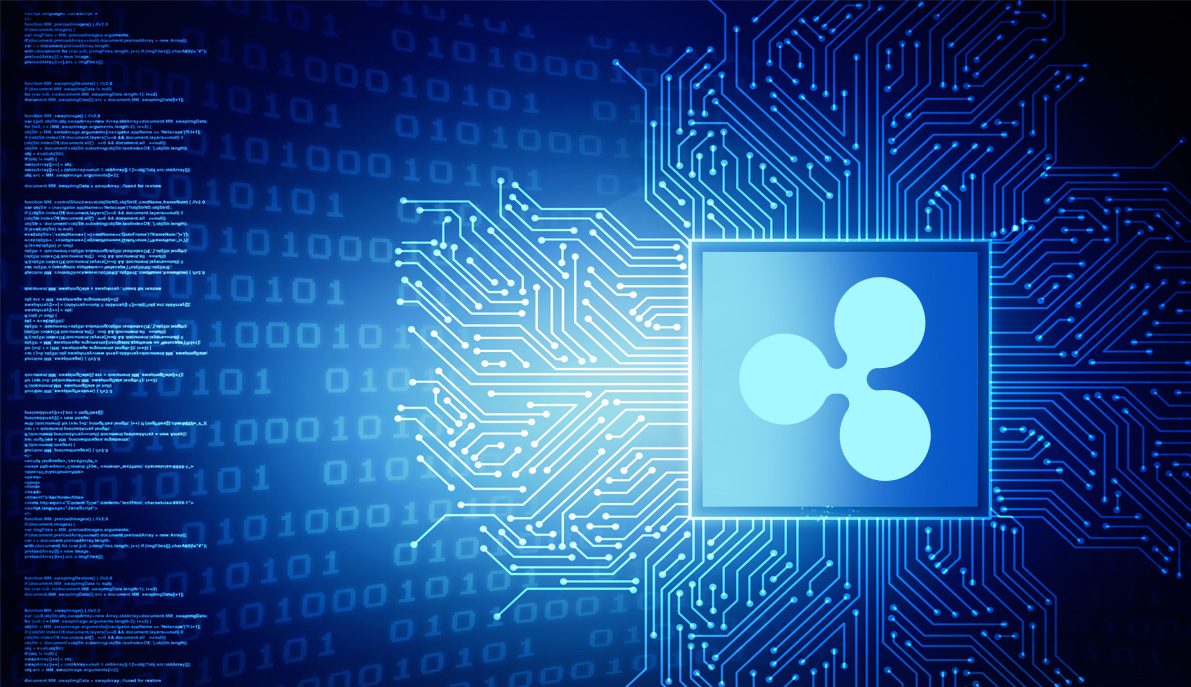 From the News
Week in week out, everything seems to be falling in place in the cryptocurrency world. Even though prices are not that stellar as they were last week, at least they are in the green. In the last seven days, Ripple is up three percent and creeping towards the hallmark, $1. It will be phenomenal if we see a breach since it might signal a probable start of another bull wave after sinking 90 percent in Q1 2018.
Fundamentally, news is Ripple Partners and American Express might get the nod from the PBOC on their bid to offer payment services in China. Nothing is conclusive yet but in the run up to a trade negotiation between China and Trump's official, the PBOC is showing willingness to work with LianLian, Ripple Partners and AmEx. It's surely exciting stuff and may be the result of that meeting which Ripple officials had with PBOC back in August 2017.
In other news, Revolut, an international start up plans to add XRP to its platform. This is in line with their overall objective: that of linking traditional banking system and cryptocurrencies. With this announcement, users can now link their bank account, verify and buy XRP which they can later redeem to 25 fiat currencies. Afterwards, they can spend them through their Visa or MasterCard debit cards.
Ripple (XRP/USD) Technical Analysis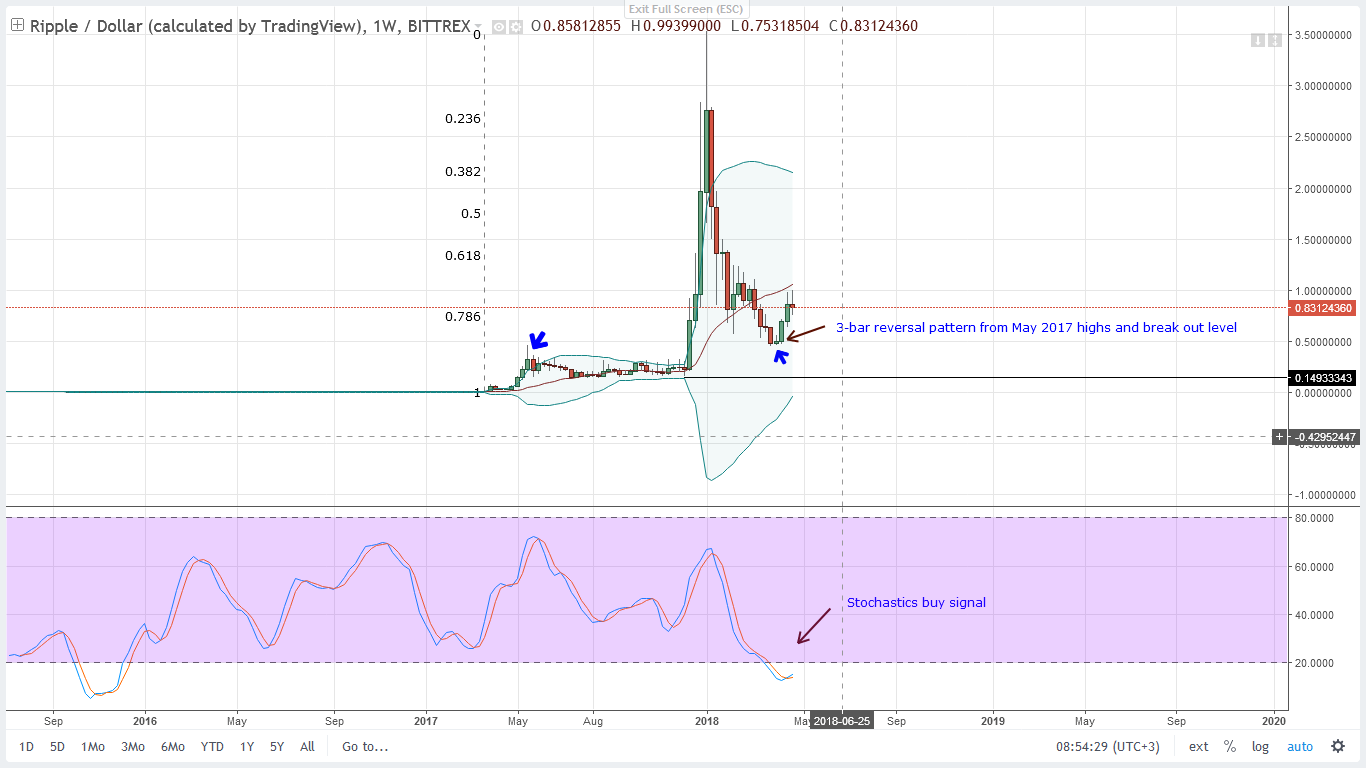 Regardless of that stochastic buy signal in the weekly chart, XRP prices are still stalling. From the chart, it's evident that neither bulls nor bears have a hand over another because of that doji candlestick. Now, the deal is this: We shall maintain our bullish projection and look for undervaluation in lower time frames. After all, stochastics are still bullish in the weekly chart meaning buy pressure is still high. Because of this, all that is needed is a surge past last week's highs of at 98 cents and a probable close above the middle BB.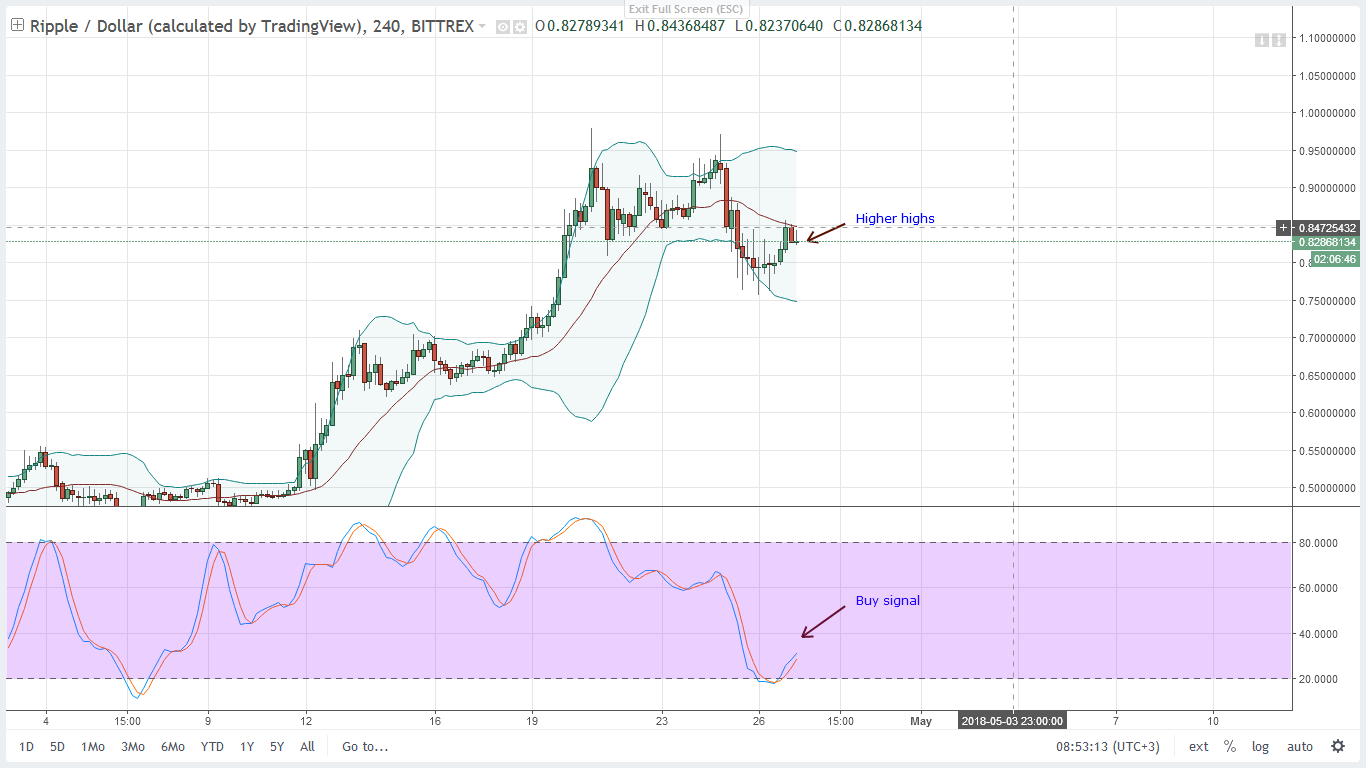 In our entry chart, we have the same set up-as the weekly chart-panning out. Not only is there a nice higher highs relative to the lower BB but there is a stochastic buy signal that has been printed that is turning from deep the oversold territory. As such, I recommend XRP/USD buys with stops below this week's lows at 75 cents. Overall target lies at $1.40 which is the 61.8 percent Fibonacci retracement level anchoring on Ripple's USD high low.
Ripple (XRP/BTC) Technical Analysis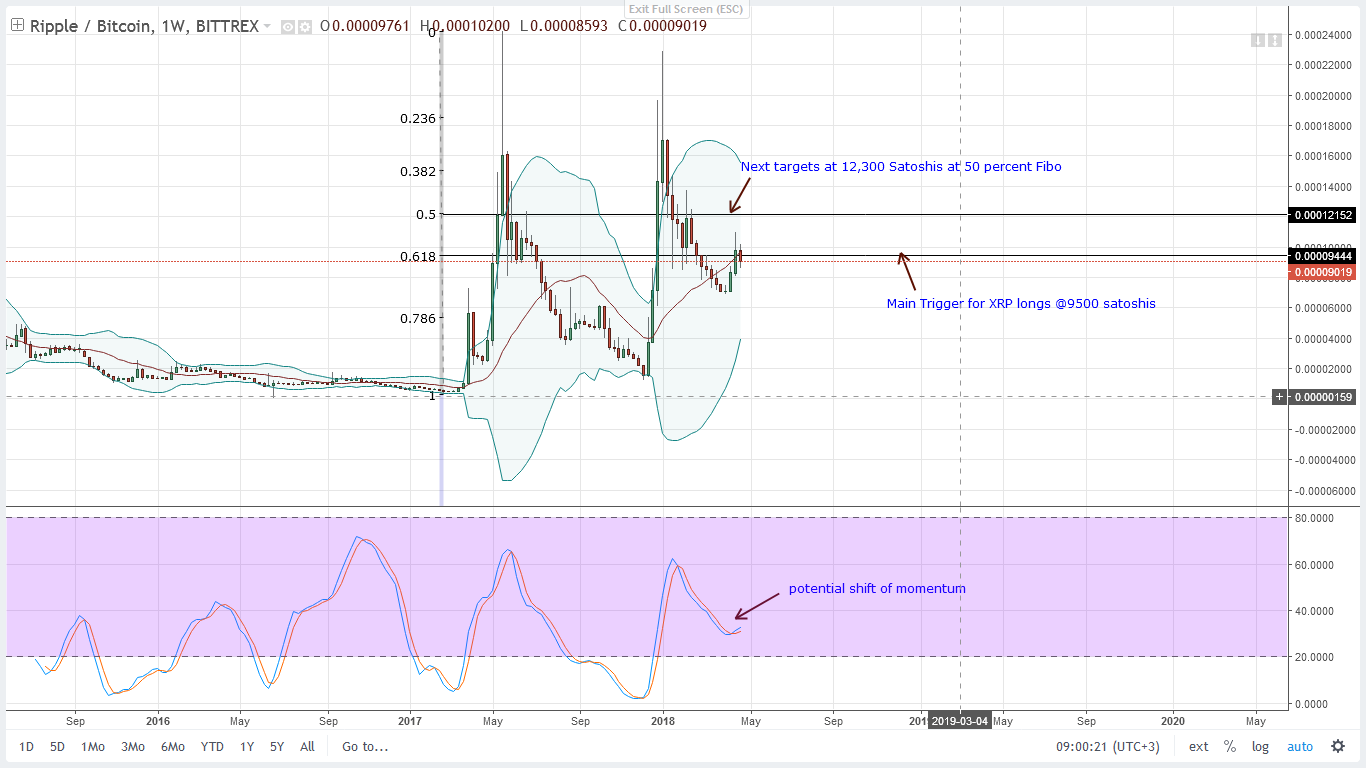 Here, our technical formation is pretty much unchanged safe this week's bear candlestick. If anything, conservative traders can wait for a further build up of buy pressure till prices breach the 9500 satoshis level. From there, they can load up their buys and trade with the trend. Ultimate targets is at 12, 300 satoshis or the 50 percent Fibonacci retracement level.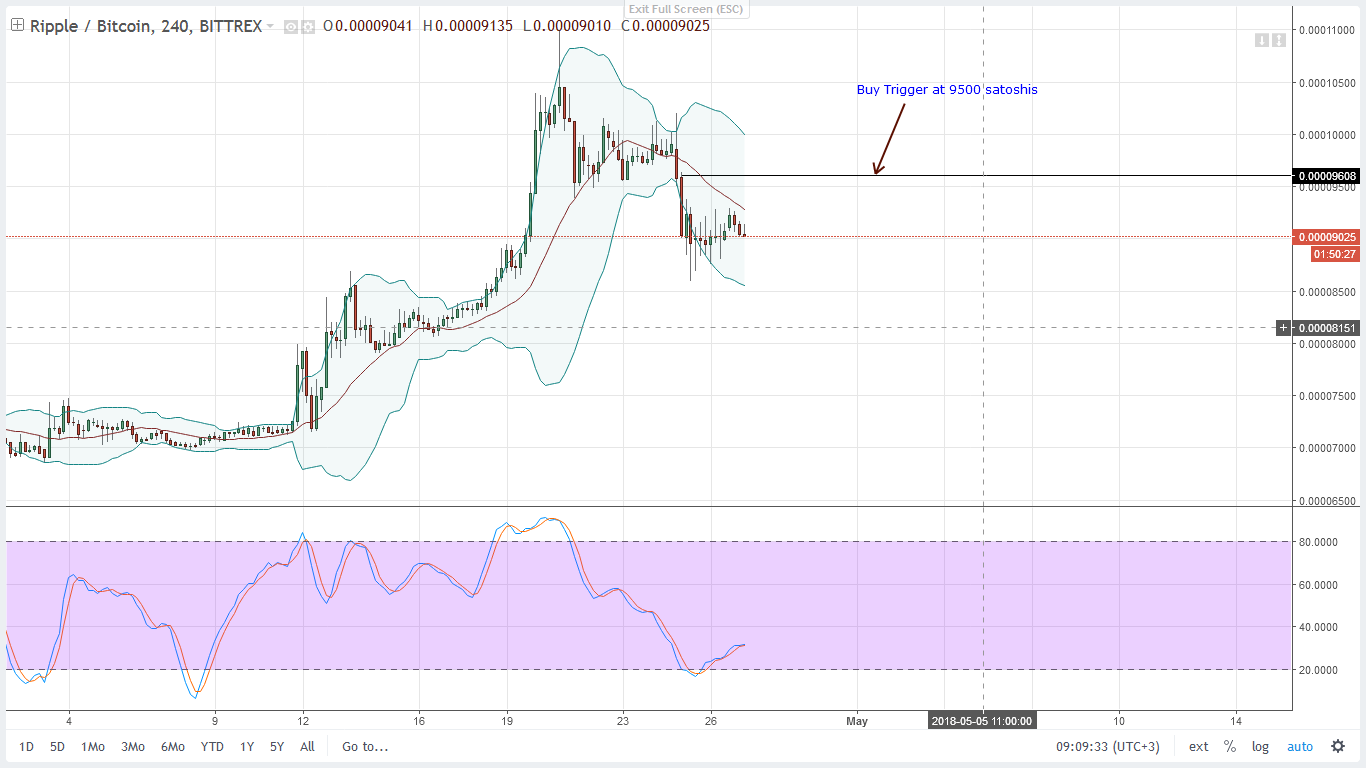 Regardless of the current bear pressure visible in our entry chart, we must trade with the trend. XRP/BTC prices are visibly in a consolidation with immediate support at 8600 satoshis. That's the lower limit and an ideal level for buying on dips whenever a stochastic buy signal prints. Otherwise, if there is a surge and a stochastic buy signal fails to print, buyers can pick up from 9500 satoshis as the weekly chart dictates.