Two Best Ways to Buy Ripple XRP With Credit/Debit Card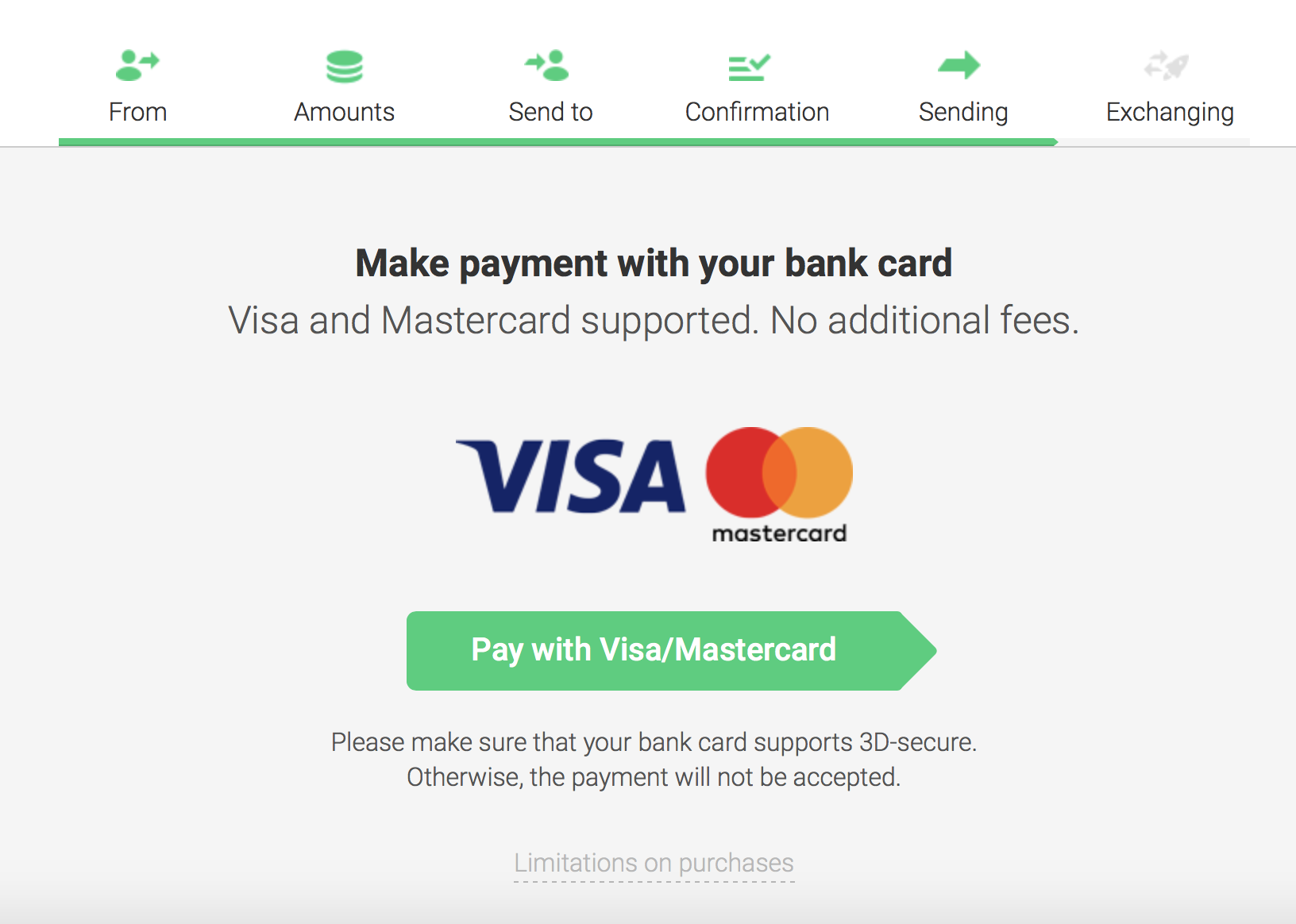 Read Our New Guide : An Ultimate Guide to Start Investing in Ripple XRP (Buying Guide) in 2018
One of the problems which most investors of XRP investors face is the problem to buy Ripple XRP with bank, debit card and credit card. There is very limited cryptocurrency exchange services platform which allows you to purchase Ripple XRP directly by paying money through Credit or Debit card. Mostly, the website required you to purchase Bitcoin first and then convert them into XRP. Due to double transition, you lost some coin because the rate of BTC changed very fast, second, you have to pay double transaction and exchange fee; first, the fee to change USD to BTC and then BTC to XRP. But Uphold & Changelly has solved this issue.

1. Uphold: "Editor's Choice

"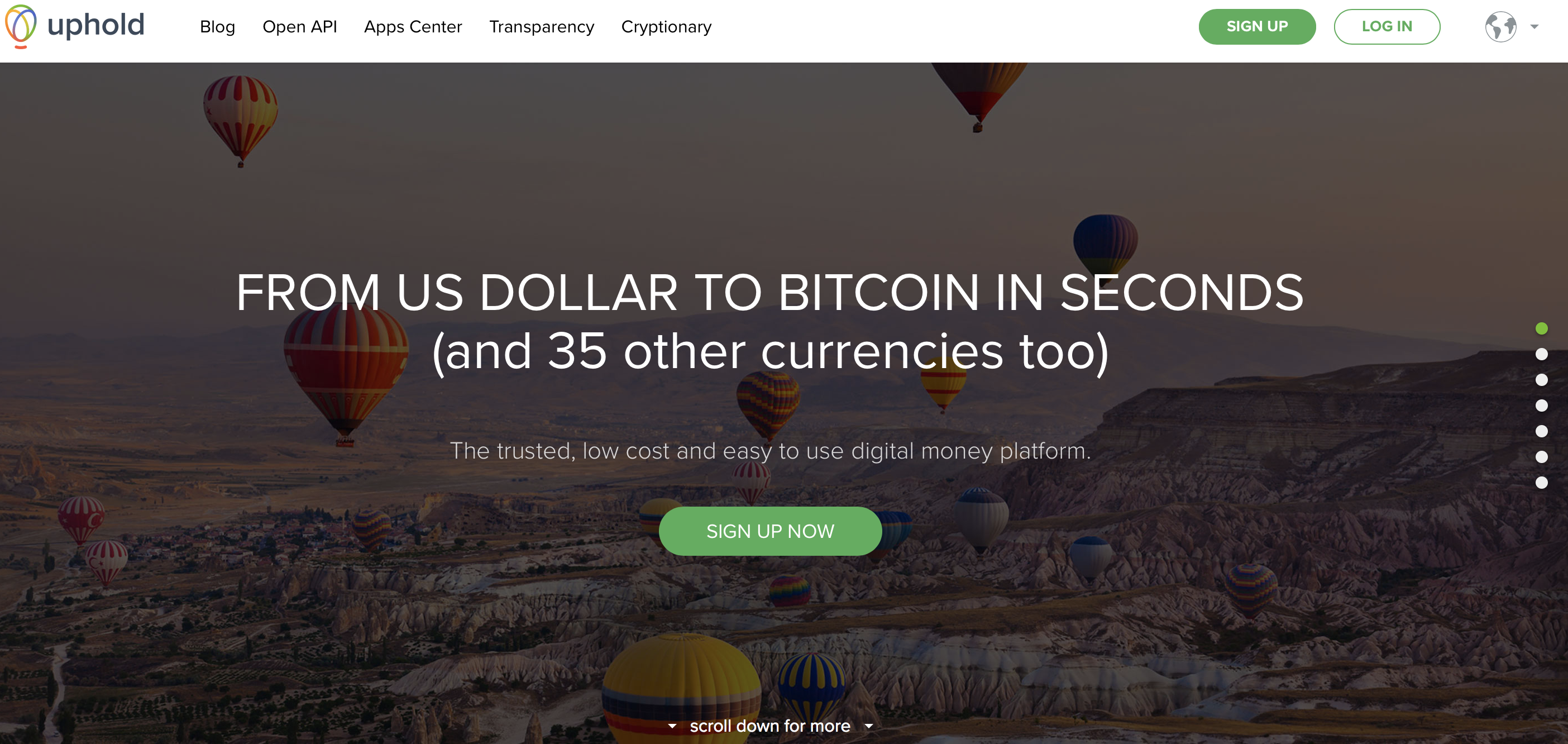 Uphold is a global digital money platform that is first of all trusted, easy to use and an avenue for users to trade or transact in digital assets. The digital money platform supports more than 35 cryptocurrencies and is cloud based available in over 184 countries. Besides buying and selling cryptocurrencies, it offers a cloud-based crypto platform where users can safely store their coins.
Uphold Voted #1 Best Exchange To Buy Ripple XRP Using Credit/debit Card With Lowest Rate
More about Uphold
Uphold was founded in 2013 but launched two years later with headquarters in Charleston. The platform is cloud-based, transparent and verifiable but doesn't lend members money. Interested users can at anytime verify transaction properties as volume, assets and solvency of the participants. 
Registration is free but verified account members can buy or sell cryptocurrencies. Before transacting, users are urged to fund Uphold collection card which are listed on the dashboard upon login. 
Services offered by Uphold
Transparency Features
Reserve Ledgers and chains are some of the transparency services that Uphold avails to their members and the public. The reserve ledger is a public ledger containing all transactions Uphold has made as far as their assets are concerned. Reserve chain is a public ledger containing all the user transactions done on the Uphold network. Since transparency is prioritized, users can access their funds anytime. The platform has also incorporated real-time verification of asset portfolio, company solvency and transaction flows.
Free Accounts
Verified members who deposit funds at Uphold have access to free accounts. The platform 31 different fiat currencies and to improve services, there is API functionality for banks.
Uphold Voted #1 Best Exchange To Buy Ripple XRP Using Credit/debit Card With Lowest Rate
Account registration is free. It is also free to deposit funds to your Uphold account from Bitcoin, bank account or from another Uphold account. However, 3.99 percent fee applies when funding from debit/credit card. Though members can transact for free crypto to fiat or crypto to crypto conversion attracts an exchange fee. For example, USD /BTC conversion attracts a 1.15 percent in exchange fees. The Price Protection Fee which is 0.75 percent above or below the mid-market rate guarantees your conversion is filled regardless market condition. Crypto withdrawal costs $2.99 while fiat withdrawal costs $3.99 excluding of third party charges and network fees.
Uphold Security Features
Aside from transparency, Uphold ensure their systems are impervious from hackers. User fund and personal detail protection is a priority. Security measures in place include:
Third party due diligence: Uphold vets all potential service providers and partners checking their security programs, how they protect their data and what they plan to use with Uphold's data in case they forge a partnership.
24/7 Security System: Their Security Operations Center (U-SOC) monitors the network throughout and acts whenever suspicious activities are detected.
Human Resource Checks: All Uphold employees must pass a rigorous test. The company checks their background for criminal activities, their educational credentials and their referees. Once under employment, the team is constantly trained on best security practices and how to react to security breaches.
Auditing and Network Testing: Routine internal security penetration tests and audits are done to ensure that security measures in place are functional in order to protect user funds and information.
This is how to buy XRP from Uphold: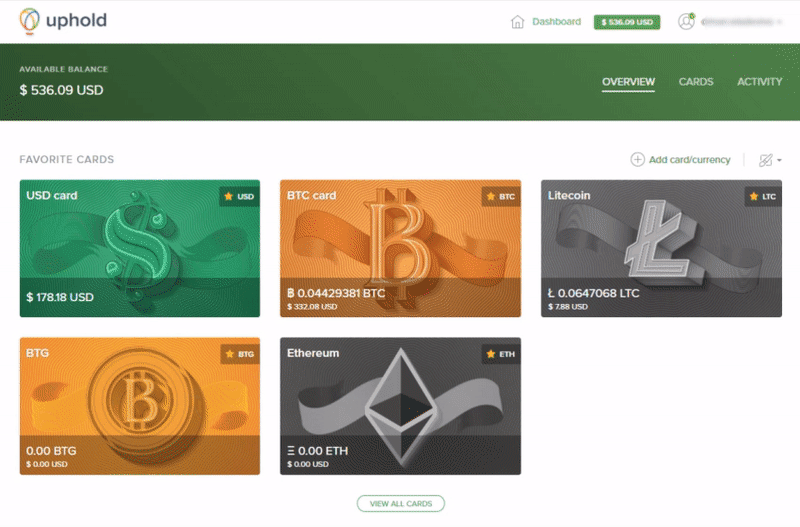 First sign up either from Facebook, Google or sign up manually. Use your email and password for this.
Once verified, Login to your Uphold account
Fund your XRP Card first—funding from bank account, debit/credit card or via ACH and LOCK in the Current Market Rate. Euro, GBP and USD accepted
Uphold will convert the fiat amount to XRP and this will reflect on your XRP card
Note: funding is only possible for verified Uphold account owners and the platform supports Visa and MasterCard only. And these debit/credit card must be 3D secure eligible. Users are urged to check with their card providers otherwise it will not be possible to link up and buy XRP. 
Here's how you fund your XRP card:
Under cards, click "Add Card" or go to setting and "funding Options"
Click "add credit/debit" card and fill in the necessary details. You can add up-three cards.

 
Uphold Voted #1 Best Exchange To Buy Ripple XRP Using Credit/debit Card With Lowest Rate
Read Our Changelly Review 2018
Changelly is a popular cryptocurrency exchange website which is specially created for the digital currency. Changelly was founded in 2013. In the start, it was not very popular because the digital currencies were not very popular in 2013. But with the popularity of digital currencies and interest of people to invest in digital currencies like Ripple XRP and Bitcoin, the Changelly also got equal popularity.

Changelly has introduced a new option to the investors which allow them to buy Ripple XRP or any other types of the coin which supported by their company simply by paying through Credit or Debit card. This is the main reason which made Changelly one of the most popular cryptocurrency exchange websites. They are offering this option to all type of digital currency.
The process of purchasing XRP with a Credit card through Changelly is not difficult. It takes no more than few seconds to few minutes to get Ripple coin in your Ripple wallet.

Requirements to buy Ripple coin with Credit or Debit Card:
There is not much requirement for this purpose. All you need to be a registered user on Changelly website (Which is totally free) and you must have a Ripple wallet address to receive the Ripple coin. The Ripple wallet account can be created on CoinPayment for free. They charge a fee only when you make a transaction.
Step by step guide to buying Ripple XRP Coin on Changelly with Credit Card:
Follow these steps to buy XRP on Changelly by paying through Debit card or Credit card:
Step 1: Register on the website: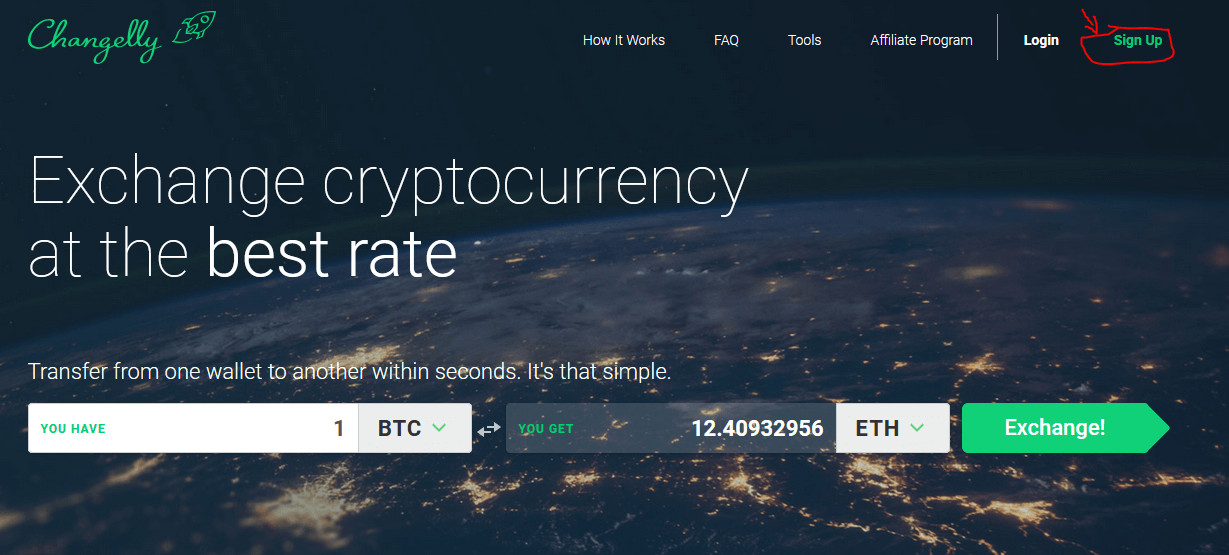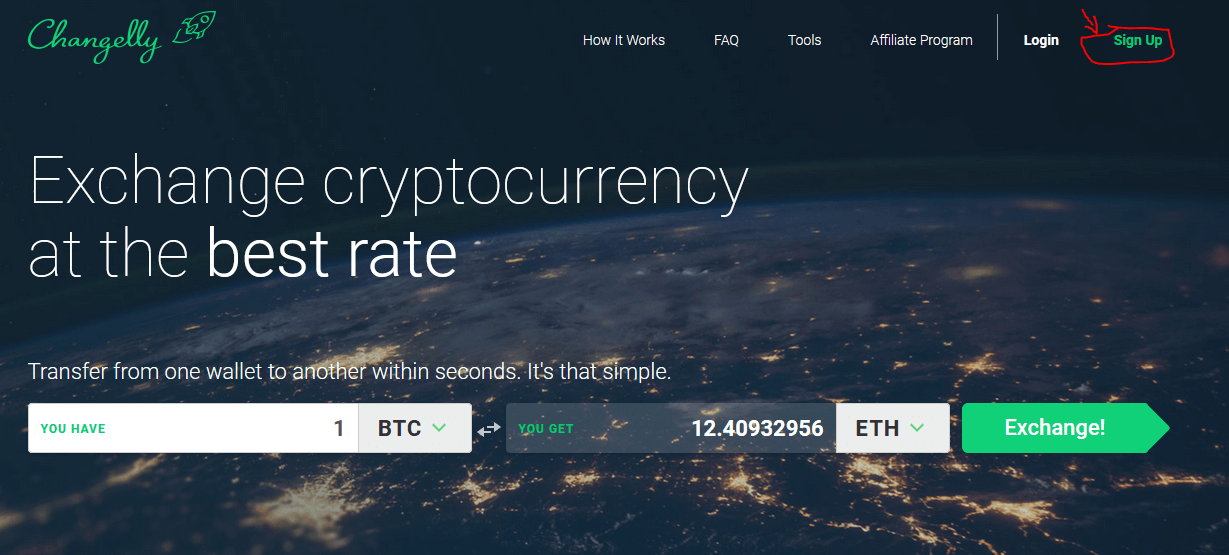 Registration on Changelly is totally free for all investors. The website will charge a fee only on transactions. There is no fee to create and maintain an account on Changelly. To register on Changelly, you need to click on Sing up button which can be found on the top of the website, on the right-hand side. For registration purpose, you need to have a valid email ID where the website will send you your username, password, and other details.
Step 2: Select the currency:

Once you register on the website and follow the guide by creating your profile, the next step is to buy Ripple coin with Credit/Debit Card. For this purpose, you need to visit the home page of Changelly. From there you need to select the currency you want to purchase e.g. Ripple Coin (XRP) and enter the amount in USD in other bar. Once you done with this, click on exchange button. If you are already login to the website, it will take you the payment process page; otherwise, it will ask you to log in on Changelly first.
Step 3: Confirm your order:
On this page, you need to confirm your order by checking the amount in USD and XRP. You will get other information on this page including estimated time of arrival of XRP in your Ripple wallet. Click next if you agree with this.
Step 4: Enter the Ripple wallet address:

You need to create a Ripple wallet (some wallets give you Destination Tag to complete the transfer safe), where you would like to receive your Ripple coin (XRP). You can use CoinPayments network for this purpose because it is free and charge a very low fee on every transaction. (For long term investment i high recommend Ledger Nano S wallet,For more information about Best Ripple XRP Wallets please check this article: 7 Best Ripple XRP Wallets for 2018 )Once you enter the address of your wallet and destination tag, you need to click on Next button to proceed.
Step 5: Confirm the information: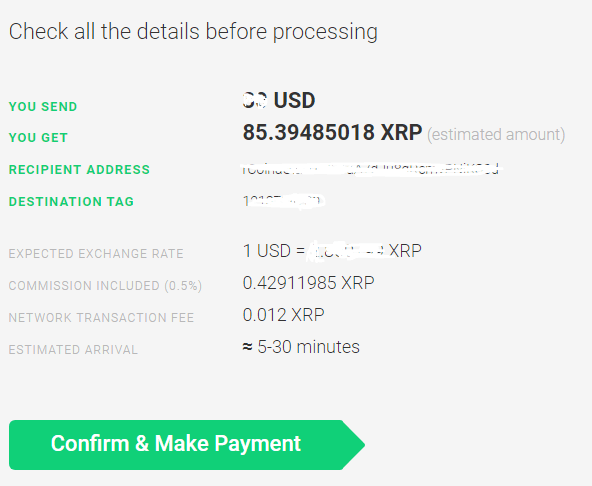 Changelly will ask for the confirmation before making the process. Look on the detail, if everything looks fine, click on the button called "Confirm and Make Payment".
Step 6: Enter the Credit card details: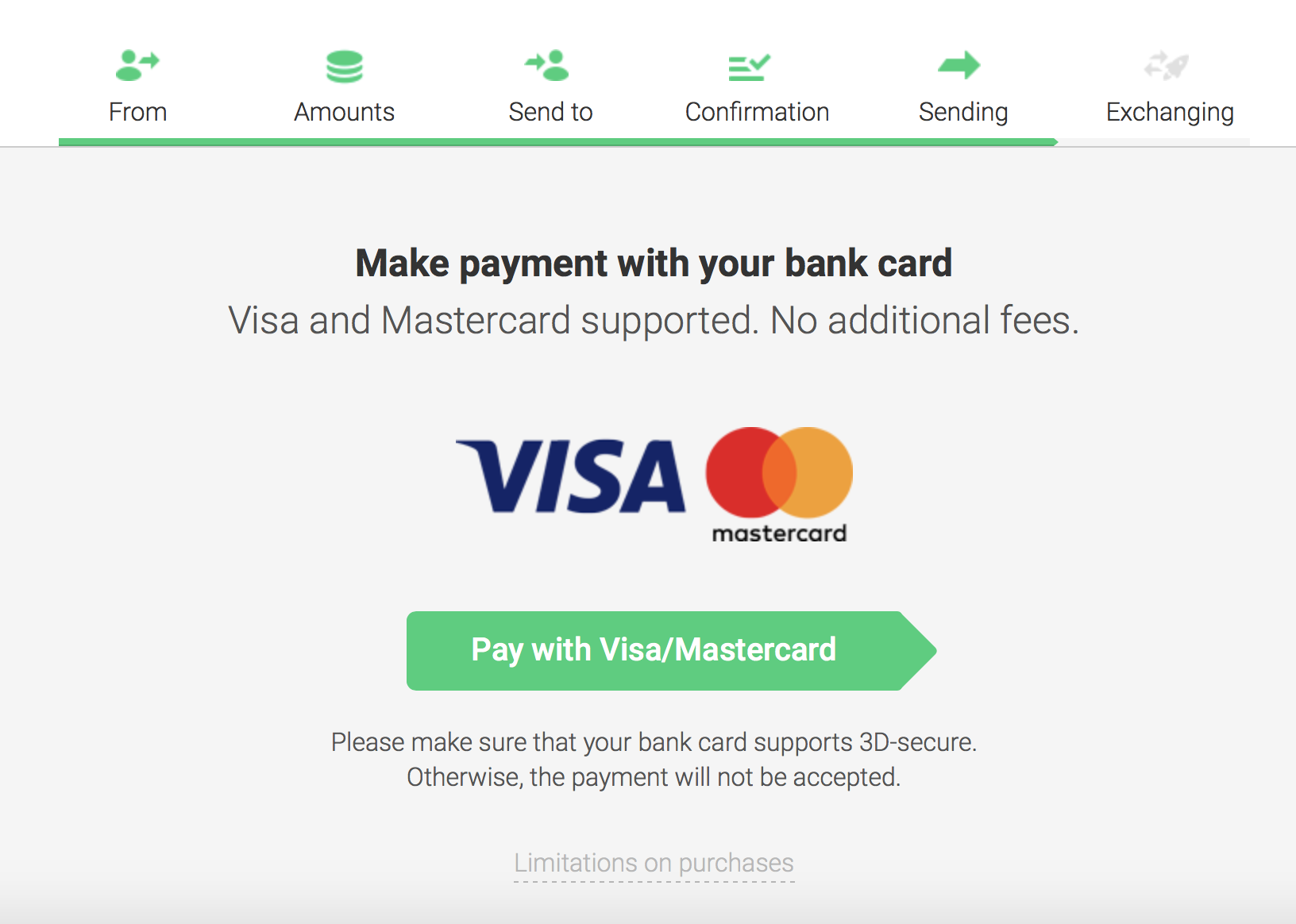 In the previous step, your transaction has been created to buy Ripple coin with your Credit or Debit card. Simply, click on Pay With Visa/Master Card button and enter your card details with valid thru and CVC details. Click on Pay button which will also show you the amount which you have to pay.
Step 7: Confirm your payment by SMS: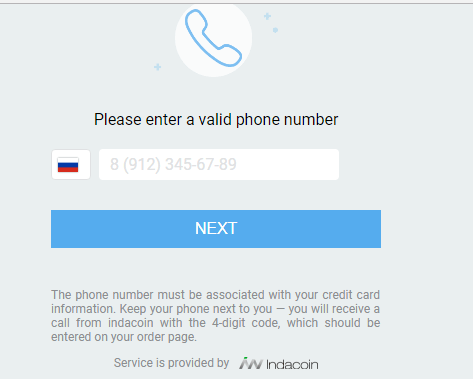 For this confirmation, you need to enter your phone number. You will receive a 4 digit code on your mobile for this purpose. If you do not receive the call, you can use the alternative way for the verification purpose. For this purpose, you must have a camera on your computer or mobile through which you are buying the Ripple coin. You will need to record a video by holding your passport with the picture in your hand. You will receive the code within 15 minutes if you choose the second option on your computer screen.

Step 8: Receive your Ripple coin:
Once you entered the four digit code, your transaction will be processed. It may take from 5-30 minutes to receive Ripple coin in your Ripple wallet.
The time of receiving Ripple coin in your Wallet also depends on the wallet website. If you choose Coinpayments as your Ripple coin, the process time will be very fast. Also, keep in mind that the first transaction on any website takes time because on the first transaction the company verifies the identity of the person to minimize the chances of fraud.
Different websites have different policies when it's come to purchase Ripple XRP coin due to which the process could be time taking but Changelly does not have any complex process of purchasing Ripple coin with Debit or Credit Card, so as compared to other cryptocurrency websites, the process on Changelly is relatively fast.