Top 8 Best Ripple (XRP) Coin Wallets 2023 [Recommended]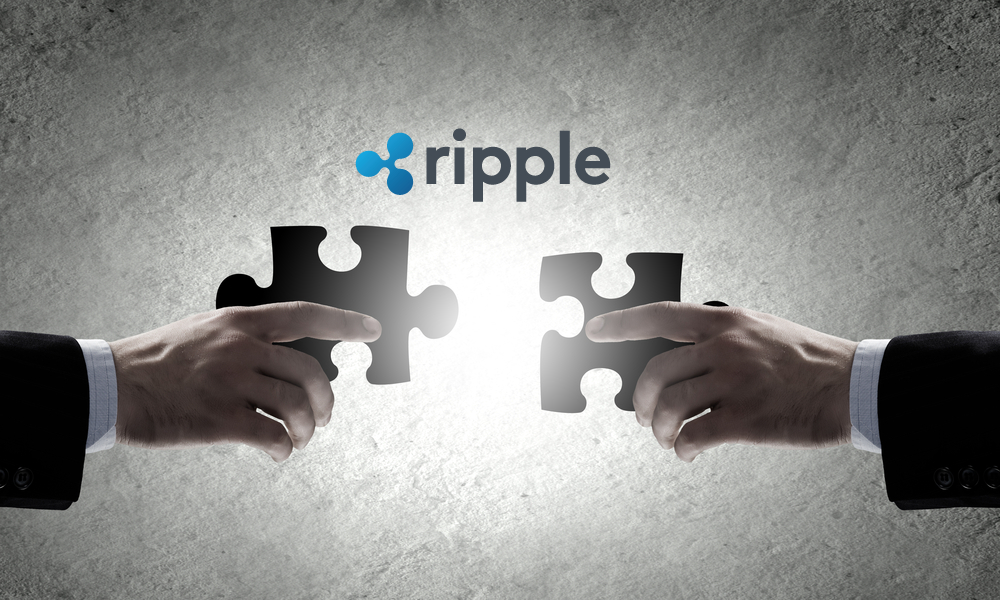 In the past 2-3 years, digital currencies gained a lot of popularity. The reason behind this is growing acceptance by the general public and the general belief that technology is here to stay. Today, the most expensive currency in the world is the cryptocurrency Bitcoin, but it is not the only one that attracts tones of interest. Ripple (XRP) is one of the top rank cryptocurrency having many advantages over bitcoin. let first look into what is ripple's XRP coin and why should we need to hold this crypto.
As you know cryptocurrencies are not yet registered under the law of any country. So, you have to be very careful when you are choosing a wallet for your cryptocurrency. If you choose the wrong XRP wallet, you may lose all of your money in no time. Spending time to understand different Ripple XRP wallet options is important in order to protect yourself from the scam and fraud. To help you with this, here is our review of 8 best Ripple (XRP) wallets."
Best Ripple (XRP) Wallets 2023
Update: At this moment (JAN 2023) below-listed listed wallets are the best we got to store XRP.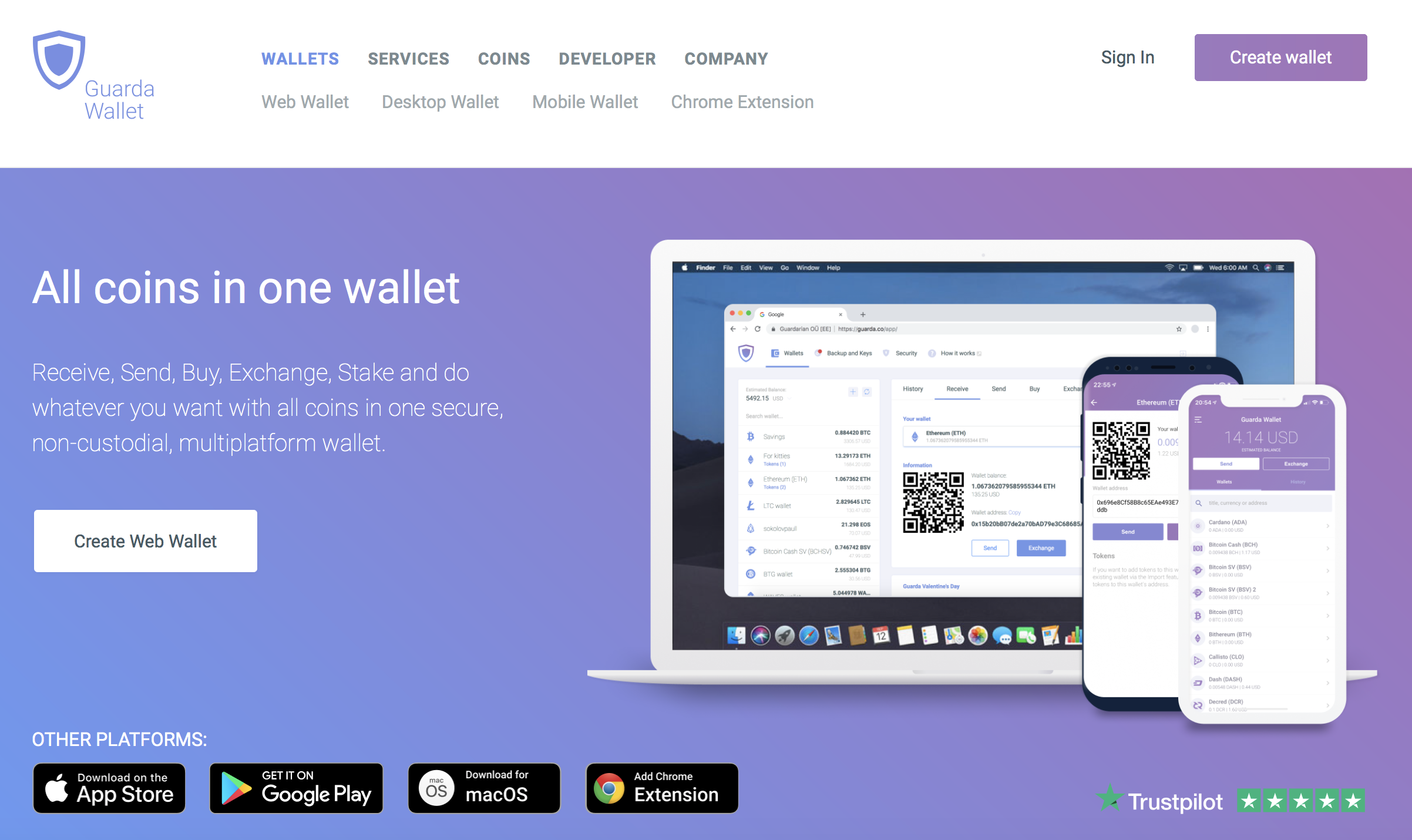 Guarda is a non-custodial multi-platform cryptocurrency wallet designed to store, manage and transfer digital assets with ease. Guarda currently supports over 40 most popular blockchains and over 10.000 of their tokens (including BTC, XRP, BCH, BSV, ETH, ETC, XMR, ZEC, EOS, KIN, LTC, XLM, DASH and more). All the currencies can be purchased inside the wallets with a bank card. The users can also exchange currencies via built-in exchange service and make rapid cryptocurrency transactions.
Guarda Wallets are available in various versions: Web, Desktop (Linux, Windows, MacOS), Mobile (iOS, Android) and Chrome Extension.
Guarda cryptocurrency storages work across platforms and can be accessed from any device that is connected to the Internet. Besides the main multi-currency wallets, Guarda offers a range of single-currency open-source Mobile wallets.
As Guarda provides custody-free wallets, the user's personal data or private keys are not stored or used by the company in any way – this enhances the crypto-coin and token security and prevents all chances of information leaks.
Main features:
Support of 40+ blockchains and over 10 000 tokens;
Full user control over private keys and assets;
User-friendly interface;
Credit/debit card cryptocurrency purchases;
Built-in cryptocurrency exchange;
24/7 customer support line;
Securely encrypted wallet backup;
Cross-platform accessibility.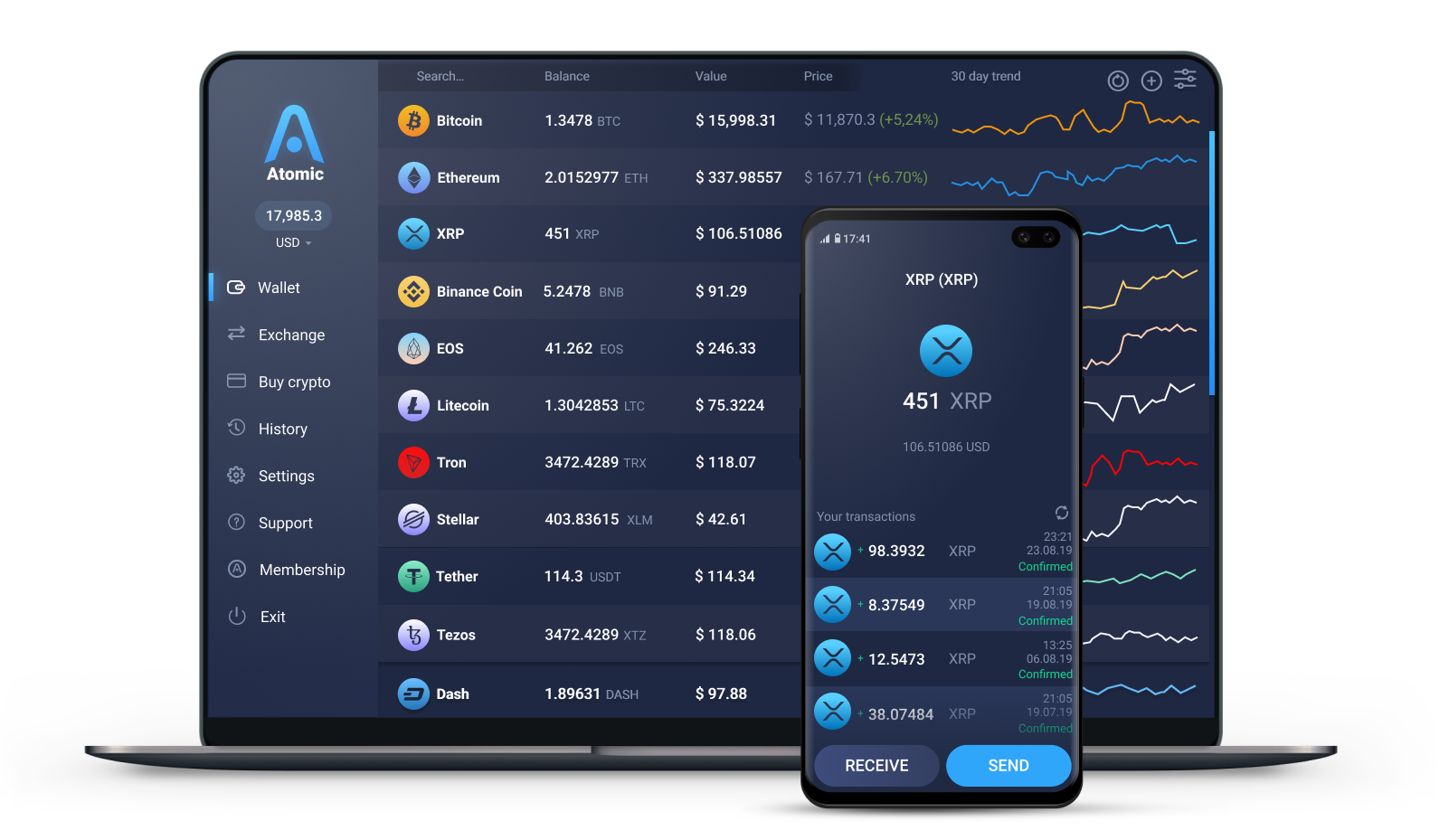 Atomic is a multi-currency custody-free Ripple (XRP) wallet, that supports over 300 other coins and tokens. You can secure, manage, exchange and buy XRP in a user-friendly interface protected by a mnemonic seed. You fully control your funds.
Multi Platform
Atomic Wallet is available for most operating systems, including Windows, MacOS, Linux and Android. The app for iOS is to be released in 2019.
Security and Anonymity
In Atomic, only you have full access to your funds. Atomic Wallet uses on-device intelligence and stores all private keys on your computer or/and smartphone. Your privacy is well-protected with the password you set and a 12-word mnemonic seed phrase.
Multi-Currency
Apart from XRP, Atomic supports over 300+ coins and tokens. You can secure and manage them, exchange and buy using built-in services and do it all in one interface, without going to external websites. Moreover, Atomic enables you to add any ERC20 token in a few clicks and manage it.
Zero Fees
Atomic is a freeware that generates you a unique wallet address. For that reason, you only need to have 20 XRP reserve as an unspendible balance required for the XRP network.
Instant exchange and Buy crypto option
Atomic Wallet enables you to exchange XRP for 60+ cryptocurrencies. This service powered by Shapeshift, Changelly and Changenow.
The in-app buy option is powered by Simplex allows you to buy XRP (Ripple), Bitcoin, Ethereum, Litecoin and Bitcoin Cash with a credit card in a few clicks. The whole process takes several minutes and charges a 2% fee for Atomic.
24/7 support
Atomic cares about its users. The support staff works 24/7 and always ready to help, if something goes wrong. The average reply time is about 1 hour.

Ledger Nano X is a big improvement on Ledger Nano S, with the display being as twice as that of Nano S i.e. 128×64, bringing the wallet up to the quality which indeed demands a higher price.
Nano X  is a hardware cryptocurrency wallet with a series of updates to Ledger Nano S. The main criteria that make it better than Nano S is Bluetooth connectivity. Along with a bigger screen it is also provided with bigger buttons, making it convenient to use.
Ability to store more:
Ledger Nano X can store up to 100 applications at the same time with its additional space. A larger number of assets can be stored, all at the same place which makes it a handy tool.
The assets include cryptocurrencies like Bitcoin, Ethereum, XRP and many more. One can visit the Supported crypto assets page to check the availability of the assets that Nano X supports.
To add a new asset to the device, go to Manager in the Ledger Live App and click the blue install button of the desired coin if it is supported.
Bluetooth Connectivity:
The device uses Bluetooth for connection between two users. One should not be worried about security as it uses end to end encryption. Only public information like data transported gets transmitted via Bluetooth. The private keys are not exposed to others as it is kept in cold storage.
Nano X implements Bluetooth Low Energy (BLE). Numeric comparison acts as a pairing medium between two devices during the transaction that indeed is a state-of-the-art security configuration. The numeric comparison allows both the users to generate a common code that establishes the pairing.
The concerns regarding collision during the generation of code with nearby devices are solved by using AES-CMAC from public keys plus random nonces.
Before proceeding to the transaction, the Secure Element asks the user for confirmation. It will never place any transaction without the permission of the user.
Besides, you can also use USB C cable instead of Bluetooth if the fears regarding security still bother you.
Want to earn free crypto? here is our guide for 15+ Bitcoin & Crypto Faucets in 2023 to earn a handsome amount of satoshi (bitcoin).
Battery Performance:
The Ledger Nano X provides a 100 mAh battery. The battery lifespan is high. It lasts long for hours when activated. When the device is not used, it can last for a few months.
The con is that the battery cannot be replaced if it is damaged. It only can be recharged through a USB C cable when drained out of charge. And also there's no indicator of battery which may cause sudden shut down of the device when not acknowledged about power consumption.
Ledger Live App: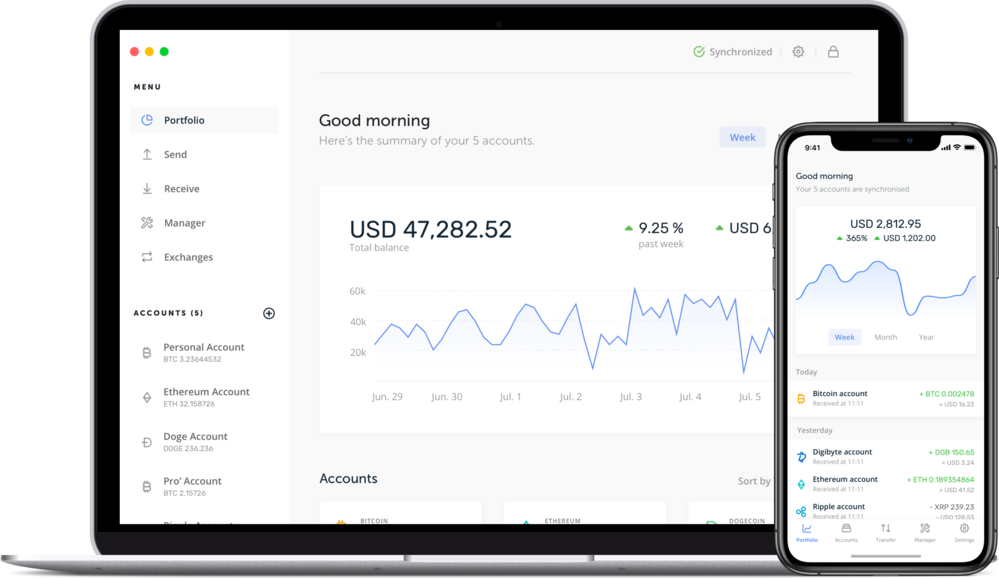 Ledger Live is a perfect companion for ledger hardware devices. This application allows you to manage your crypto assets securely. It provides easy onboarding i.e. you can configure your Ledger Nano X with step-by-step onboarding given by Ledger Live.
It has features like importing your accounts from Ledger Live Desktop to your smartphone. It also lets you directly install or remove applications from the Ledger Nano X. The user can add a new currency or remove an existing one.
Unlimited accounts for each supported asset can be accessed through this app. It also gives a full transaction history and detailed information. The Global counter value on the dashboard enables the user to check the total value of their assets in real time regardless of the place they are in.
The user can secure access with a password lock or biometric authentication like fingerprint scanning.
Backup of data:
If the device is lost, the user can recover his data by using the 24-word recovery phrase provided during the initialization of your device to restore your accounts on any Ledger device.
Price:
The Ledger Nano X costs $119. This includes free shipping to almost every country. The high price is demanded because of Bluetooth support and additional storage of assets. Its unique features provide justice to the price. If the Nano X price is expensive for you, you can still buy Ledger Nano S for $59
More About Ledger Nano X
1 Hardware wallet(Ledger Nano X)

1 USB cable

1 Keychain for device

3 recovery sheets

1 getting started leaflet

Ledger stickers
Ledger Nano Voted #1 Best Wallet For XRP by Our Readers in 2023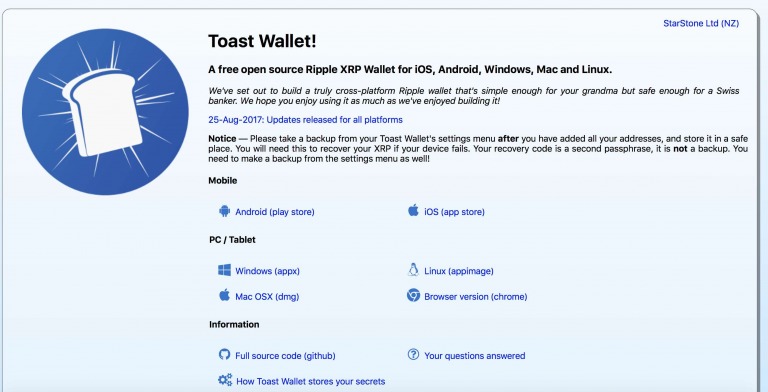 Toast Wallet is a free open-source Ripple (XRP) wallet which anyone can use.
Toast Wallet is one of the most convenient wallets being used for storing your Ripple XRP. The process of store Ripple is quite simple in this wallet that anyone can use it easily. It offers a lot of security for the transferred funds. Following are the main features of this wallet.
1-Multi Platform
The very first feature of this wallet is that it is available for almost all platforms. The users can use it whether they are using Windows, Android, and even iOS. Separate applications of this wallet are available for each platform.
2-Easy to Use
The next benefit of using Toast wallet is that it is quite easy to use. The users have not to go through different steps to Store  Ripple XRP like in other wallets.
3-Zero Fees
Another benefit of using Toast Wallet is that it does not take a transaction fee and is totally free for all users. You only have 20 XRP reserve to process your transactions.
5- Coinpayments (Not working):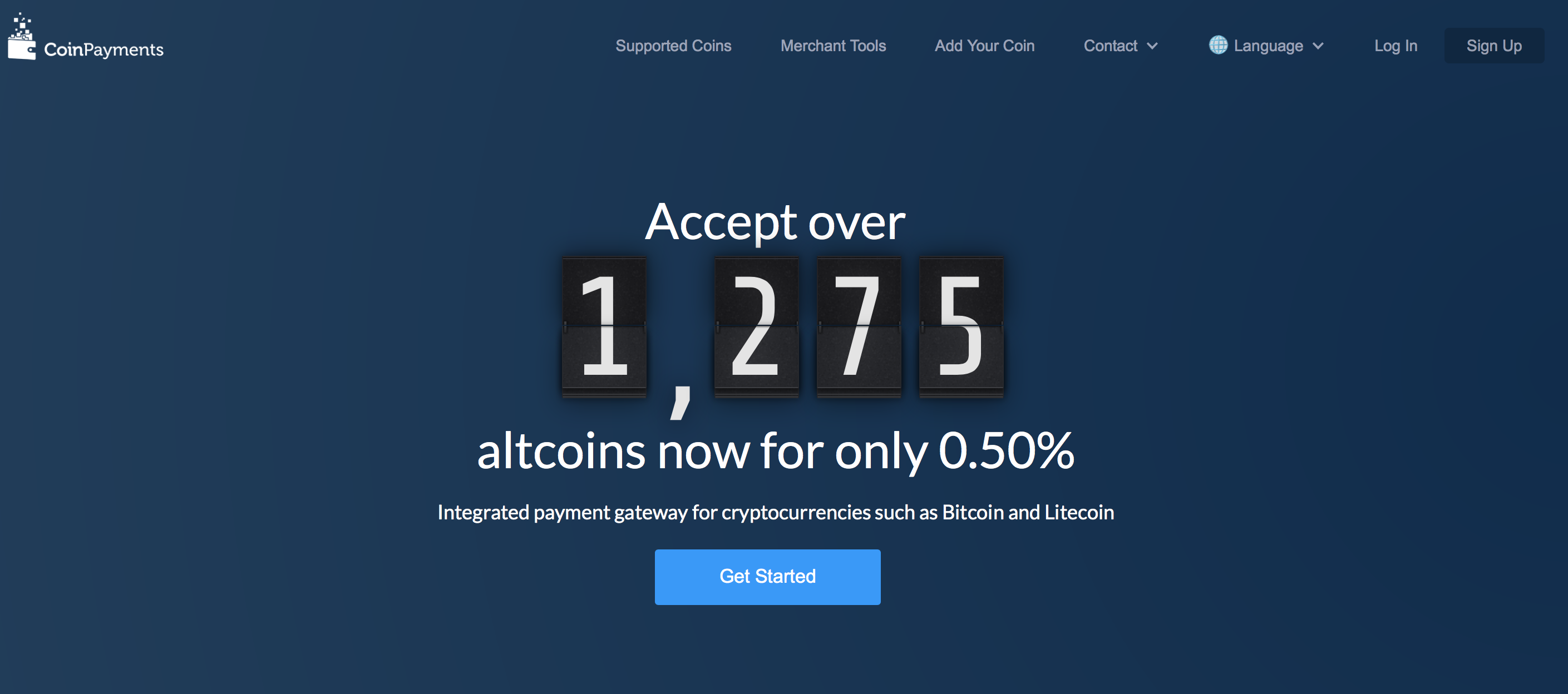 CoinPayments is a cryptocurrency payment website that allows you to store your digital currency online in their wallet. It works in the same way as your physical bank work. They accept more than 1300 different types of altcoins where their transaction fee is only 0.5%. This fee is the same for all types of investors. The company is registered and based in Canada and known as one of the most authentic and legit cryptocurrency payment platforms.
Like other cryptocurrency platforms, the CoinPayments does not limit you to only exchange and invest your altcoin through their network, but they allow you to use your money for online shopping purposes too. Today, there are thousands of online stores that accepting CoinPayments as their method of payment.
CoinPayments fee:
Initially, CoinPayments is free for all users. Anyone with a valid email ID can register for CoinPayments wallet. The fee is only charged when a user makes a transaction. The fee has been charged for different types of transaction which include:
Commercial deposit
Incoming payments
The general fee of CoinPayments is only 0.5% of all types of transactions. The size of the transaction does not affect this rate. This applies to all types of investors.
Withdrawals of coins:
The wallet service has some fees but there is no fee on the personal deposits on the wallet. It is 100% free. The wallet withdrawals are also 100% free until you are not using it for commercial items or using it as a method of payment while shopping online.
Biggest payment network:
CoinPayments is one of the fastest and largest payment networks. There are more than 300,000 vendors in 182 countries, who are now accepting CoinPayments as a method to accept of payment from their customers. With this big achievement, CoinPayments has made it easy for users who have digital currencies to use it, as paper money. You can purchase anything from anywhere or even withdraw your Ripple XRP in your bank with the help of CoinPayments.
Multi-coin Wallet:

The other similar websites only allow you to use your coins in the wallet for the purpose of the investment. This limits you to use your own money. The coinpayments is working with many online stores and e-commerce software which allow you to make the purchase online. You can use your Ripple (XRP) wallet as your personal wallet to make a payment on different platforms,
CoinPayments is supported by the popular altcoin security website called BitGo. BitGo is usually known for the BTC payments only but on CoinPayments, you can use this service for any type of digital currency including Ripple Coin "XRP". This makes the process of transaction and payment very fast. When it's fast, it means that you can invest your money instantly or sell your coin if you see an increase in the price.
Complete security:
For the security of their user's money, the CoinPayments is using a tool like BitGo. This is a multi-sig technology that provides complete protection of your funds. No transaction can be made without the approval of the account owner.
Linked to bank accounts:
In the start, the feature of flat settlements was available for Canadian users only. But now, the users from the United States and Euro merchants also are allowed to enjoy the flat settlement options. This allows them to get their money in their bank accounts. It works in the same way as Payment works. You click on withdraw and get money in your bank.
The company is based in Canada and now it's accepted by more than 296,000 online vendors in different countries. This gives users the guarantee that the company is not a scam or fake. You can use their services for the Ripple coin wallet purpose. Their wallet comes up with advanced features. You can not only use your Ripple for purchasing and selling purposes only but also as a method of payment on different online stores.
The advanced security features, vault options, and BitGo make it a versatile platform for payments. So, if you are looking for a secure cryptocurrency wallet for your Coins, then you should get registered with CoinPayments now without getting worried about its legit status. The registration is 100% free and their fee on transaction and wallet is also less as compared to their rival companies.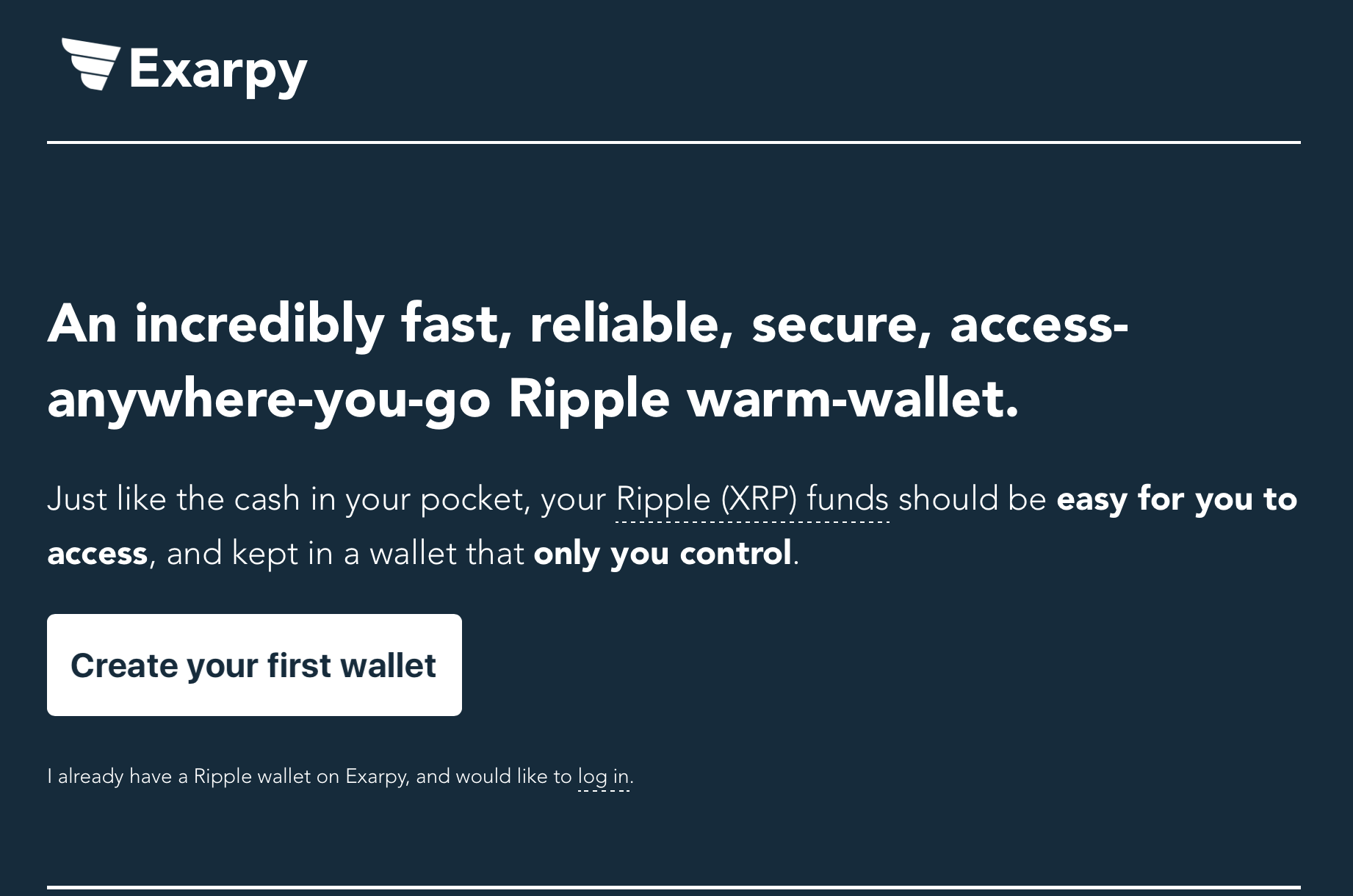 Exarpy is an interface that allows the users to interact with Ripple's network. It has no affiliation with the Ripple but only facilitates the users for using its network. This wallet is reliable, fast, secure, and quite simple to use. One of the most attractive features of this interface is that the users can use it on almost all the devices. Using this interface takes 0.025 XRP fees on each transaction. The users can use it fearlessly because it does not store any of the information about the user. A cryptographically generated PIN is given to the user to login and use this wallet. The users can store, send, and receive any amount of Ripple through this wallet.
You can check the FAQ section here before getting started.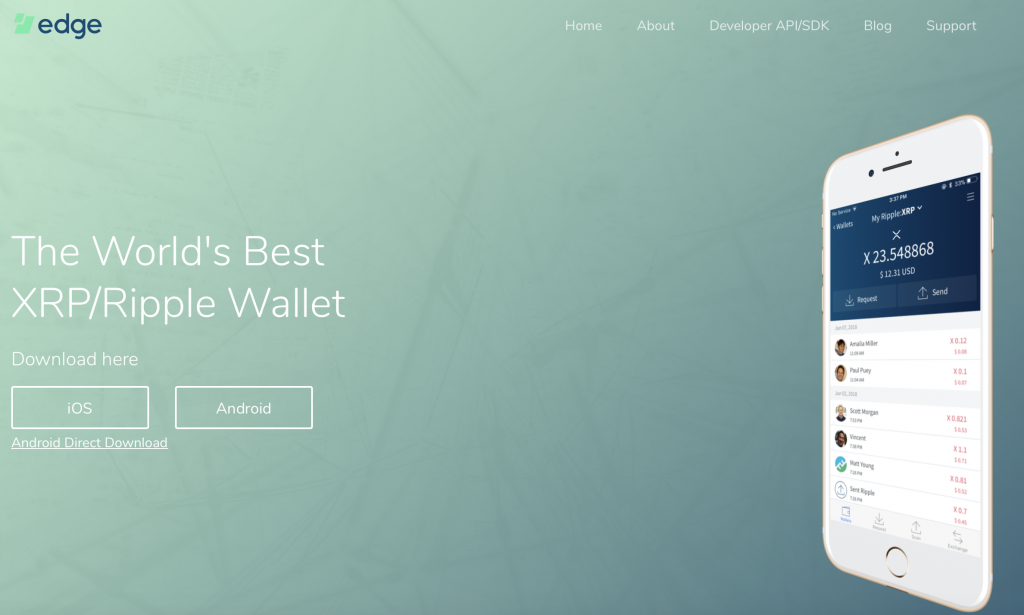 Edge Wallet is a feature rich software wallet rebranded from Airbitz and launched in February 2018. The most admired features of this wallet are its easy user interface and unique approach towards the security of your funds. Its interface seems quite easy for the users of banking apps. The wallet offers the facilities of sending, receiving, storing, and exchanging the coins. Earlier, almost all the wallets had to depend on the third party for server side security. But, Edge provides you an easy to use security layer and the users can control the functioning of this security layer. This latest cryptocurrency wallet comes with such architecture as works with any blockchain. Thus, it will offer support for almost all the cryptocurrencies being traded across the world.
It will even support every new coin provided that the developers of the coin extend their support through a simple plug-in. Edge wallet is also equipped with Spaceshift technology that allows the users to easily swap between the cryptocurrencies without any need for the crypto exchange. Here, it is worth mentioning that the wallet supports displaying funds amount in smaller denominations. Following are the pros and cons of this wallet:
PROS
An easy user interface ideal even for the beginners.
Offers strong security features like 2FA and security question setup recovery.
Supports many popular cryptocurrencies and plans to offer support for all in the future.
Has open-source code.
Available for Windows, Android, and iOS.
Supports crypto trading within the wallet.
CONS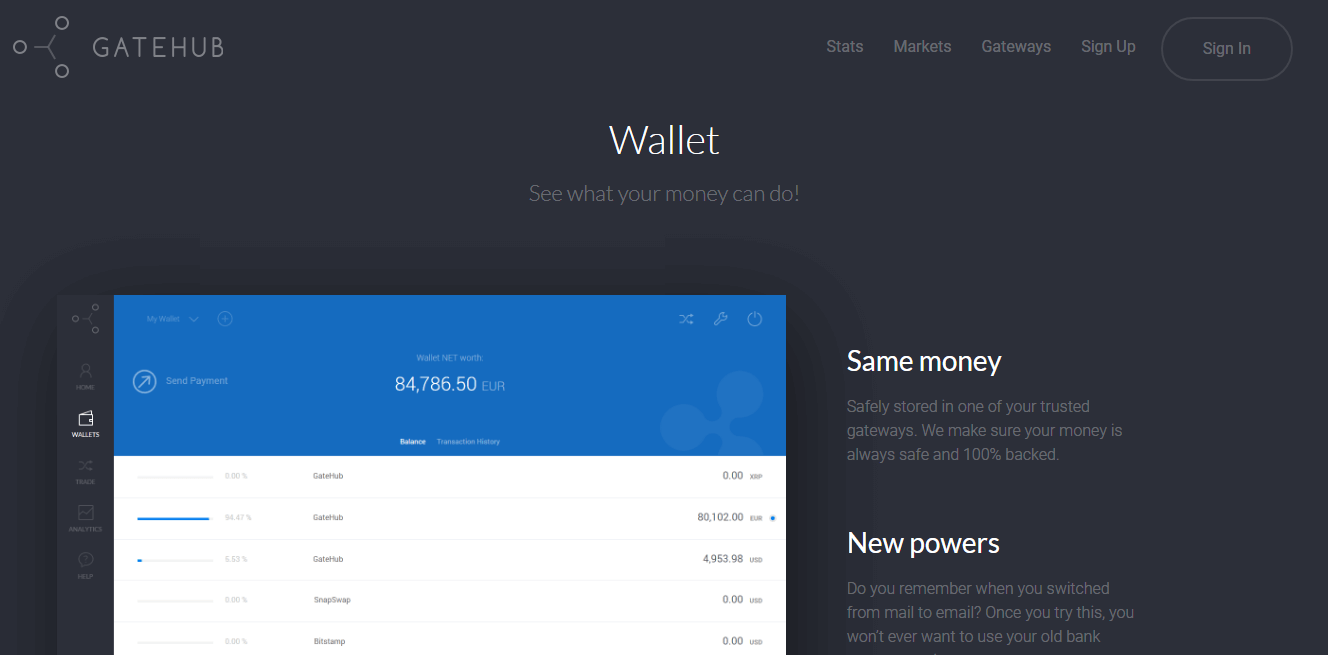 Currently, GateHub is dealing with several popular digital currencies including XRP and BTC. The process of depositing money and purchasing Ripple (XRP) on GateHub is very easy and fast. They allow their users to purchase Ripple coin by paying money directly through a bank but unfortunately, you need to purchase BTC first and then convert it into other digital currencies including Ripple XRP coin.
Gatehub is one of those XRP wallets which have been mentioned on the official website of Ripple (Ripple lab). It has been quite a time now since Gatehub is offering services of wallet for XRP. Investors trust on GateHub most because Ripple coin has mentioned it in the list of their wallet where they are also offering several interesting features on their website.
The main features which GateHub is offering to their investors are interesting and make it easy for investors to manage it for investment purpose.
Easy to use:
First, the layout of the wallet is simple and easy to use. The wallet shows a complete history of the payments and shows the exact amount which you have used to purchase Ripple (XRP). They send notification by email related to the financial transactions to keep the users updated about the financial value of their wallets.
Accepted by online stores:
It has been a time now since Gatehub is offering its wallet services. Many online stores now accept them as a payment method. So, you can use your XRP for online shopping purpose, it is not limited to trading purposes only.
Advanced Analytics:
GateHub's analytics section shows the real-time rate of XRP, USD, and other currencies. This makes it very easy for the users to invest their money at the right time. The analytics stats also show stats by graphics. This makes it easy for users to understand and operate their wallet account.
Read Also: 5 Tips To Protect Your Cryptocurrencies