Ripple has Over 300 Customers – Brad Garlinghouse at Swell By Ripple 2019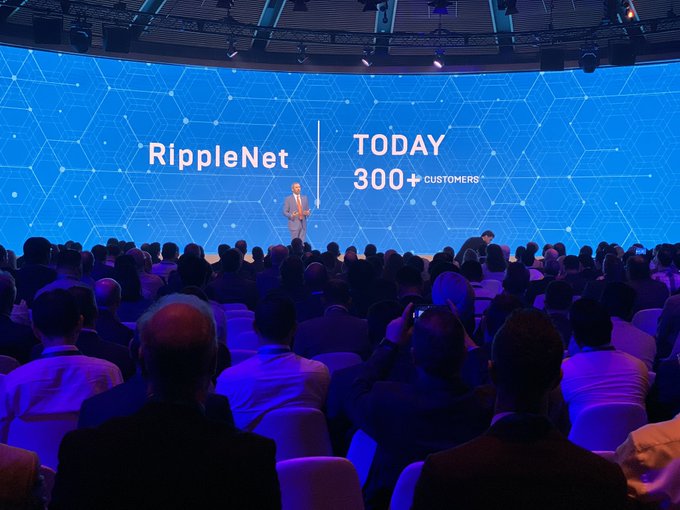 SwellByRipple 2019 has finally kicked-off and the XRP community is eyeing for a rise in XRP's trading value and the new updates from Ripple, the global payment blockchain firm. 
However, Ripple broke out a new announcement which certainly excited its audience. As per the latest report, Ripple has surpassed 300 customers, around 2 dozens of which are using XRP via Ripple's On-Demand Liquidity. CEO Brad Garlinghouse took to twitter and quickly asserted that "the network is stronger than ever, and momentum behind ODL is only beginning". He says; 
There are strong network effects: the more customers you have on the network, the more value in joining the network. 
Good things come in 3s – at our 3rd annual Swell event we announced @Ripple has more than 300 customers, more than 2 dozen of which are using #XRP through On-Demand Liquidity. The network is stronger than ever, and momentum behind ODL is only beginning. https://t.co/NQGEoH8hJI

— Brad Garlinghouse (@bgarlinghouse) November 7, 2019
He also expects to see that "momentum" to continue in 2020 and plans to open new corridors across APAC, EMEA, and LATAM. The official press release mentioned that the year 2019 was the strongest for Ripple, adding the instance of MoneyGram as its major partner. The company further claims that it is already making an impact on the bottom line for our customers. 
Ripple announced On-Demand Liquidity (ODL) during Swell 2018 which was formerly known as xRapid. This particular technology of Ripple uses XRP to eliminate pre-funding in the payment settlement system. ODL currently serves various regions with corridors available in Mexico, Philippines, Australia and soon to launch in Brazil. MoneyGram announced its plan to implement ODL and began transacting on top of RippleNet in just two months after the announcement. 
"For the first time ever, we're settling currencies in seconds, and because of these results, we're expanding our partnership with Ripple and are excited to announce that we have started executing foreign currency trades with the Philippine peso using ODL, said Alex Holmes, MoneyGram's CEO. 
According to Ripple, its customers spread across 45 countries and 6 continents and very latest to join Ripple's blockchain network, RippleNet are Faysal Bank in Pakistan, bKash in Bangaladesh, QNB in Qatar, and Finastra in the U.K. 
Garlinghouse excitedly commented; 
"There has been a lot of skepticism about how XRP can be used for liquidity, and as the industry continues to try to find use cases around blockchain, we have more than 20 customers using XRP for cross-border liquidity and are benefiting from that", 
Notably, there seems no positive influence of Swell conference on the price of XRP yet. At the press time, the third largest cryptocurrency is still trading at the value $0.29 against USD which is currently declining by 1.93 percent within the past 24Hrs. Moreover, the token is capturing the market capitalization of $12,807,810,318. 
Image Source – Twitter