$200,000 Premium Advertiser Grant Program Launching on Adshares 🚀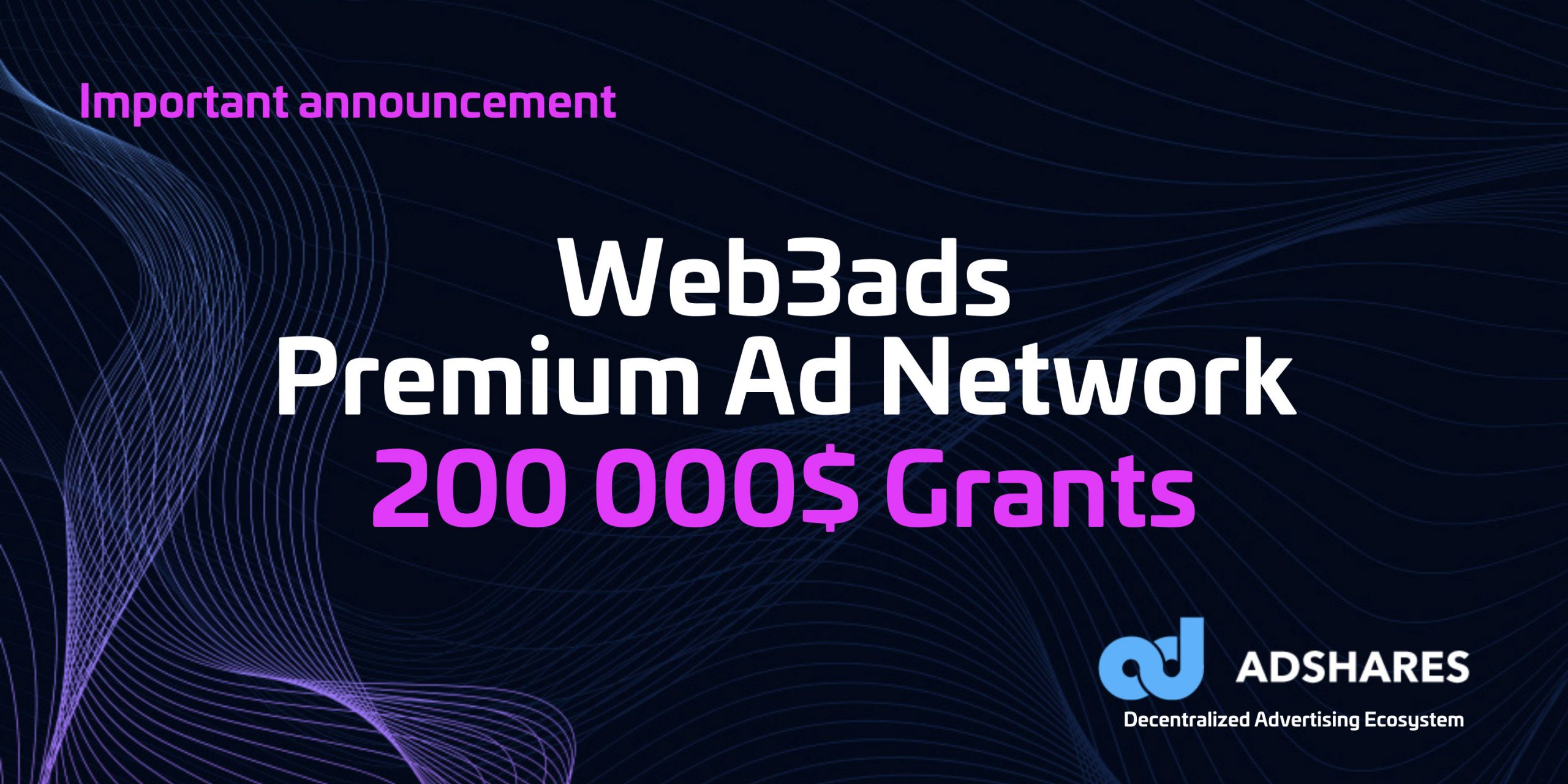 As part of the new Adshares business development roadmap announced earlier this year in Adshares new Business Development Roadmap, a rebirth – Part Two, Adshares announced the launch of a new blockchain-related premium ad network including two new services: Media Plan as-a-service and new premium ad formats.
As a first step toward accomplishing the plans set forth in its Business Development Roadmap, Adshares announced $120,000 in Premium Ad Network grants to go toward publishers during the launch of Adshares Blockchain Premium, Web3ads.
The launch of Adshares Blockchain Premium exceeded the expectations: dozens Publishers have applied to join the Decentralized Advertising Revolution.
Adshares plans now to continue to kick off with an additional grant program dedicated to the other side of the equation in mind, Premium Advertisers. Thus, $200,000 is allocated to engage advertisers to adopt this innovation. Each crypto project can apply for a grant of up to $2000 to promote its Dapp, events or services.
The doors of this grant program are now open. All Crypto projects, blockchain related events organizers and decentralized companies are welcome. To participate and join the Web3ads simply submit your application through the dedicated form: http://adshar.es/web3ads
As one of its core business development plans which will continue to push the boundaries for decentralized advertising, Adshares Premium is the first and only decentralized network dedicated to the world's best blockchain Publishers. Its main goal is to maintain a fair and automatic banner marketplace for leading Publishers and Advertisers.
More than 20 leading Publishers have decided to join in order to be part of the decentralized advertising revolution, as the initial push. Adshares is now seeking 100 leading Advertisers in the Blockchain space to join in on the initiative.
Advertisers will take advantage of this disruptive solution in the easiest way they could imagine: no more prohibitive commissions, possibility to use multiple ads classification providers, payments made after the ad is displayed, an easier payment rates setting, lower risk and more confidence, conversion metrics measurement before payment commitment, algorithm makers optimizing campaign delivery without Advertiser involvement, and a choice of extended ads formats to perfectly suits to their needs, with much more to come.
Based on what the Adshares Blockchain has to offer to Premium Publishers, Adshares is confident that these Advertisers will continue to utilize the Ad Network after involvement with this Grant Program, leading to the long-term success of the Web3ads Premium Ad Network.
A dedicated support team will be available to ensure the success of these brand new Advertisers as they push their own reach in the blockchain industry further than ever before with the finest decentralized placements available.
In highlights:
Join as a Premium Advertiser for 3 months
Receive up to $2,000 total in $ADS as a bonus (⅓ to be spent each month)
Budget dedicated to banner advertising (CPM)
Blockchain Advertisers will receive greater visibility due to the power of decentralized (high retention)
Advertisers will receive publicity from Adshares social media pages
Register here: use the form or write to us at [email protected]
A new era of monetizing qualitative audiences in a decentralized way is now a reality.
Monetizing an audience is a huge challenge for all Publishers and even more so for those related to blockchain and crypto. All the current major players that offer such solutions are centralized and totally control the market, taking up to 30% to 70% fees between Advertisers and Publishers.
This is well known and not new. It's up to you to figure out the most appropriate words to express this situation…
A solution is needed, for sure.
But do you know that a decentralized and trustable solution is already existing with a real and workable solution?
Benefits for Premium Advertisers:
No more prohibitive commissions
Possibility to use multiple ads classification providers, if even one accepts ads can run
All payments are done after the ad is displayed
Easier payment rates setting
Lower risk
Being able to measure conversion metrics before payment commitment
Potential to run ads anonymously
Algorithm makers optimize campaign delivery without Advertiser involvement
Extended ads format to perfectly suits their needs
About Adshares
Adshares is the first 100% decentralized marketplace for programmatic advertising, also being one of the most advanced blockchain-based projects in the advertising market.
Adshares aims to capture a significant share of a €1 trillion market by 2025.
Adshares Network is based on its own and unique blockchain (Enterprise Service Chain — ESC Blockchain) to connect Publishers and advertisers, allowing them to make direct deals.
Combined with some unique features, Adshares offers a very interesting set of advantages over mainstream and crypto ad networks such as Google Ads, Coinzilla, CoinTraffic, PropellerAds, Adsterra, or Mellow Ads.
Adshares open ecosystem is based on a reliable and secure $ADS Blockchain that has been `tested to process up to 1.4M transfers per second, making it significantly faster than Bitcoin, Ethereum, Bitshares, and all other available blockchains.
Adshares goal is to handle worldwide advertising payments using $ADS cryptocurrency.