5 Reasons To Buy Ripple XRP Coin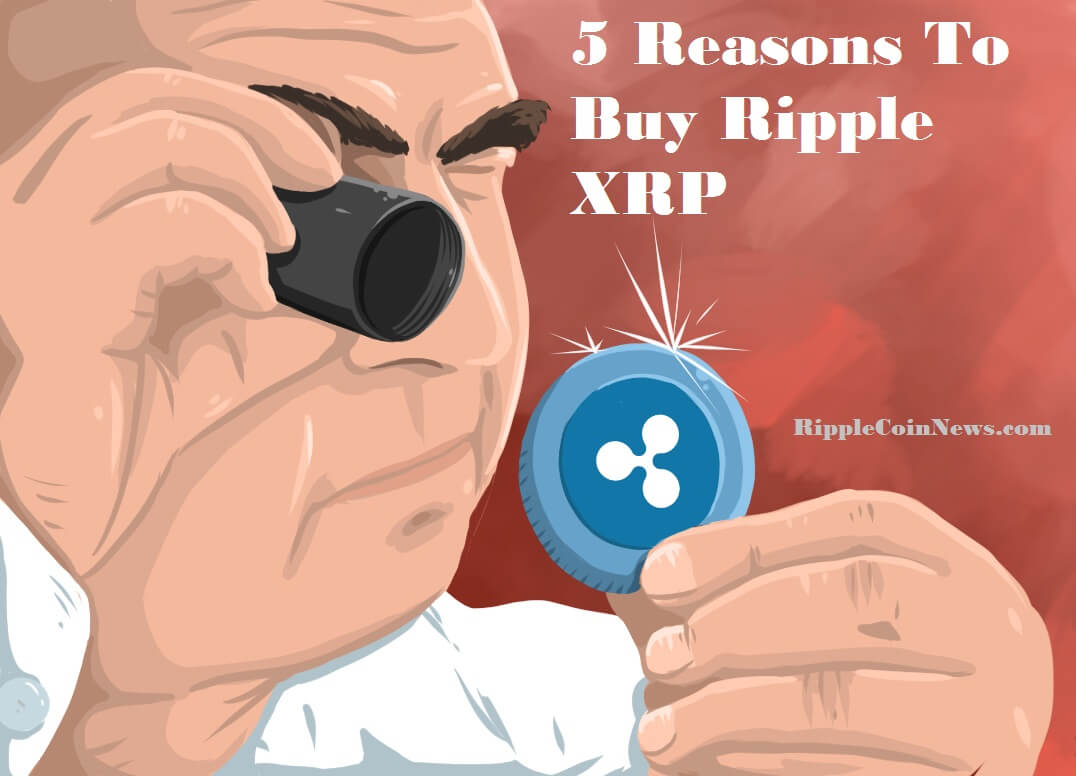 Yesterday, while searching for a trend on the Google Trend page with the XRP tag, i found an amazing increase in searches made by people worldwide. Slovenia is ranked first in the number of searches for XRP, and Korea is the second. What would be the reasons for this increase in number of searches?
People all over the world want to make money. The last big boom in the capital markets was the emergence and development of Crypto Market (a new capital market developed in the last few years). XRP coin is in the 4th place among the top 10 Crypto coins.
Ripple is a venture-backed startup with offices in San Francisco, New York, London, Luxembourg and Sydney. Ripple's leaders bring together decades of experience in technology, financial services and compliance. Ripple's stated a goal which is the use of cross-border payment technology and use of the XRP as the buffer between fiat money transfers. The most famous names in Ripple's leadership are: David Schwartz, Stefan Thomas, Miguel Vias and Brad Garlinghouse.
The development team at Ripple currently has nearly 200 employees. Many of them are support engineers and field technicians. The team is very good at the technical chapter and at promotion and advertising also. This can be seen from the fact that they managed to convince a number of approximately 80 banks to test their technology for cross-border payments.
Let's see what this currency has and why it should be purchased in September this year.
News:

Almost all those who are trading in the capital markets know that the positive news gives a positive impulse to the price.
By the end of 2017, we are expecting a series of news that will influence the XRP's price positively.
-SWELL conference which will be held in 16-18 October at Toronto. Ben Bernanke – Chairman – (The Federal Reserve System (2006-2014)) and Sir Tim Berners-Lee (The Inventor of the World Wide Web) are among the most important names announced there. Other important names that will be present there are Brad Garlinghouse (CEO Ripple ) , Stefan Thomas (CTO Ripple), Takashi Okita ( SBI Ripple Asia CEO), Ed Metzger (Head of Innovation Santander) and Dr. Arak Sutivong (Head of Strategy Siam Commercial Bank).
As you can see, people from the leadership of the banks who are currently testing Ripple technology are invited. It is not excluded that Ripple officials will let us know about the implementation and adoption of Ripple technology.
 The official statement of Ripple is the following:
"Today we are permanently removing that uncertainty by committing to place 55 billion XRP into a cryptographically-secured escrow account by the end of 2017. By securing the lion's share of our XRP, investors can now matematically verify the maximum supply of XRP that can enter the market."
From the total of 100 billion coins, 55 billion coins will be placed in an escrow account. This will reduce the offer on the market and implicitly will lead to higher prices. The announcement that blocking has been achieved, will undoubtedly lead to a rise in the price.
– Ripple's official Miguel Vias statement was like, "In Q3-Q4 you will hear good things about Ripple." In principle, we expect the Ripple technology testing period by banks to end, and at least one bank will announce the adoption of Ripple technology. When I say at least one bank, here I am referring to the National Bank of Abu Dhabi (NBAD). They made an official statement saying that they would adopt Ripple technology soon. Adoption announcements from other banks that are now testing Ripple technology may also appear.
Any news from September to December 2017 may positively influence the price of XRP. In this situation, it is better for you to get on the train than to stay on the platform. It's a metaphor, of course.
Higher return on investment (in percent)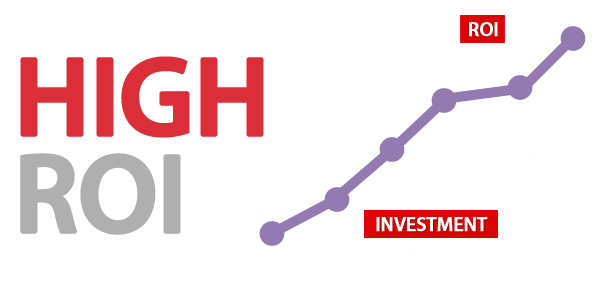 Well, this is a very good reason why you should buy XRP. XRP is currently the most underrated currency in the top 4 Crypto market currencies. This means that this currency has made a significant progress to be used in the real world, but it still has remained cheap.
There are several reasons why XRP has remained cheap. First of all, BTC and ETH benefit from the majority of the attention of the big investors, but also the attention of small investors and this leads to higher prices. Another reason is that Ripple is a bank-working company, and in the Crypto world this is a sacrilege. Ripple is one of the coins that has a lot of enemies. This can be seen in XRP dedicated forums. The XRP is for people with open minds, not for people with preconceived ideas.
A third reason why Ripple XRP Coin has remained cheap is precisely the huge amount of coin issued: 100 billion coins. This has discouraged large-scale investors, who were afraid that the market could suddenly be invaded by a large amount of coins. These fears have been proven to be unintelligible over the years. This myth was shattered recently when Ripple announced that it would block 55 billion coins in the Escrow just to get rid of any fears. But what did I mean by percent yield?
Take, for example, BTC. It is currently trading at  4,500 $. From estimates of various specialists it can not raise more than 7,000 $  this year. If the BTC price reaches  7,000 $ , the return on this investment is 56%. It is known that an expensive currency grows more heavily (in%) than a cheap one.
Let's analyze XRP now. It is currently trading at  0.20 $. In the opinion of many Crypto market specialists, XRP may reach a price of at least  0.75 $  by the end of the year. The return on this XRP investment will be over 300%.
Higher technology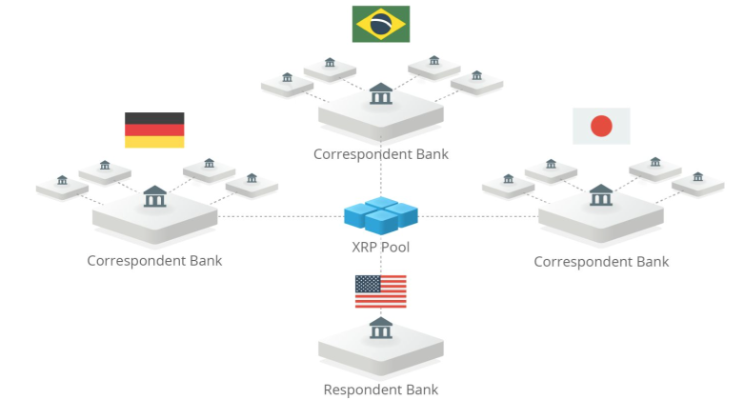 XRP was specifically designed to be able to change current cross-border money transfers. We are talking here about the old and the slow SWIFT. At present, a transfer with SWIFT between two countries can take from 3 to 5 days. Not to mention the costs of these transfers, which are not negligible, especially if we are talking about transfers of tens of thousands of dollars.
XRP is a third-generation blockchain technology currently being exceeded by IOTA's only tangle blockchain technology. For example, Bitcoin being the first crypto currency, has a first-generation blockchain technology.
An XRP transfer is done in 4 seconds. By comparison, an Ethereum transfer is made in about 3 minutes and a Bitcoin transfer in 10 to 30 minutes.
XRP can perform 1500 transfers / second, Ethereum 15 transfers / second and Bitcoin 7 transfers per second.
You can see that XRP technology is far superior to the other two coins.
The total number of coins issued is 100 billion. This impressive number of coins is specifically designed to make the bulk of cross-border transfers. Institutions using the Ripple transfer platform will reduce the cost of transfers by 30%. If institutions use the Ripple platform and the XRP currency, the transfer costs will decrease by 60%.
A number of approximately 80 banks are testing Ripple technology
At the moment, Ripple technology is tested by nearly 80 banks. Soon, this test phase will end with banks setting whether to adopt Ripple technology or not. Banks will be able to adopt for two options. They will only use the Ripple transfer software, and in this case the money transfer costs will decrease by only 30%. If banks choose to use the Ripple software and the XRP currency, the transfer price will drop by 60%. This 60% drop in transfer costs may be an encouraging reason for banks to use the XRP currency.
Here's an extract from an article published on June 29, 2017 at the official Ripple site:
"Thanks to SBI Remit, Siam Commercial Bank (SCB) and Ripple, 45,000 Thai citizens living in Japan can send money home faster.
Remittance flows between Japan and Thailand have been steadily growing and currently make up roughly $ 250 million USD annually. However, the remittance infrastructure has not kept up with customer needs. Funds transfers can take up to two days, average fees and whopping 5-7% for each transaction and there is no visibility into when funds actually arrive. The rollout of the service begins today. It's the first commercially-available remittance service powered by Ripple. Those who use SBI Remit in Japan can instantly send money in JPY to the recipient's SCB savings account in Thailand and receive funds in seconds."
According to this article on the official Ripple site, there is currently a cross-border transfer corridor between Japan and Thailand.
Above, you have a list of the nearly 50 banks currently testing the Ripple technology. This image shows the state of Ripple technology testing in each bank.
Technical analysis says BUY: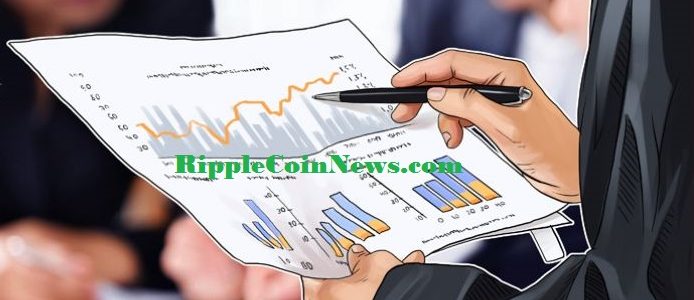 My experience as a trader is about nine years. I traded in the Stock Market, WTY Oil, Forex and Crypto market. One of the tools that helped me a lot in trading was the technical analysis. Those who do not know how to interpret it, or just have a vague idea about it, said that it doesn't help at all. As an old trader, I can say that technical analysis makes you one step ahead of many people and this implicitly leads to maximized earnings. Buying and selling is no longer happening if you know the technical analysis.
What does technical analysis tell us about XRP / USD parity? You have a daily chart below on XRP / USD. The maximum price reached was 0.42 USD (May). Since then, the price has fallen for several months reaching a value of 0.15 USD. From that point of view, we have a new trend up to now. The price today while writing this article is 0.20 USD.
As you see on the chart, 10 days ago, the MACD gave a buy signal. It should be noted that volumes have grown since the start of the current upsurge. Up there, we have a resistance level of 0.32 USD. This can be overcome in case of positive news and the former historical maximum (0.42 USD) can easily be passed. Thers is no more than one step From here up to new maximum prices. I learned with time to appreciate a buy signal given by the technical analysis.
At what price can we climb if we exceed the former peak of $0.42 USD? Well, that's very hard to anticipate. It will depend a lot on news and how much money will go on XRP. If you research on the Internet, you will find that most of the forecasts estimate a price of (0.75-0.95) USD at the end of 2017.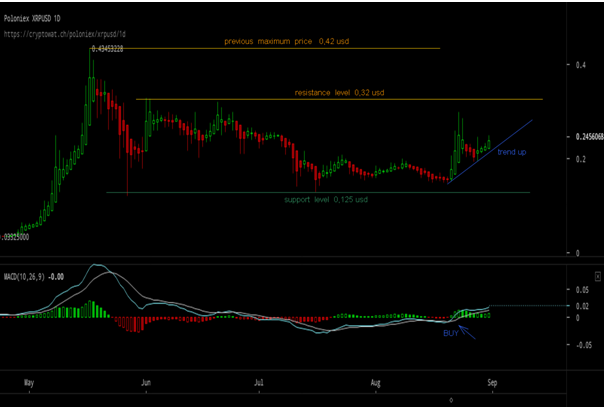 You should also know that XRP is one of the most ugly coins on the Crypto market. And that's because they work with the banks. For BTC and ETH purists, this is sacrilegious. In conclusion, the XRP is for people with open minds, not for people with prejudices. Will Ripple succeed in completing the plan it has proposed? The Ripple team is a good team starting from the technical side to the promotional side. I trust them, but there may be some problems,of course.
If we look more closely, Ripple can be compared to the companies that revolutionized the world years ago. Ripple can be compared to Apple at its beginning when nobody believed in it.
Undoubtedly, XRP should be in the portfolio of any man who is accustomed to investing on the stock market or on the Crypto market since September. My advice: buy on goals and hold 1-5 years. There is no doubt that it's a long-term investment which can bring you nice money. You just have to be patient.
This article was created after nine years experience as a trader and this article includes all the important data about Ripple and XRP. I recommend you to do your own research before investing in Ripple XRP Coin. All the information presented here can be checked on the official Ripple site or on the internet.