ANKR Price Prediction 2021-2024 | Is ANKR a good investment?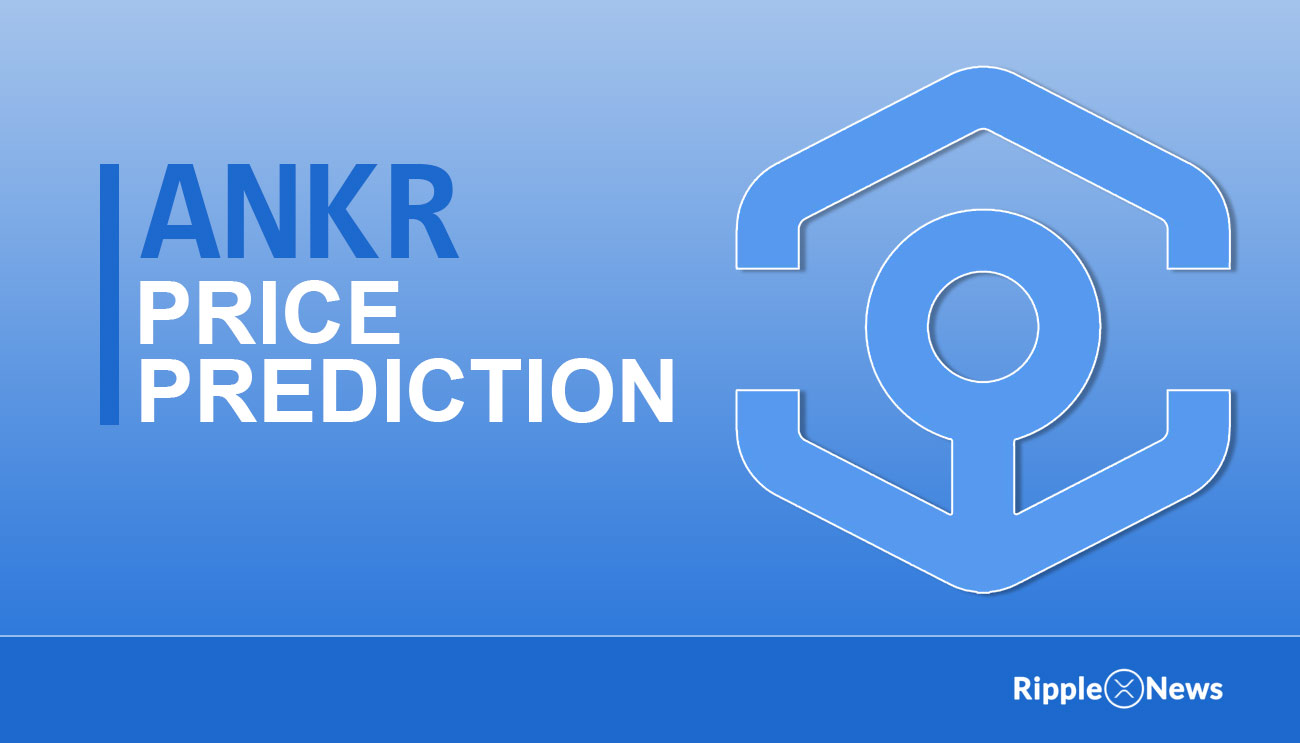 ANKR was founded in 2017 by a team of Engineers at the University of Berkeley, California. It's an Ethereum-based blockchain platform that uses the ANKR tokens to power its Web3 and cross-chain DeFi staking platform. ANKR has a total market cap of $1.09 billion and it trades between $0.15 to $0.1608.
As of January 2021, the ANKRA token traded for $0.0085 and rose to an all-time high of $0.205, making it one of the best performing coins with a record growth of nearly 2500% in 3 months.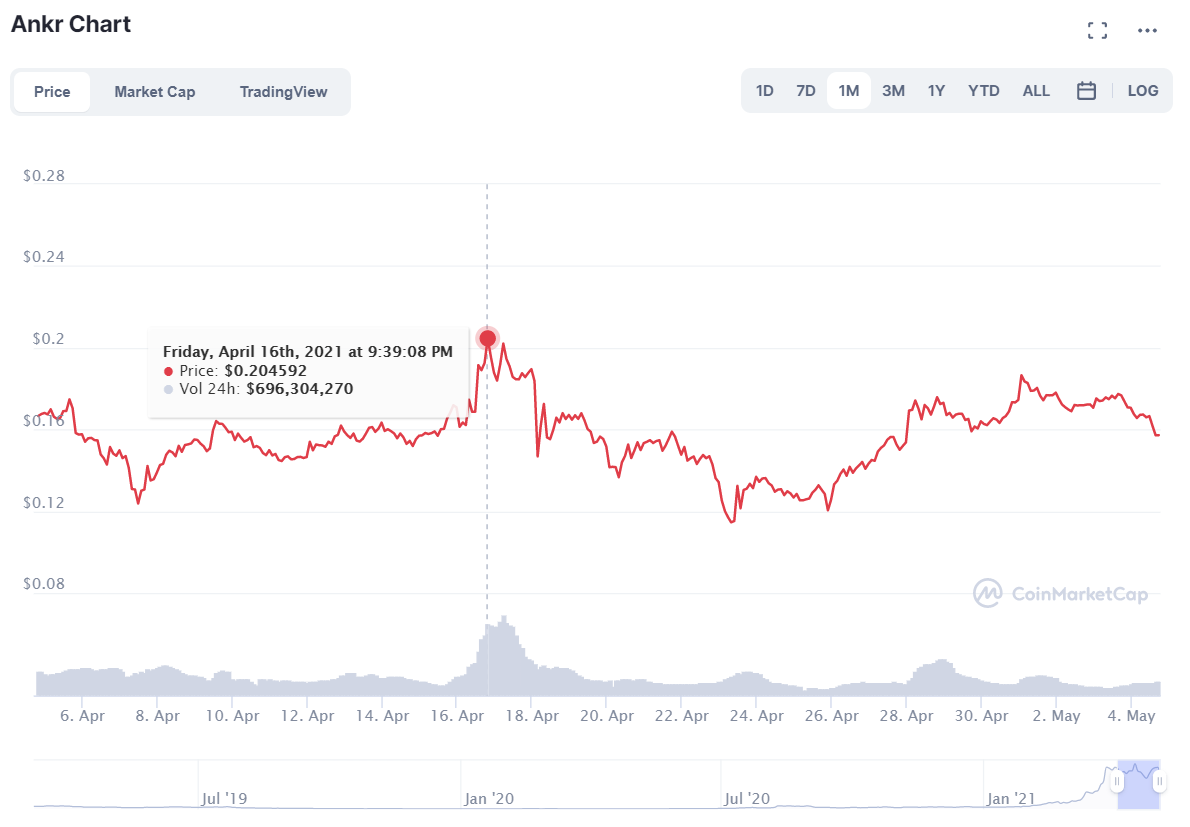 Will the ANKR token record more growth surges before the end of 2021? Find out in this article.
ANKR Price History
ANKR's price history is one of gradual growth as more people began exploiting the ANKR platform for its usefulness. ANKR rose gradually from an all-time low of $0.000895 as of March 2020 to its current market price of $0.17, representing 16659% growth in one year. A major contributory factor to ANKR's recent price surge is its listing on Coinbase, America's largest cryptocurrency exchange site.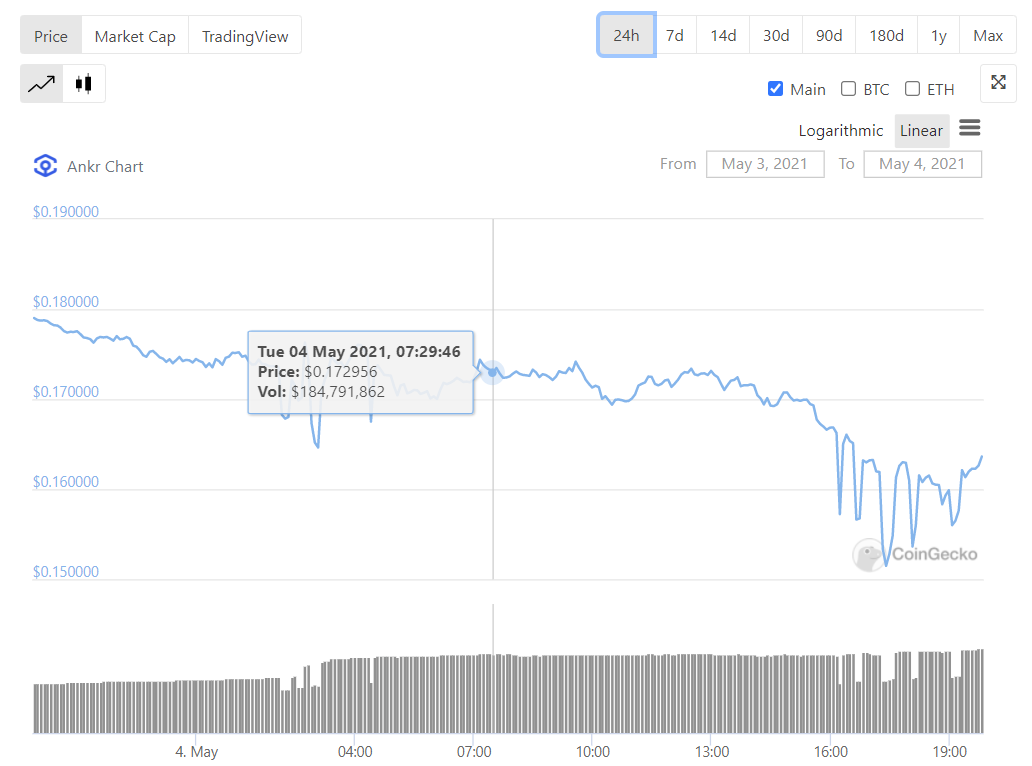 ANKR Price Prediction Q1
For 2021 first quarter, ANKR has recorded 2,488.24% growth between March 2021 to April 2021, with price movement from 0.0085 to 0.015 within the first quarter of 2021, recording its all-time-high (ATH) of $0.21 on March 28, 2021. Based on its current price trend, it is hopeful that ANKR will maintain a price range between 0.14 to 0.17, representing a 21.43% increase in price value from now to April 30, 2021.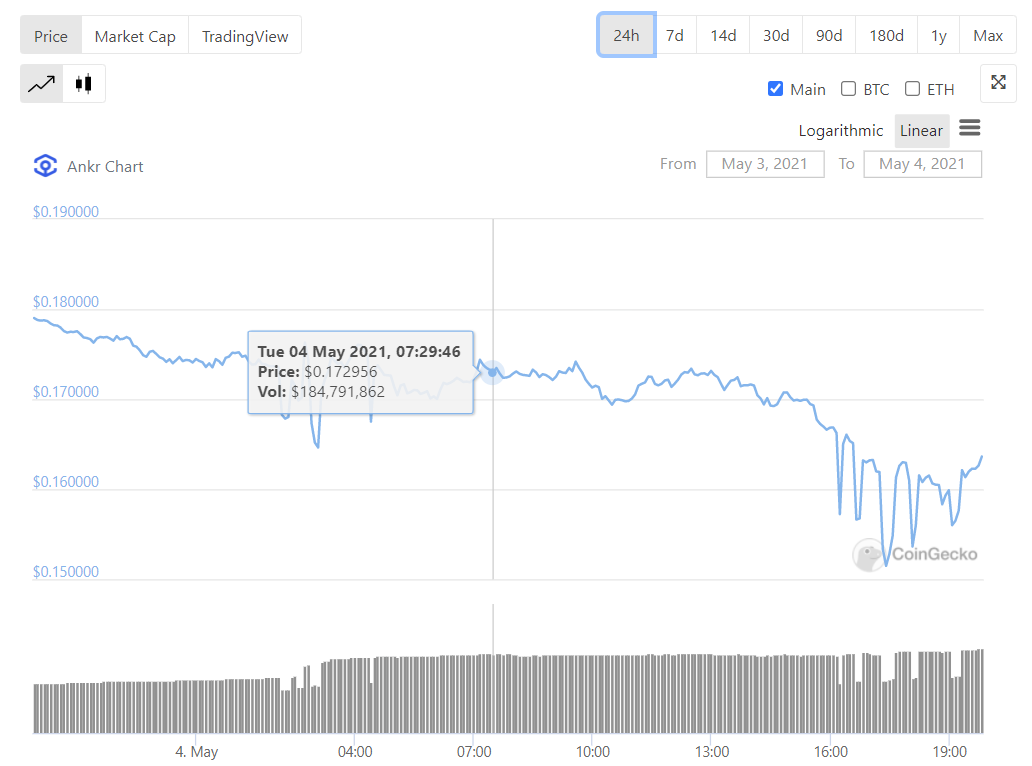 ANKR Price Prediction Q2
Based on ANKR's performance in the first quarter of 2021, it is hopeful that ANKR will trade within $0.15 to $0.23, averaging at $0.180 in 2021 Q2 representing a 53.33% price increase based on ANKR price forecasts done by Trading Beasts. Based on the general performance of cryptocurrencies, it is hopeful that ANKR will surpass its price prediction to an ATH of $0.89.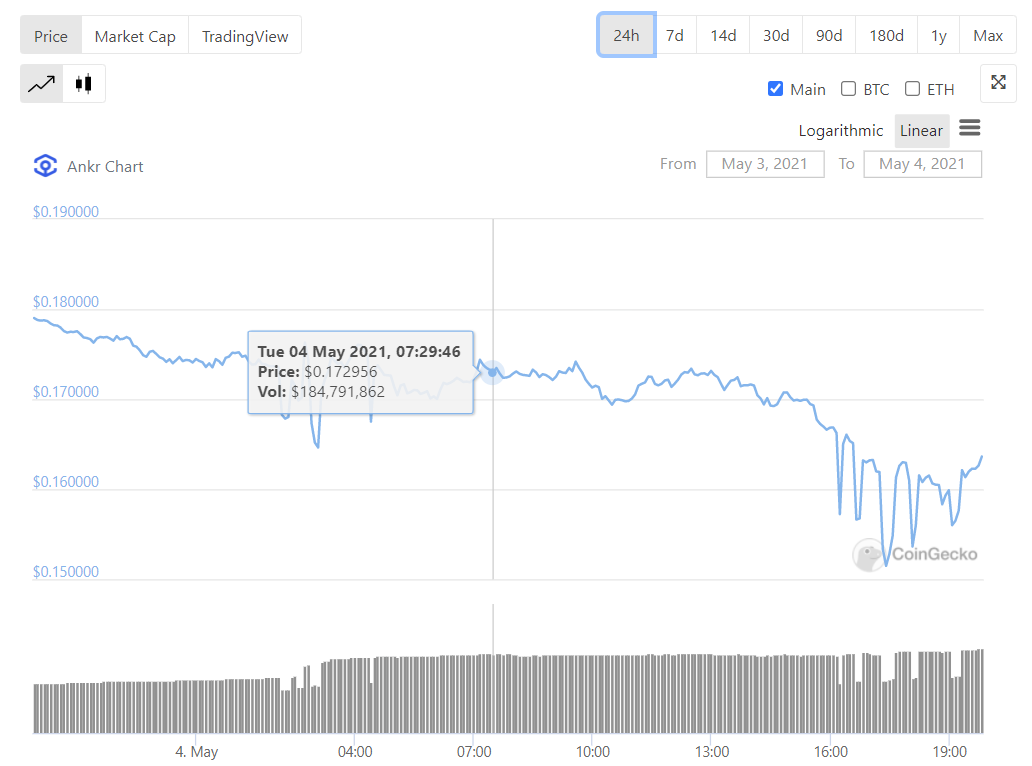 ANKR Price Prediction Q3
ANKR is expected to have a price surge from the predicted price opening of $0.183 for 2021 Q3 to $0.89 by Q3 ending, representing a 386% increase for the last quarter of the year. However, it is expected to average at $0.53 and most likely close the year at $0.89, representing 10370.59% growth from January to December 2021.
ANKR Price Prediction 2022
In January 2022, it is expected that ANKR will experience a bearish run seeing its price fall to as low as $0.18. This is a deduction based on past bullish and bearish cycles, and it is believed that the cryptocurrency market will enter a bearish downtrend in the greater part of 2022 based on two years of bullish cycle from Jan 2020 to December 2021.
Hence, it is hopeful that the price of ANKR will experience a slow move from $0.18 to $0.27, representing 50% growth amidst a bearish market. InvestorPlace suggests based on Gov.capital, WalletInvestor and DigitalCoinPrice predictions that the ANKR price should in one-year time hover in the price range between 25 and 40 cents.
ANKR Price Forecast for 2023 And 2024

The bearish move might continue midway into 2023, with ANKR token trading at $0.26 at the beginning of 2023, and it is expected to experience a growth surge selling at $1.5 before the close of 2024 therefore, giving it a new ATH and growth of 17,546.06% from January 2021 to December 2024.
A key contributory factor that could see ANKRA hitting a new all-time high of $1.5 can be as a result of its innovative platforms, applications, and services becoming more appealing to blockchain users and its wide acceptance on all major cryptocurrency exchange sites.
ANKR Technical Analysis
ANKRA's price chart showed a strong bullish movement in the first quarter of 2021, with an ATH of 0.22 in March 2021. We see ANKRA opening in January 2021 at $0.0085 and rising to $0.22 in March, representing 2,488% growth happening in the first quarter of 2021 and a 24,481% growth from its last all-time-low price of $0.000895 in March, 2020 representing a massive one-year price increase.
Fundamentals
ANKR's price will be majorly influenced by its wide scale acceptance by individuals and exchanges, thus propelling positive growth in the next coming years. However, its price might be slightly affected by Bitcoin price movement; ANKR will likely perform fairly well amidst competition and bearish downturns likely to be experienced in 2022 and 2023.
Conclusion
Cryptocurrency price growth cannot be predicted with certainty as price fluctuations depend on many factors and happenings, one of which is the volume of coins in circulation. Hence, forecasted ANKR prices made in this article cannot be relied upon as a sole guide for investing in ANKR and other cryptocurrencies.
Despite the uncertainties surrounding cryptocurrency price predictions, there's a strong hope that the ANKR token will continue its bullish price growth to the end of 2021, considering that the coin is experiencing a growing user base who use the ANKR token to pay for services on the ANKR Blockchain; and traders trading the ANKR token on major exchanges.