Binance CEO Doesn't Think XRP as Security but View as Largest Market-Cap Coin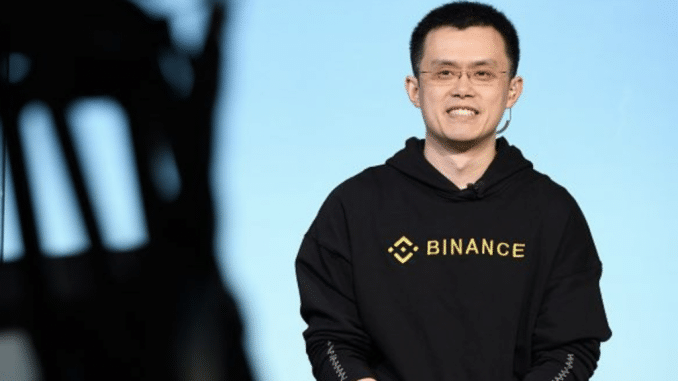 In a recent AMA session, Changpeng Zhao or CZ, the co-founder and CEO of the world's largest cryptocurrency exchange, Binance embraced XRP, the well-known digital currency.
XRP is Largest Market-Cap Coin 
It was his second Ask Me Anything (AMA) live session on Twitter where he discussed various aspects on Binance exchange, BNB token, Binance DEX and unlike. In about 55 minutes of discussion, CZ also addressed the live questions many crypto enthusiasts asked him – addressing one such question that was related to XRP, CZ in his brief answer goes on to indicate that XRP is not a security.
However, the question concerned his announcement on XRP (if any) but he quickly responded (laughingly) if he talks more on the subject on XRP, he would be the part of XRP army. On a continuous note, he claimed that;
"It's very typical in our society that as soon as there is any accusation against you, you're assumed guilty by many parties. I think people are aware that there is a lawsuit against XRP [he meant, Ripple], on whether they're a security asset or not. Our judgment is they're not, and until proven that they are, we listed them, and luckily we actually dragged other exchanges to list them."
Its worth to note that the Ripple has shortly owned a victory on its ongoing class-action lawsuit since its finalized that this case will remain in Federal court than the lower ones.
Ripple securities class action update: The Court has denied the plaintiffs' motions to remand. This means the case stays in federal court, a minor but meaningful victory for Ripple.

The plaintiffs will file an Amended Consolidated Complaint by March 30.https://t.co/4gdQVaCrlM

— Jake Chervinsky (@jchervinsky) March 1, 2019
Over the past few days (since the listing of XRP on Binance), CZ seems quite bullish on XRP and its related announcement of listing across other trading platforms. As such, he appeared quite often when someone addressed him and raised a query concerning XRP – consequently, as a response to one such user who debates on XRP's centralization aspect, CZ appeared very active, explaining how the aspects differ.
Decentralization idealism is good, but if you don't have a product and user base to go with it, it is just idealism.

— CZ Binance (@cz_binance) February 26, 2019
Our Judgement is that – XRP is not a Security 
On top of all, towards the end of AMA live session, CZ states 'XRP is one of the largest market-cap coins', adding that, and it's like that for a reason. He continued;
"There are a lot of guys who complain they're [Ripple's XRP token] overly centralized, etc. But look they market. The markets vote with their feet, as I say, and XRP is one of the largest market-cap coins, and it's like that for a reason."
To note, RP at the moment spots as the third largest cryptocurrency with an average market cap $13,148,517,885. It currently trades at $0.318352 with a positive movement of 1.44 percent over the past 24 hours.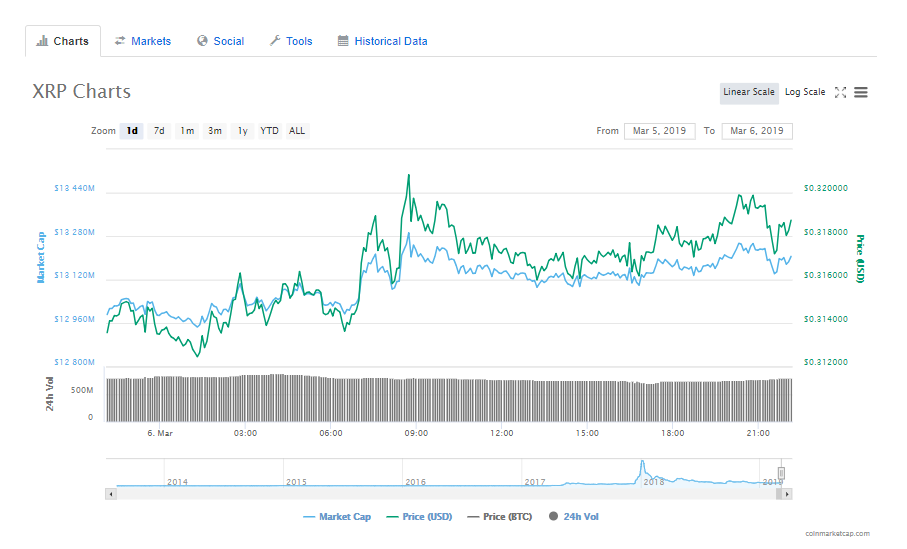 Image source – https://coinmarketcap.com/currencies/ripple/