Bitcoin Drops Alongside Risk Markets Amid Inflation Concerns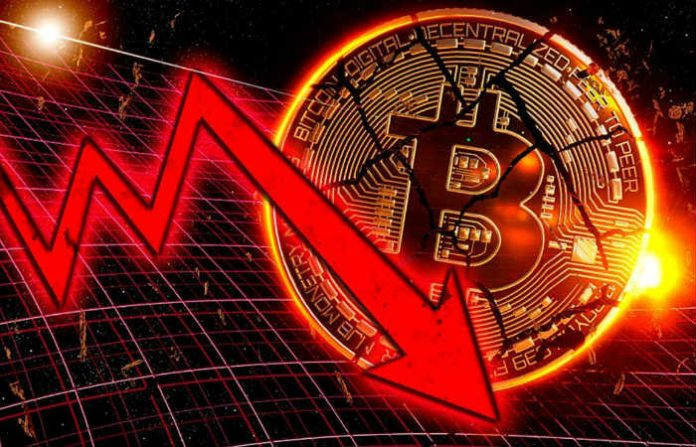 The U.S. Federal Reserve may increase its benchmark fed funds rate by 50 basis points in March, according to recent data from the PCE Price Index.
This index showed a reversal of the disinflation trend in January, with a year-on-year increase of 5.4%, compared to 5.3% in December. The core rate, which excludes food and energy prices, also rose faster than anticipated, at 4.7% versus 4.6% in December.
These figures suggest that inflation in the U.S. is still elevated and may require a stronger response from the Fed.
PCE Price Index Up on Monthly Basis
The PCE Price Index also rose on a monthly basis, increasing by 0.6% in January compared to 0.2% in December. The core rate followed suit, rising 0.6% in January versus 0.4% in December. These figures exceeded expectations and indicate that inflation may be accelerating faster than anticipated.
Market Response
The news of rising inflation and potential interest rate hikes caused risk markets to turn lower. Bitcoin (BTC) dropped by about $200 to $23,730, and Nasdaq 100 futures and S&P 500 futures also fell by 1.9% and 1.4% respectively.
PCE Gauge Remains Fed's Preferred Indicator
Although the PCE Price Index is backward-looking, as it reports on January data and it is nearly March, it is still the Fed's preferred inflation indicator.
Based on this report, traders are now nearly evenly split between a 25 basis point rate hike and a 50 basis point rate hike at the Fed's next policy meeting in March. Just a month ago, there was a 100% expectation of only a 25 basis point move in March.
Inflation Trends
While inflation remained high in late 2022, there were signs that it was trending lower. Even Fed Chair Jay Powell stated in January that he saw signs of a disinflation trend.
However, the recent PCE Price Index data calls that into question, with inflation still remaining stubbornly high.
Possible Rate Hike
According to RSM Chief Economist Joe Brusuelas, inflation may continue to increase and reach a peak of at least 5.5%. He also stated that the risk of a 50 basis point rate hike in March is rising, with service inflation continuing to increase and goods disinflation cooling.