Buy and pay with DhabiCoin in over two hundred countries through CoinPayments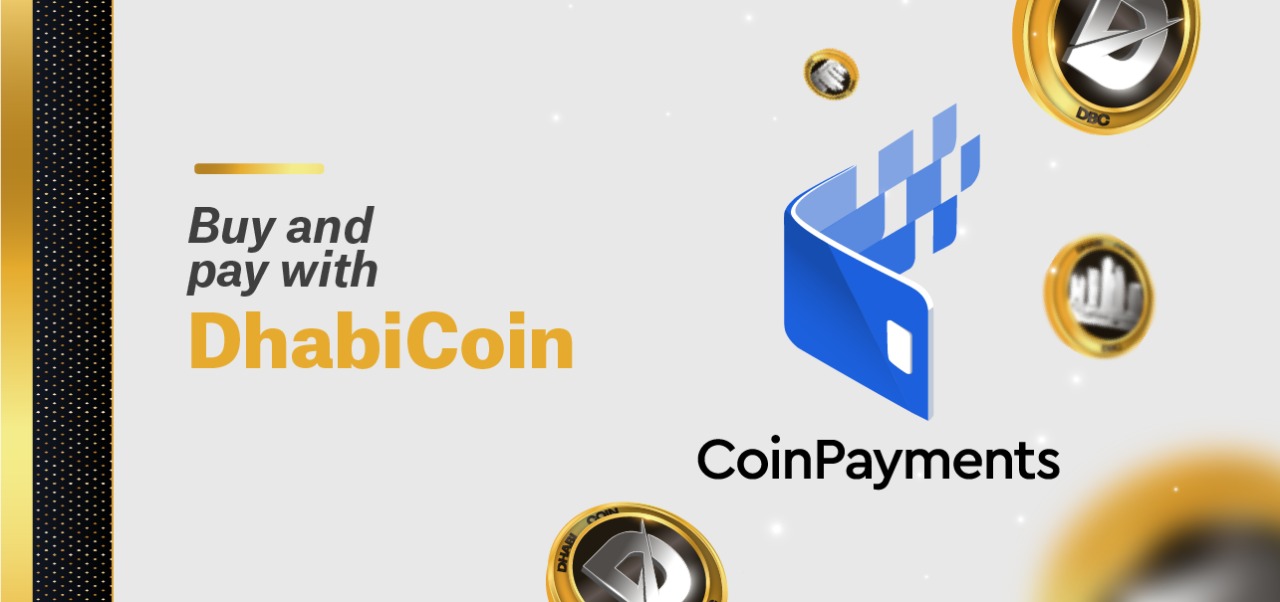 Take advantage of our easy and affordable global crypto payment gateway for everyone – whether you are a business owner, crypto user, or even from another planet (CoinPayments).
The cryptocurrency market has been an imperative in the lives of the world's population. These increasing demands adequacy for crypto users and traders worldwide to connect with the public that carries out commercial transactions and services. DhabiCoin (DBC) was listed at the beginning of 2022 and is already present on more than five exchanges, reaching seven in this first semester. DBC's newest initiative is to have been integrated into the world's global cryptocurrency payments network, CoinPayments.
Coinpayments, Inc. is a company specializing in cryptocurrency transaction and payment solutions. Through CoinPayments.net, which is CoinPayments' trading platform, merchants from more than two hundred countries where CoinPayments is alive can carry out transactions for purchasing and selling services and products with the most outstanding security, practicality, and speed in transactions. CoinPayments is also a crypto-crypto exchange where users can store their digital assets.
Coinpaymets presents solutions for small, medium, and large physical or virtual merchants to accept cryptocurrencies from their customers and then transform cryptos into fiat currencies such as Dollar, Euro, Renminbi, Real, Pesos, and other currencies. The operation is straightforward: the company needs a tool that is on the platform itself and opens a digital account (wallet) at CoinPayments to receive the amounts. After that, customers simply pay for a solution with a cryptocurrency on their mobile phone, and the corresponding amount is transferred directly to their account.
Coinpayments accepts the most diverse cryptocurrencies, such as Bitcoin, Ethereum, Cardano, BNB, Tether, and DhabiCoin, among others. With this, merchants can quickly adapt their business by following three simple steps, which will allow them to accept cryptocurrencies in their business as a means of payment. CoinPayments is a payment gateway that supports over 2,300 different cryptocurrencies. Companies that accept cryptocurrencies through CoinPayments have access to lower transaction fees, less payment fraud, and fiat money in their bank accounts much faster and more securely.
DBC has been an increasingly definitive payment solution in the market. The newly launched coin has expanded the growth of the cryptocurrency market and is now available for transactions and being accepted by merchants in many countries. DhabiCoin offers many features to its users. With the partnership with CoinPayments, DBC can be received from a small business owner who works virtually or in a physical store to real estate, restaurants, hotel chains, car dealerships, and all kinds of commercial activities around the World.
Companies that already operate with CoinPayments accept among the approximately 2,300 existing cryptocurrencies, also starting to get DhabiCoin. Once you have a commercial activity, you can adapt your company to enter the revolution of the digital economy and the new way of buying and paying. Join CoinPayments and start accepting and paying with DhabiCoin in over two hundred countries.
Visit CoinPayments and learn more about DhabiCoin at
Official website DhabiCoin, Facebook, Twitter, YouTube, Reddit , and Telegram.
DBC is available on BigOne, Latoken, Pancake Swap, Hotbit, CoinPayments , and soon on Biconomy. Visit the DBC on CoinMarketCap and CoinGecko.