Capitrade Launchpad begins token seed sale, becomes the first launchpad on Terra Network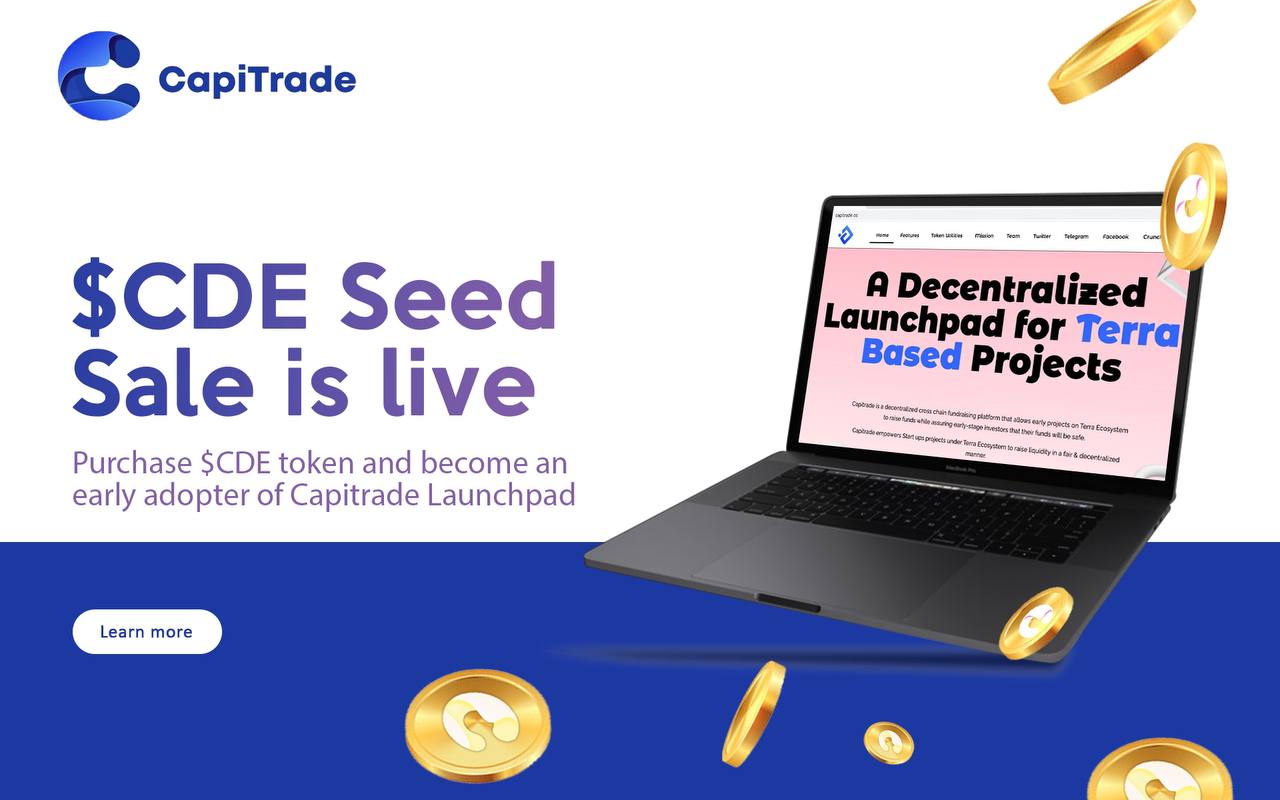 Terra based decentralized fundraising platform Capitrade Ventures has announced the start of its seed sale. Capitrade Ventures allocated a total of $CDE tokens for sale. The sale will continue until 10th of February or the token allocation is exhausted. Investors can buy a minimum of 2 luna worth and a maximum of 1,000 Luna.
Capitrade Ventures allocated a total of 5 million CDE tokens for seed sale, this sale will continue until 10th of February or the token allocation is exhausted.
Capitrade launchpad will support mainly Luna projects but will integrate other Networks including Ethereum network, BSC network, and Polkadot chains network for a more adaptable pool type and whitelist criteria. Capitrade decentralized launchpad will employ the best DeFi industry standards for its development.
When completed, it is expected to bring many solutions such as real-time settlement, top-notch security, interoperability, genuine decentralization, and zero counterparty risk.
Interested participants can view the Seed sale address to send Luna on Capitrade Token Sale Portal
CAPITRADE LAUNCHPAD
The Capitrade ecosystem will be democratized and decentralized by the CDE token that will make the token holders not just part of the ecosystem and governance council but also the key architects behind the decision-making process and the path taken by the whole ecosystem. The CDE token has been designed to have a number of use cases that will give power back to the community and offer unique benefits to token holders within the ecosystem. Some use cases of CDE token include;
TOKEN USER PARTICIPATION INCENTIVES: Ecosystem participants who engage in platform services and support distributed governance
STAKING FOR POOL ACCESS: Stake $CDE to participate in token launches of projects building on Terra Network
GOVERNANCE: Hold CDE tokens to vote and submit proposals
LIQUIDITY MINING: Rewards for liquidity providers
FEES: Earn a percentage of fees that accrue to the treasury by holding CDE tokens.
A user is required to stake Capitrade token CDE to earn CDE: THE FAIR WAY TO PARTICIPATE IN PROJECT LAUNCHES MORE CDE = HIGHER LOTTERY TIER = HIGHER CHANCE OF WINNING.
FEATURES OF CAPITRADE ECOSYSTEM
Intense vetting process for high quality projects – Even the best of projects are susceptible to bad actors who try to sabotage teams and deceive investors. Capitrade's mission is to bring high quality projects and products to individuals across the world in a fair and decentralized manner.
Fair and Decentralized Fundraise – With fundraising being a crucial step to fuel product growth and development, we provide the best decentralized fundraising platform for project's ideas to transform into reality
Access to IDOs of Terra Projects – Providing a user friendly gateway for users to seamlessly access and invest in well-vetted projects building in the Terra Ecosystem
Secure and Compliant – Capitrade ensures projects launching through the platform maintain the highest security standards (token vesting, locked liquidity) and are fully compliant.
CAPITRADE STRATEGIC PLANS FOR TERRA NETWORK
Creative contents: In other to keep our social media platforms active, we will be employing the services of professional content creators to produce catchy contents for upload on our website, and our social media handles.
Periodic events  & Research: Constant event will keep the enthusiasm about the project very high. We need it to remain as high as possible, and for as long as possible. This will be in the best interest of the Capitrade Launchpad
Project Marketing
Foundation Reserve
Product Development
Legal & accountancy
HOW TO BUY CDE TOKENS
CDE Token Seed Sale is live now and can be purchased at Capitrade Token Sale Page
Minimum Buy: 2 LUNA
Maximum Buy: 1000 LUNA
CDE token seed sale: 5 Million CDE Tokens
Capitrade Socials
TWITTER – https://twitter.com/capitrade_cc
NEWS CHANNEL – https://t.me/capitradeventure
FACEBOOK – www.facebook.com/profile.php?id=100076714055836
CRUNCHBASE – www.crunchbase.com/organization/3f82b77d-9fc8-4015-8dde-cad4c2b58820
Project Founder – Eric James https://www.crunchbase.com/person/eric-james-c776