CoinDeal is celebrating it's Premier League sponsorship renewal with a unique and highly anticipated token launch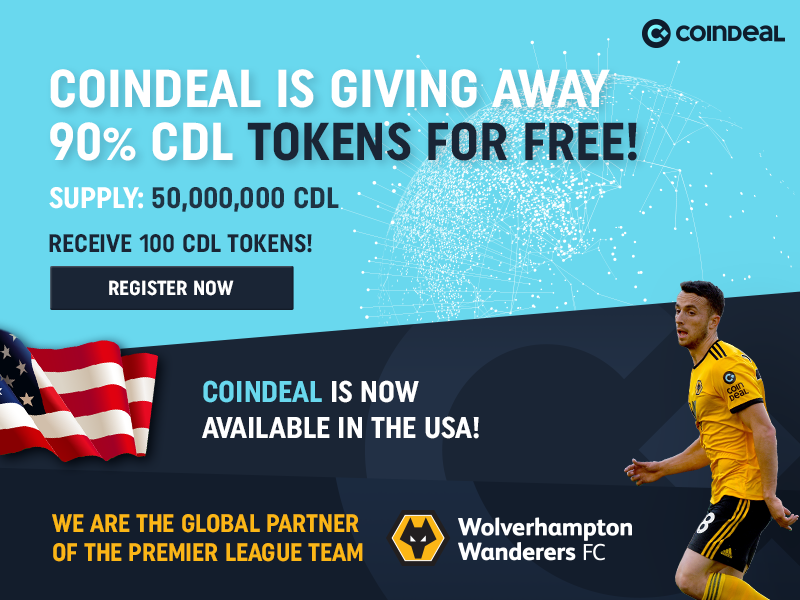 Coindeal's popularity and number of new users are growing very fast. The exchange will soon be available in several states in the USA and has prepared their own CoinDeal token – CDL. This giveaway is addressed to its 300.000 current and 150.000 new users – internal exchange tokens are waiting to get them completely for free!

CDL Token..
…is an amazing opportunity to start trading for free on one of the premier global exchanges with various benefits. The token will also allow for a higher liquidity within CoinDeal and for more pairings with cryptocurrencies and fiats. Only the first 450.000 users will receive CDL tokens. This giveaway is unique, since most token projects give only 5-7% of their token to the users via bounty programs and other mechanisms, however, CoinDeal has decided to give their users 90 % of all generated tokens. Something of this magnitude has been unprecedented and may very well create a totally new token distribution model. 
We actually created a system where staking 150,000 CDL tokens and over will give a maker fee of 0.000%. – Adam Bicz – one of the Founders
If you already have a fully verified account on CoinDeal you just need to login and click the pop-up with information regarding CDL tokens. 
Tokens will automatically appear in your wallet. CoinDeal claims that after the giveaway is completed and all tokens have been distributed to users, it will launch a variety of pairings with crypto and fiats. The total supply is 50,000,000 and the token itself has been created on the EOS blockchain and will boast much faster transaction times as well as  drastically smaller network fees (as compared to most ERC20 tokens). 
How to get free CDL tokens?
Register on CoinDeal
Go through the verification process (ID and Proof of Address)
Click "Get Free Tokens"
Check Your Wallet
All interested in the CDL token should act fast, as the number of tokens is capped and the necessary verification level to receive tokens via CoinDeal.com may take up to a few days.

By getting CDL you will receive
Decreased trading fees
Customer Support/ Fast Pass priority
Multi tier token staking system can decrease fees to 0.000%
Advanced trading features

 

Social trading platform access (planned for 2020)
Staking over 150.000 CDL will give you a 0.0000% maker fee and a 0.0250% taker fee. After completed distribution CoinDeal will start buying back CDL tokens on a monthly basis.
You can gain more from this giveaway by sending your friends a referral link that you can copy from your account. You will receive 20% of their trading fees and they will automatically get free tokens after creating a Coindeal account.
Watch the video:

Taking care of Premier League friendship – 2nd season of the sponsorship of the Wolverhampton Wanderers F.C. 
The last season 2018/2019 of cooperation was very successful for Wolves and Coindeal and they discovered many common features, so it's obvious that they wanted to still work together. The CoinDeal team admits it was one of the biggest and most important marketing adventures in the development of the company.
The numbers speak for themselves. Thanks to the cooperation with Wolves, the media value in the period from the June 2018 to April 2019 amounted to over £50,000,000. Coindeal logo was visible on TV-screens worldwide more than 350,000,000 times and the official CoinDeal advertisement with Wolves players gained also over 1,000,000 of views on YouTube.
After an amazing season, we really made it our priority to come back for this season to be one again, global partners of the Wolves. – Kajetan Mackowiak – one of the Founders
However, the crypto exchange shows that sponsoring is not just a way of advertising for the crypto business, but something more. Apart from the logo visible on the match shirts and the stadium, Coindeal team made friends with the Wolves team and cheered them on each match even for live. Their relation was also seen on the backstage video of the recording of the joint advertising. As they said at the end of cooperation Wolves were something more than partners – they were like family. 
We feel that this partnership has been incredibly beneficial to both sides involved, we truly feel like family here. – Kajetan Mackowiak – one of the Founders

Follow CoinDeal on Facebook and other social media channels:
https://www.facebook.com/CoinDealOfficial/
https://t.me/coindeal_comt
https://www.linkedin.com/company/coin…