Cointraffic Revolutionises Crypto Advertising by Releasing Cointraffic 6.0 Update with Self-Service Feature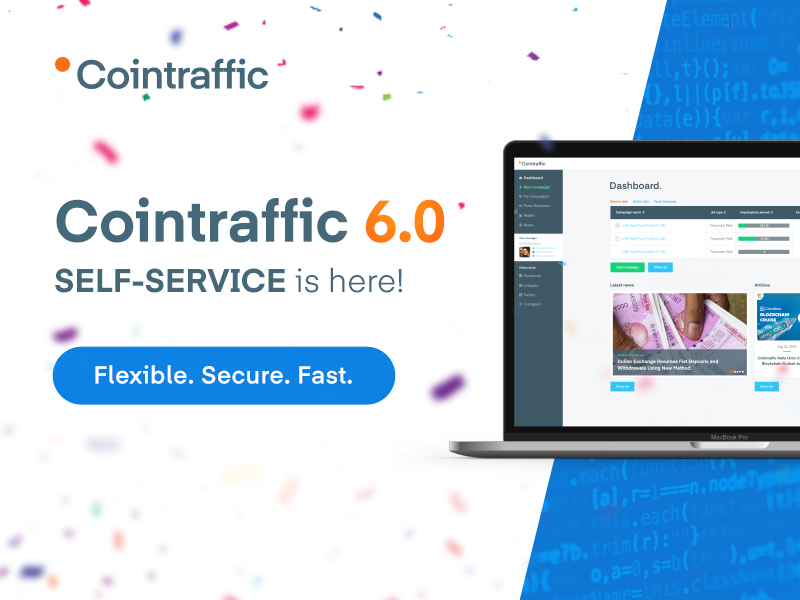 As the world's leading bitcoin and crypto-advertising network, Cointraffic has just taken a giant leap towards making crypto advertising simple, effective, flexible, and fast like never before. The company's new Cointraffic 6.0 update promises to be a gamechanger, with a self-service feature that allows advertisers the freedom to manage all their campaigns through personalised dashboards. 
December 5, 2018 
Cointraffic is pleased to announce the successful rollout of the company's updated platform, Cointraffic 6.0. Globally recognised as the most advanced and experienced marketing service for blockchain and cryptocurrency businesses, the company offers a suite of sophisticated tools to engineer successful crypto projects in the most cost-effective way possible. 
Since 2017, the company has been instrumental in assisting more than eighty advertisers with funding of well above $800 million. The release of Cointraffic 6.0 is a major breakthrough that will provide Cointraffic clients a much-needed self-service option for their advertising campaigns. 
The new self-service platform gives advertisers total control of their own marketing campaigns. Thanks to the new personalised dashboards, clients can now enjoy several key benefits, such as access to powerful analytics tools, the ability to dynamically adjust CPM bids, create, modify and schedule campaigns, and much more. 
What's new?
Real-time CPM auctions based on geographic and audience targeting
Detailed traffic analytics

 

Traffic source blacklists to ensure brand safety and performance
Users can easily pause and restart their campaigns with a simple switch—lights on, lights off.
Starting a new campaign is quick and efficient—campaigns can go live as soon payment is made and the ads are reviewed and approved.

 

 

 
"Our long-term goal always was to provide the best marketing tools for the blockchain community. Cointraffic was the first service to introduce automated media buying, as well as the first to introduce both native ads and automated content distribution for bitcoin and blockchain businesses," says Cointraffic CEO Sergei Verbitski. "With this major update, we're reaffirming our place as thought and technology leaders in the marketing sector of the blockchain world."
The company is inviting all crypto marketers to try out the Cointraffic 6.0 update and see what a difference the robust new suite of tools can make. 
To find out more about Cointraffic 6.0, please visit cointraffic.io
About Cointraffic: Cointraffic is the leading—and the largest—bitcoin and crypto-advertising platform globally. Trusted by more than 400 crypto-related websites, it gives its users unmatched access to some of the biggest publishers in the industry, as well as their audiences—be they customers, buyers, traders or investors—through advertising solutions that create unparalleled brand awareness and set clients up for success. 
Contact: Jelena Golubeva