Cryptoplatform Currency.com: How to Make Trading Fast and Easy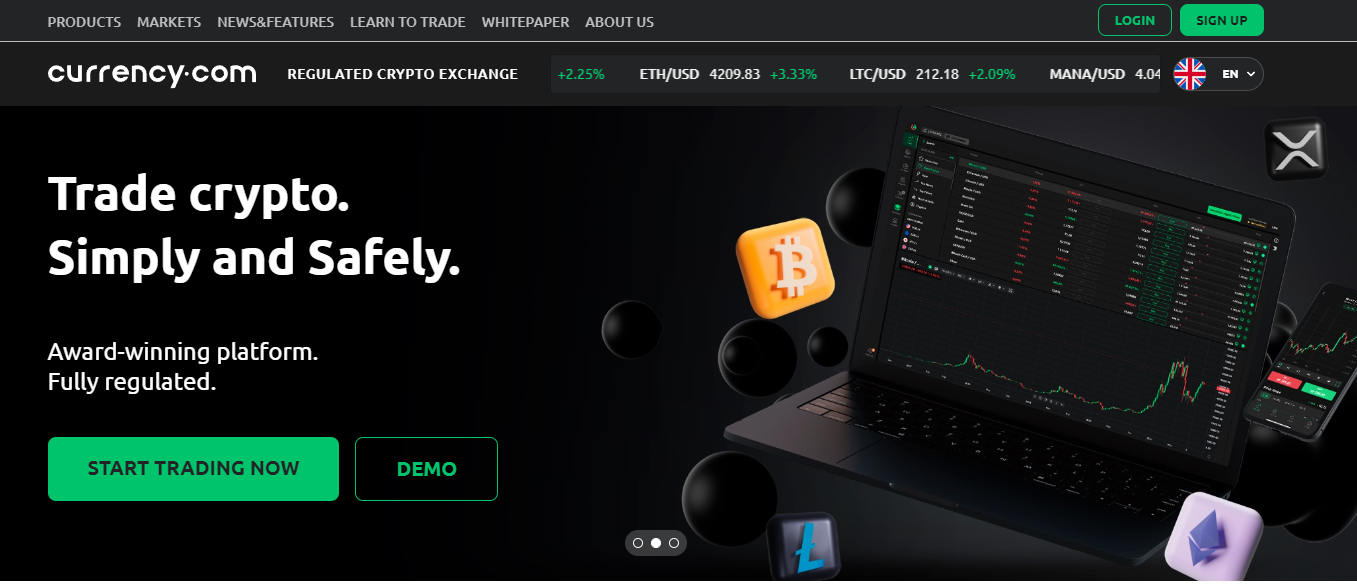 Cryptoplatforms are an essential tool in the cryptocurrency market. Bitcoin would have never encountered its current success if it wasn't for them. They allow us to speculate on the value of cryptocurrencies and provide on and off-ramps into this highly profitable market. That being said, there's a huge offering out there, and users gravitate towards the most popular platforms by default, often to their disadvantage.
This article will review Currency.com, one of the best cryptoplatforms on the market. We will delve deeply into the features it offers, as well as its main benefits for both beginners and advanced traders. In the end, you should have a good idea of why we think the tokenised assets cryptoplatform Currency.com stands out from the competition.
Full Review of the Cryptoexchange
Founded in 2018, Currency.com quickly climbed into the ranks of popular crypto exchanges on the market. Headquartered in Belarus, the cryptoexchange has offices in two other countries, the UK and Gibraltar. What's more, Currency.com is regulated by the Belarus Decree on Development of Digital Economy and other Belorussian legislation. This ensures full compliance with the one of the highest safety and anti-scam standards in the industry currently available.
In 2020, the cryptoexchange won the ADVFN International Financial Award as a breakthrough in cryptocurrency trading. This cemented its position as a genuine competitor to the most popular cryptoexchanges on the market.
It is worth noting that Currency.com is more than just your regular cryptoexchange. It allows its users to trade a wide variety of assets, including tokenised fiat and crypto, but also tokenised exchange-traded assets such as tokenised commodities, stocks, indices and bonds. It's one of the few places where you can deposit bitcoin and then trade oil, Tesla stocks and currency markets in a tokenised form with the same account. It's a great package deal for traders and investors who wish to diversify their portfolios without having to hop on and off dozens of different platforms.
Features and Options of the Cryptoexchange
The flagship feature of Currency.com is obviously the tokenised assets offering. Being able to trade tokenised stocks, indices and bonds on the same platform as your cryptocurrencies is both uncommon and incredibly practical. That said, the cryptoexchange offers additional features that are worth mentioning.
Fees
One of the best things about Currency.com is the comprehensive and transparent fee structure it proposes. There are no hidden commissions here, and you can consult the structure in a handy table that is continuously provided on the platform's website.
You should note that the fees are different when trading on the platform's "Exchange" mode and "Leverage" mode. Leverage fees are usually lower but do not include the "overnight" funding amounts –  the"funding fee" needed to hold your unfinished leverage-operations. Make sure you understand how all of this works before you start trading with the use of leverage so you don't run into unpleasant surprises.
Cryptocurrencies
Currency.com proposes a wide range of cryptocurrencies that you can both deposit and trade. What's more, the platform provides up to 1:100 leverage for most cryptocurrencies, allowing you to use advanced trading strategies, like using the short-operations or long-operations to increase your profits. Consequently, Currency.com can be used to make profits even when the market is declining, and with a modest starting capital.
Security
As we have previously mentioned, the cryptoexchange is regulated by the law ensuring compliance with the latest AML regulations. Before you start trading, you need to verify your identity, ensuring no one else can use your banking payment card for purchases and withdrawals.
Moreover, your account can be secured with two-factor authentication through the Google authentication app to avoid phishing attacks. The platform also uses global data encryption and secure document upload.
Mobile App
You can use Currency.com on your computer as well as on a mobile phone. The app is available for users of Android and iOS. The crypto market never sleeps, and you can take advantage of this by  trading on the go through the app, never missing a trading opportunity.
Advantages of Trading on Currency.com
With those basic features out of the way, let's have a look at the main benefits Currency.com offers its users.
Streamlined user interface: the cryptoexchange offers a clean UI, suitable for both beginners and experienced traders.
A huge variety of tradable tokenised assets: bonds, stocks, commodities, indices, and also tokenised currencies and cryptocurrencies are available for trading on Currency.com.
Competitive fees: the commissions are on the lower end for trading, deposits, and withdrawals.
Profitable affiliate marketing plan: you can get up to 50% of the commission fees of your referrals in the first 6 months of their trading.
Fully secured (2-FA) and regulated: your assets are always secure regardless of whether you trade or simply hold cryptocurrencies.
To add to the above mentioned benefits, the website offers a large choice of tutorial videos that will guide you through the discovery process of the platform.
Why Currency.com Is the Right Choice
If you are looking for a cryptoexchange that proposes a wide variety of assets, you can safely choose Currency.com. In addition to proposing on-ramps for crypto for beginners, it's also a great place for experienced traders that wish to apply advanced trading strategies. Moreover, you will be able to withdraw both crypto and fiat, whatever suits you best.
And finally, just a glance at the Trustpilot scores should give you a good idea of the level of commitment of the services and support team. With an excellent score of 4.3 and over a thousand reviews, Currency.com offers safe, efficient, and fast crypto trading service, rivaling with the best ones in the industry.