Five coins that could replace SHIB in 2022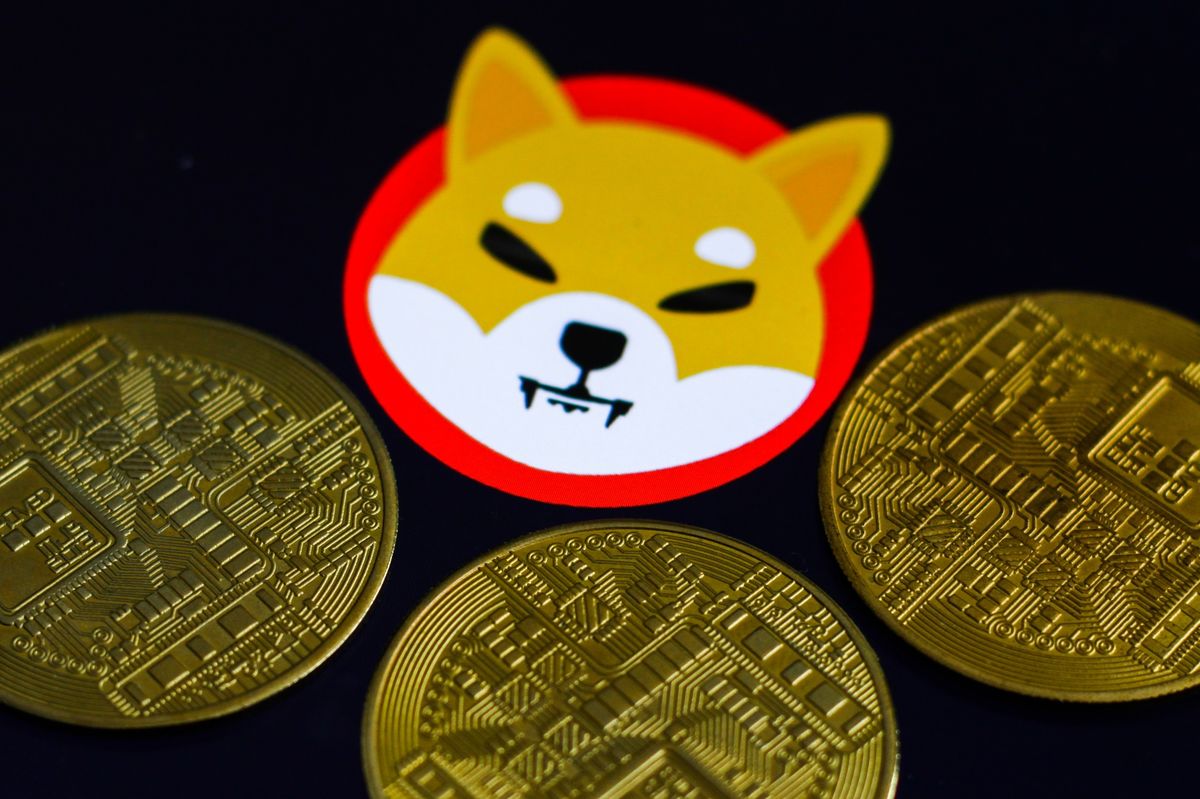 Although 2022 hasn't started out as the most successful year for cryptocurrencies, there are still 11 more months to look forward to.
Many are already debating as to which coin will prove to be the best investment opportunity this year, but tend to overlook the potential of meme coins while focusing on bigger cryptocurrencies.
That's true, while a 50% growth for coins like BTC and ETH is considered astonishing performance, for meme coins it's a regular Tuesday. This was the case for SHIB in 2021 which made many unsuspecting investors millionaires overnight.
However, much like any other superstar meme coin, SHIB fizzled out pretty quickly, leaving many who missed the train to look for alternatives. This is what we will be discussing in this article, the next potential SHIB alternatives in 2022!
1. Samoyedcoin (SAMO)
Samoyedcoin has been out for quite awhile now but hasn't necessarily reached the heights that its contemporaries have reached over the last year. However, it did have its spotlight between October and November 2021. But, ever since then, it has been going downhill.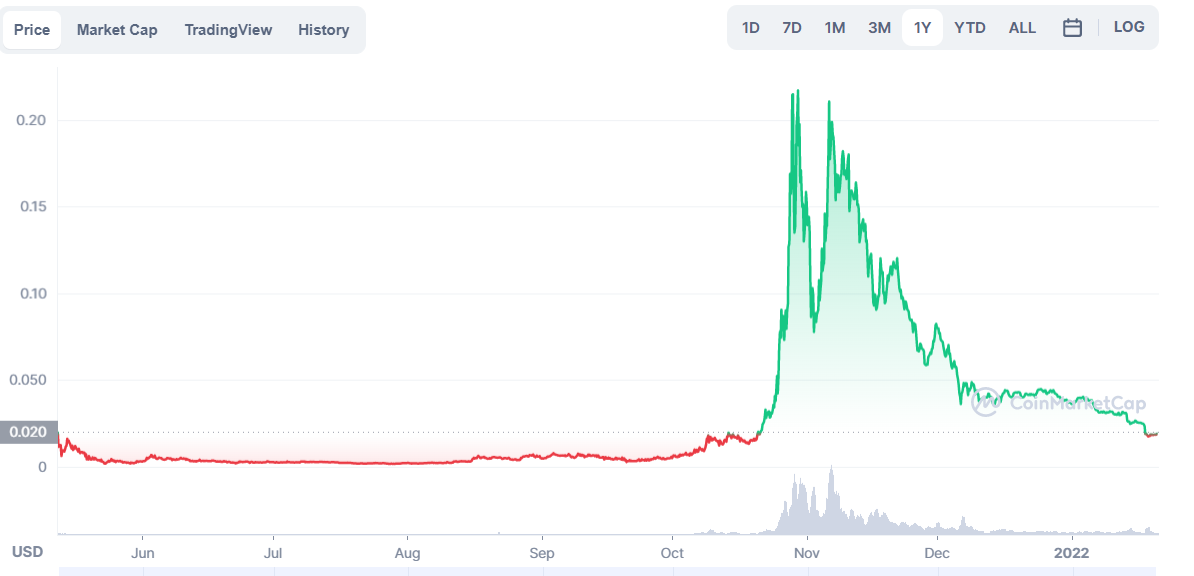 This is one of the many reasons why communities believe that SAMO has the biggest potential for growth. Having previously displayed its capacity for a much higher price gives the community all the more reason to believe that it's worth a shot.
Adding to the fact that SAMO is an official partner of the Solana blockchain platform gives it much more credibility and trust, thus garnering a lot more interested investors.
As it stands right now, SAMO has the potential to 10x throughout 2022 reaching its past glory and maybe even surpassing it.
2. Pepe Battle Token (SPEP)
SPEP is one of two coins belonging to Stadium.Finance, a relatively new crypto project with an innovative approach to community management and engagement.
The premise is that SPEP and SAPE (the other token) go head to head every 8 hours to determine which one of them had more transactions, and subsequently gather more tokens in their liquidity pools compared to the last engagement to determine the winner. The losing tokens are used to purchase the winning tokens, while a number of winning tokens are burned, thus limiting supply.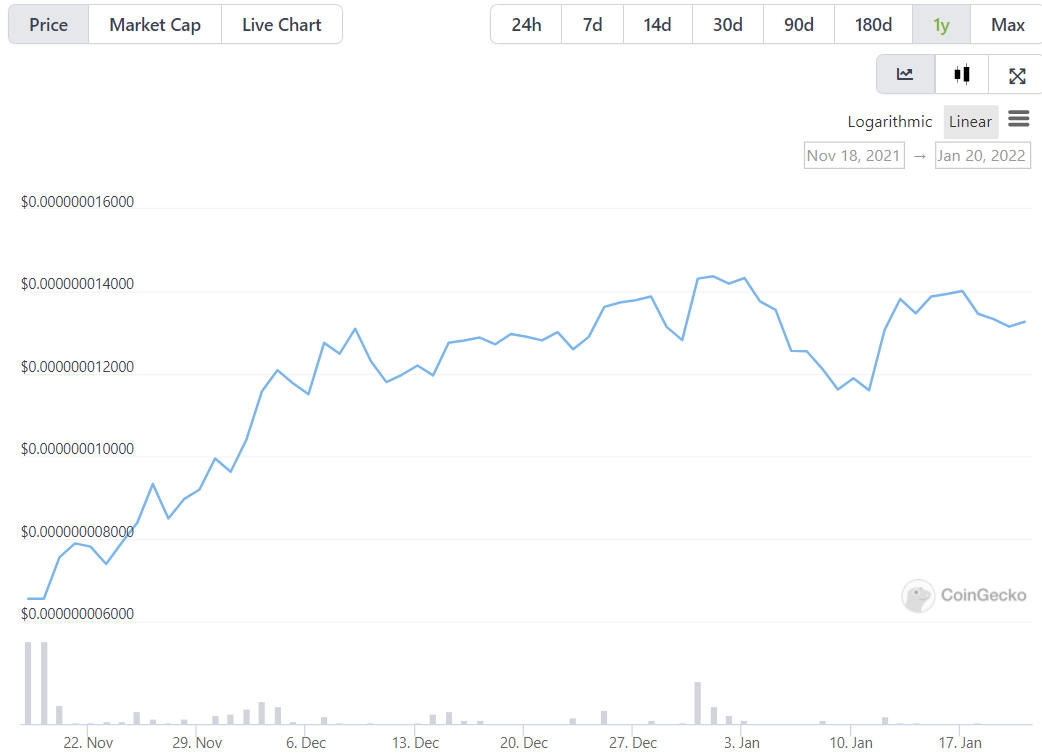 Thanks to this approach, SPEP has already seen significant success in the crypto market ever since it first appeared in November. As it currently stands, SPEP has gained a total of over 1000% of its initial valuation and is looking at similar growth for the coming 2022.
3. Ape Battle Token (SAPE)
SAPE is the second token of the Stadium.Finance project. It operates in exactly the same manner as SPEP but has been slightly lagging behind in terms of price growth. This is simply due to SPEP's recurring wins for the past month, thus solidifying its lead.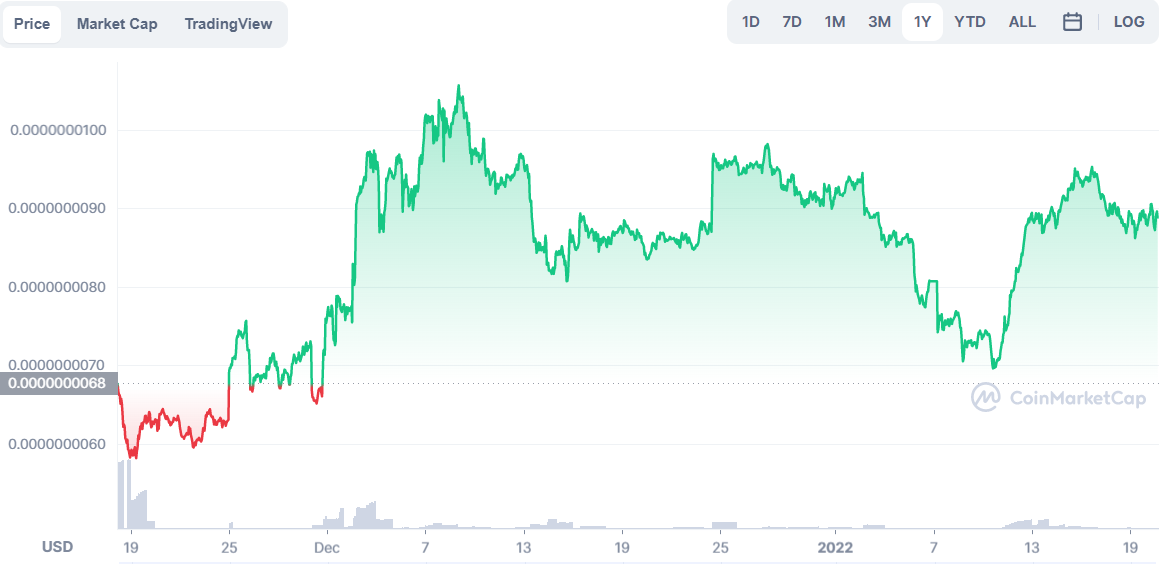 But due to SAPE being associated with Stadium.Finance as a whole, it's likely to follow SPEP in its growth patterns, thus registering a very similar growth percentage throughout 2022. It also helps that these two coins have been named one of the few best gaming-related cryptocurrencies on numerous occasions, adding even more to their hype.
At this moment, it's expected for SAPE to grow around 800% going further.
4. Dogelon Mars (ELON)
Dogelon Mars is the epitome of a meme coin. It is the combination of 2 biggest memes of the last 2 years, Doge and Elon Musk. Considering that Musk also plans to send humans to Mars, the creators of this project decided to add a bit more spice to the meme, thus creating Dogelon Mars.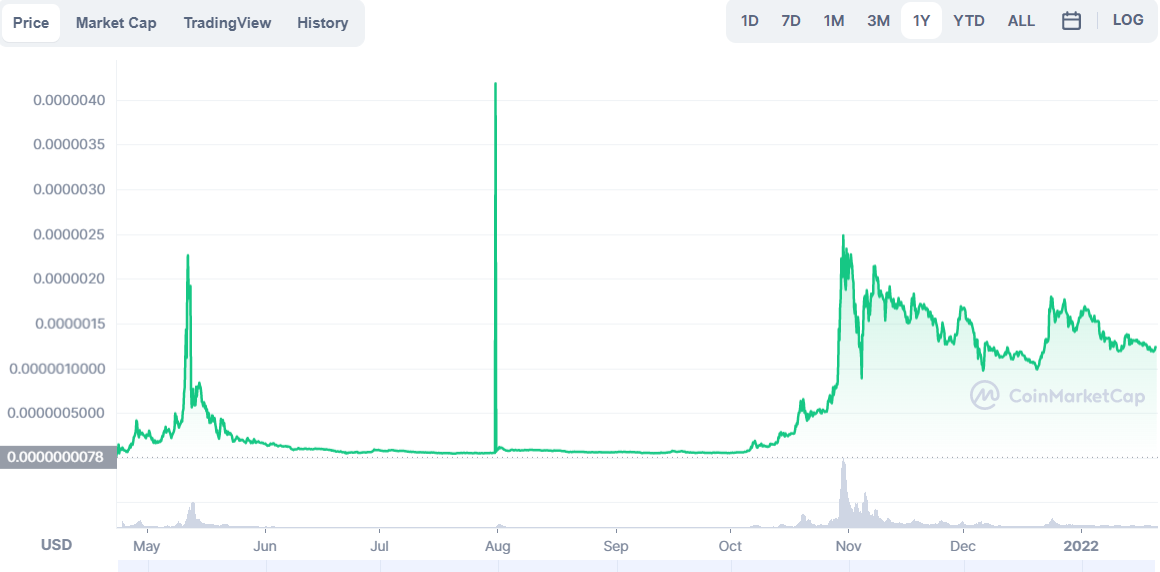 Needless to say, there are very few applications of this coin anywhere, since it's simply a placeholder coin for memes. But thanks to community engagement, it has managed to grow pretty significantly in the last year.
As it stands currently, ELON managed to grow 50 times its price from October in just under one month. However, much like SAMO, it has since deteriorated in price, leaving an opening for bulls to rush into and grow the coin once again.
5. Pancake Swap (CAKE)
Pancake Swap is a native token of the Pancake Swap decentralized exchange. It's been around ever since the platform was created, but only recently did it start getting the attention it deserves.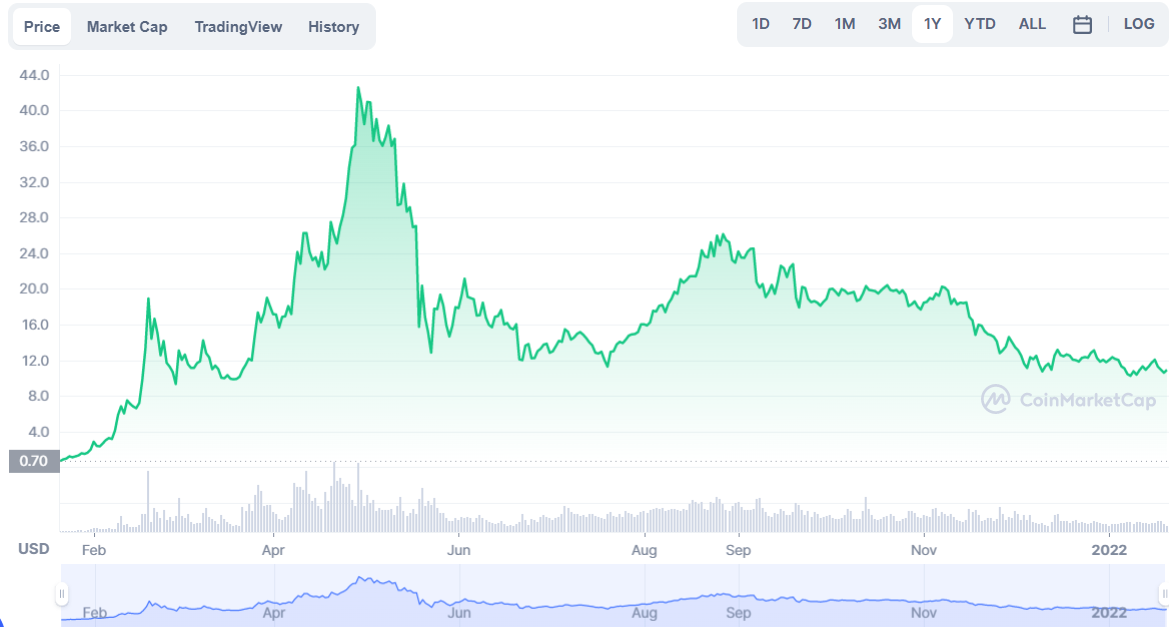 You see, after SHIBA's success, many new meme coins graced the market, choosing Pancake Swap as their platform of choice, before moving onto larger exchanges like Binance or CoinBase.
Now that the platform has grown significantly, many experts believe that Pancake Swap will make CAKE just as relevant and popular as Binance managed to do with its BNB. Therefore, it's predicted that CAKE will have an outstanding year in 2022 as long as the platform owners decide to include it more frequently in transactions.