How to Profit While BTC Faces Solid Ceilings and Tends to Decline Below $40,000?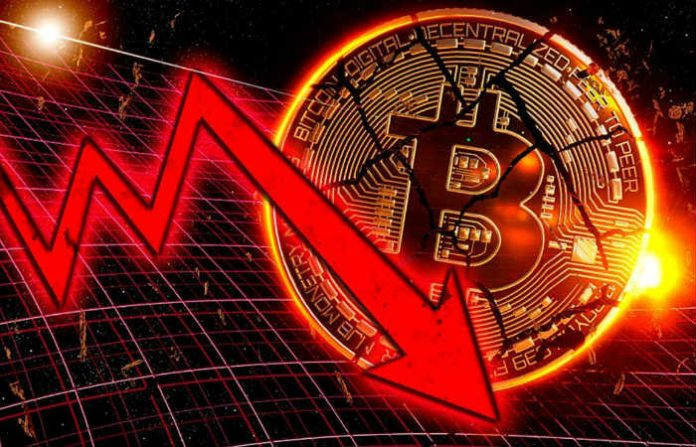 Bitcoin and the entire crypto market ended the last two days with a huge sigh of relief and rallied up to $45,000, since Ukraine and Russia agreed to launch a peace talk, though no breakthrough till now. However, Fed's chairman Powell's hawkish speech turned BTC down below $43,500 again. According to Bexplus chief analyst Justin Kwok, Bitcoin market is facing a number of sell-side headwinds.
Ukraine-Russia's Talk is Hard to Meet An Agreement And Hammers The Global Economy
On Feb. 28, as it lacked NATO's direct assistance, Ukraine agreed to negotiate with Russia. But there was no result in the initial talk. Failing to reach a breakthrough to cease fire, a large explosion struck central Kharkiv, Ukraine's second-largest city on Tuesday. In the meantime, Russia faces increasing international isolation over its invasion of Ukraine, including western cutting Russian banks from SWIFT and other financial sanctions, which will severely damage the Russian as well as global economy. It will also lead to a massive deterioration in risk sentiment, forcing investors to panic sell Bitcoin and increase the demand for U.S. dollar or gold as a hedge.
Powell Supports to Raise Interest Rates Against High Inflation
Russia is known as a home of a broad range of natural energy resources, including oil and gas. The conflict between Russia and Ukraine has caused oil and gas prices higher, and also sparked concerns that inflation, already running hot, could run even hotter.
Therefore, one of the world's most important central banks, the Federal Reserve, is on track to start to raise interest rates. On Wednesday, Fed's chairman Powell insisted that "it will be appropriate to  initiate a 25 basis-point rate hike in March. Despite the conflict in Ukraine bringing uncertainty to the U.S. economy, Powell stresses that a larger hike later this year remains on the table."
Considered as a hedge of inflation, Bitcoin price skyrocketed in the environment of high inflation and low interest in the past 2 years. However, as the Federal Reserve and the global major central banks tighten monetary policy, the inflation will go down. And in theory, the higher interest rates will lead to a lower appetite for high-risk assets such as bitcoin.
Focus on Non-Farm Payroll and FOMC Meeting
The U.S. Non-Farm Payrolls (NFP) report is going to be released on Friday. The anticipated data shows a further improvement in the labor market, with the economy expected to add 400K jobs in February. NFP data may also be directly related to the FOMC's decisions in March, especially the interest rate hikes. It's worth noting that the ADP National Employment Report published on March 1 showed that private payrolls increased by 475,000 jobs. We can predict that the NFP payrolls report is likely to be more than forecast, which increases the possibility for FED to raise the federal funds rate.
Bitcoin Technical Forecast
On the daily chart, BTC/USDT is trading below the 50-day simple moving average and the 38.2% Fibonacci retracement level, which has also proved to be a tough level for bulls in recent weeks. MACD still fails to break above zero line and the RSI indicator is trending downside. A reversal lower could drag BTC price back down to the 23.6% Fibonacci level or the psychological support at 40,000 level.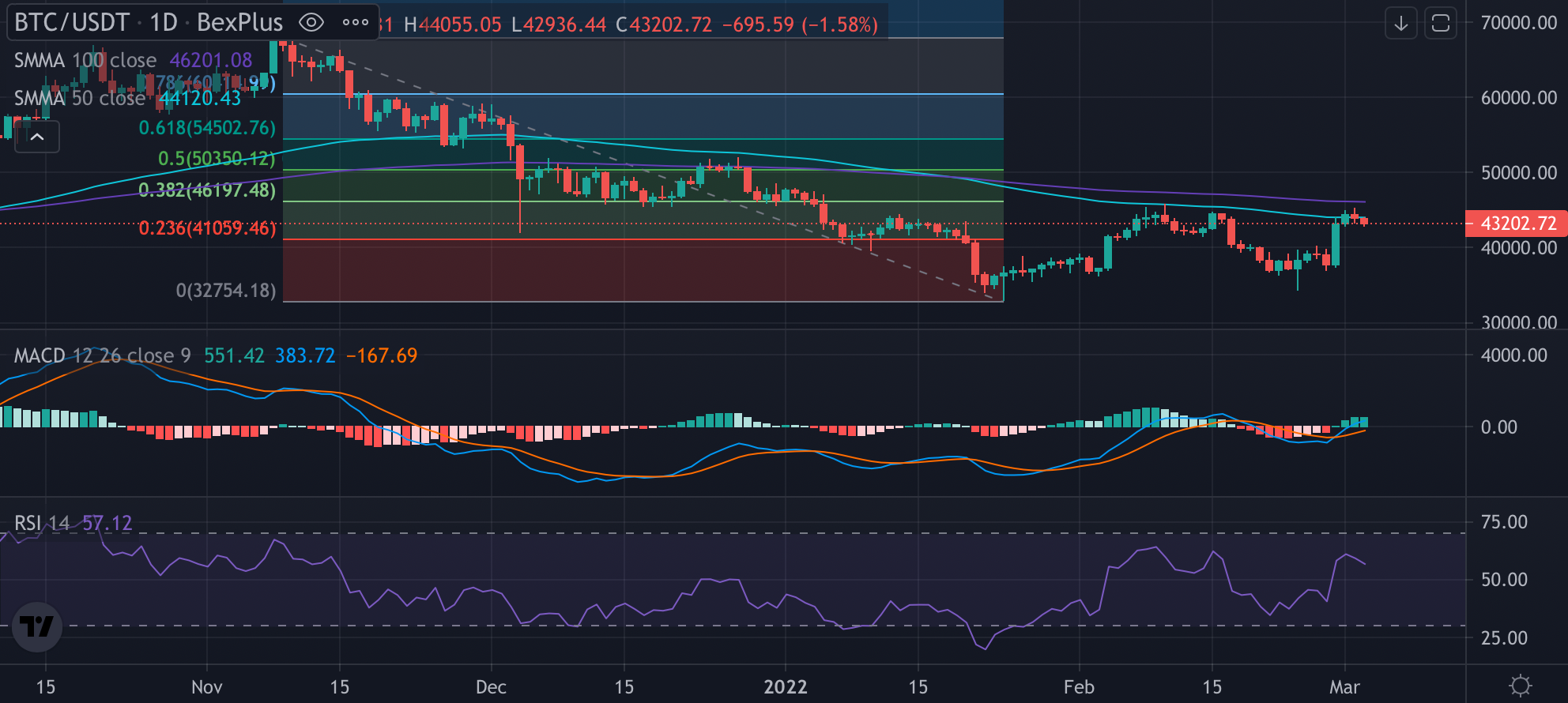 Bitcoin Tends to Decline Below $40,000, Here's What Investors Should Make of It
A further decline in Bitcoin price will occur because of the "black swan" , Ukraine-Russia war, and the macroeconomic outlook of interest rates hikes. Instead of losing money in spot trades, investors are rushing into the crypto futures market to make profits.
Crypto futures trading with 100x leverage helps you to earn money both in bullish and bearish runs with small capitals invested. For example, if we used 1 BTC to open a short position at the price of $43,000 and close it when Bitcoin drops to $40,000, the profit you will get is ($43,000 – $40,000) * 1 BTC *100x / $40,000 = 7.25 BTC, making the ROI of 725%.
BTC futures trading is popular among veteran traders. If you are a beginner and want to make profits in crypto futures contracts, Bexplus is a good option for you.
Recommended 100x Leverage BTC Futures Exchange
Bexplus is a leading crypto futures exchange offering 100x leverage perpetual contracts trading on various cryptocurrency: BTC, ETH, ADA, DOGE, XRP, etc.
In Bexplus, you can enjoy:
100% Free bonus. Deposit 1 BTC to get 2 BTC credited in the wallet.
Interest-bearing wallet with up to 21% annualized interest. If you deposit 1 BTC, you will get 1.2 BTC in a year.
Demo account with 10 BTC for traders to practice leverage trading.
High liquidity: extra-fast order execution even during great market fluctuations, no spread, and with low latency.
24/7 one-to-one customer service to solve your problems at any time.
Join Bexplus Copy Trading to Earn BTC with Superior Traders
Joining copy trading in Bexplus, you can automatically copy other trading orders of excellent traders with high win rate whenever you cannot make good predictions to the following market trend. You can select to copy any traders based on their trading performance statistics, like profitability. You can also customize the position size, set stop-loss or take-profit to control the risks and guarantee the profits.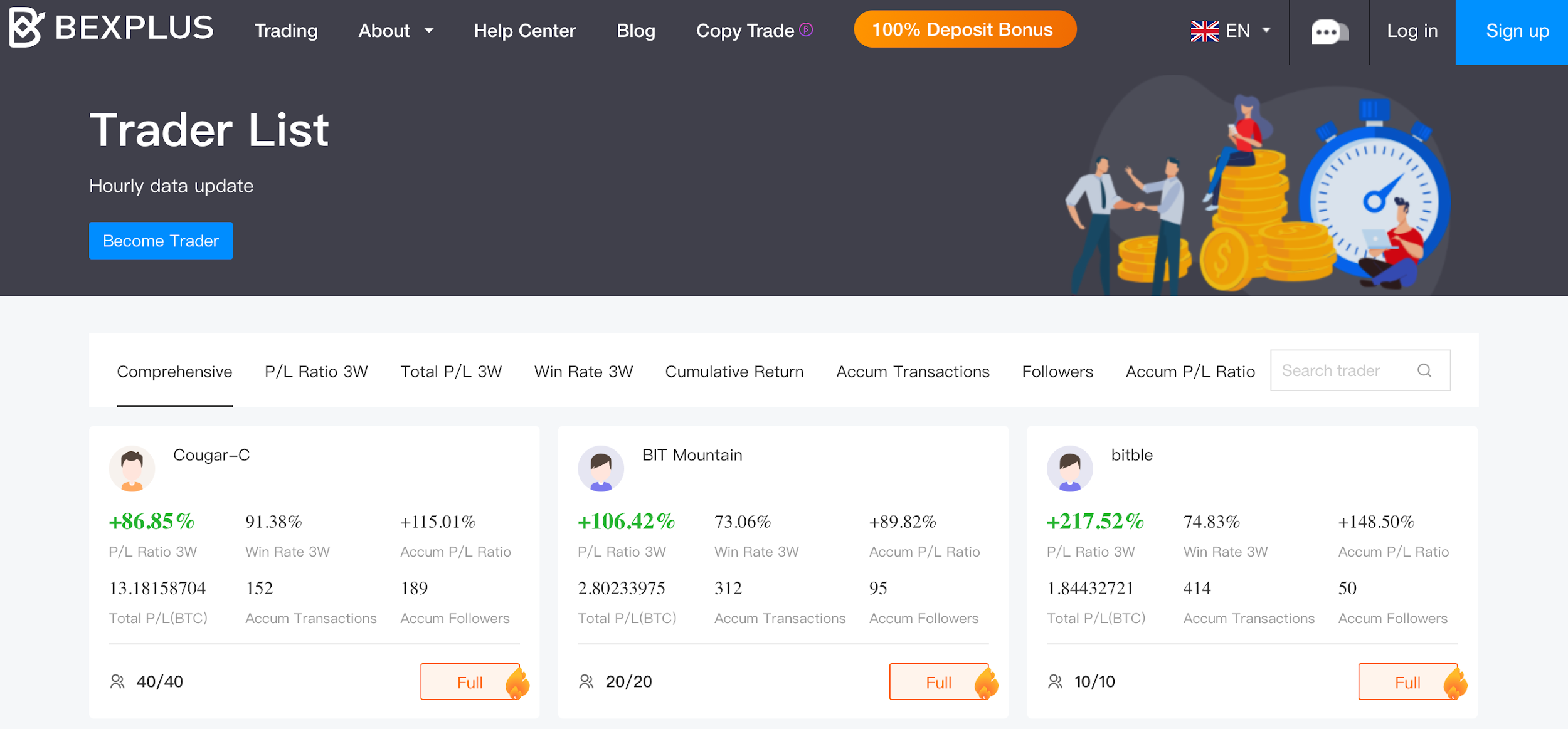 Register an account in Bexplus now and enjoy the profitable crypto journey.