Islamic Bank the National Bank of Fujairah Joins RippleNet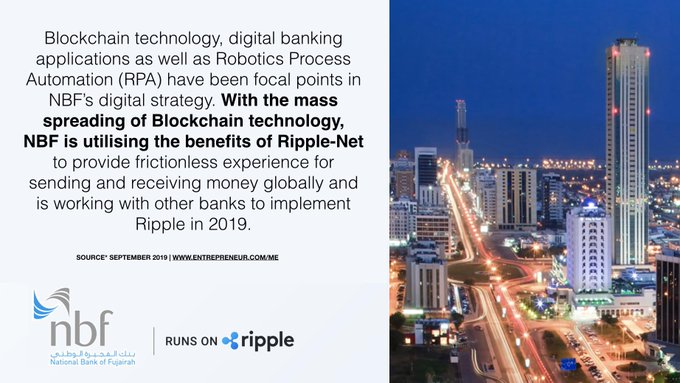 UAE-headquartered National Bank of Fujairah (NBF) is yet another bank that appeared on social media with a report of joining RippleNet, a blockchain-based product of Ripple.
National Bank of Fujairah Joins RippleNet
Ripple, the San-Francisco based payment firm is relentlessly seeking to widen the reach of its blockchain-based products across the financial institutions and banks worldwide. While the platform reveals such announcements at a later time, the XRP community is quick to research, dig deeper and disclose most of the Ripple's related update on Twitter. As such, a prominent XRP community member whose Twitter handle goes by StauartXRP recently shared a tweet stating that "NBF is utilizing the benefits of RippleNet".
ENTREPRENEUR MIDDLE EAST | SEPTEMBER 2019 | PAGE 70 | "NBF is utilising the benefits of Ripple-Net" https://t.co/w1FVPTlZYA pic.twitter.com/e9BmliB8M2

— ༜༝🅂🅃🅄🄰🅁🅃🅇🅁🄿💧⚡ (@stuart_xrp) September 23, 2019
National Bank of Fujairah offers wide-range of banking as well as other services including treasury, trade finance, precious metals and unlike. As the bank offers Islamic banking support, it was also reported that the bank in 2017 was the first conventional bank that joined Nasdaq Dubai's Islamic Murabaha platform for Islamic financing.
The information of National Bank of Fujairah joining Ripple was referenced to the Middle East magazine of the largest publication, Entrepreneur. Accordingly, NBF's logo in the magazine appears as "NBF runs on Ripple".
So far, Ripple has been stating that the RippleNet counts over 200 customers, without specifically revealing the total number. However, a well-known XRP member DiepSanh tweeted a short video clip which unveiled there are about 220 banks/financial institutions that are currently using RippleNet. However, Ripple has not officially declared anything on its website or Twitter handle yet.
On the other side, XRP which is the native token of Ripple currently standing on the third-largest spot on Coinmarketcap is constantly falling apart. Subsequently, the token at the time of reporting is tumbling by 2.01 percent within the past 24Hrs and trading at the value $0.26 against USD.
Despite that the XRP community is still betting high on its upcoming value – most recently, XRP member shared his prediction of XRP at $1 by the end of this month.