Miningbank Review: A Cloud Mining Platform in 2023
As the crypto market breaks through the bear market, it seems to be a perfect time to have some Bitcoin in your investment portfolio.
Bitcoin can either be bought directly from an exchange or it could be mined. Considering all the relevant factors mining Bitcoin emerges as a better option. However, for many, the effort and investment required to set up a mining farm could be discouraging. If a need for continuous maintenance is also considered, direct Bitcoin mining seems a daunting task.
Alternatively, you could rent a part of a mining farm that mines Bitcoin for you. That is called Cloud Mining. With Cloud Mining an investor does mine Bitcoin, but without having to face any of the hurdles of direct Bitcoin mining.
Another unique aspect of Cloud Mining is that if an investor is located in a country where Bitcoin mining is banned, he could still mine Bitcoin with any hazards.
Currently there are thousands of platforms that are providing Cloud Mining services. Among them one of the more legit ones is the Miningbank.
Miningbank: Bitcoin Mining Gets Easy!
Founded about 3 years ago, Miningbank is one of the top Cloud Mining service providers around the globe. The Miningbank has been featured in some of the world's most respected news magazines like Forbes and Business Insider.
With 163 PH/s of total power in management, the Miningbank has about 10,000 customers around the globe. The Miningbank is currently running more than 3,900 mining farms that are located in many different countries.

Moreover, the Miningbank uses ASIC for Bitcoin mining. ASIC mining is the process of Bitcoin mining that uses special equipment created specifically for mining.
Down below we have summarised some of the Miningbank's pros and cons so you could see for yourself if the Miningbank is for you. Let us first have a look at the pros.
Pros:
The Miningbank has a very simple user interface. One could navigate through the website with little to no effort.
The sign up process is as simple as it gets. You are just required to enter your personal information, name, etc, that is obviously secured. Then you will select a package of your choice, make a payment, and that is it, we are good to go.
Your Deposit is secured. Now, if for some weird reason some uncanny accident happens to Miningbank's mining farm or its website, the platform has got you covered under insurance.
Daily Withdrawals. The profit that will be earned on the investment would be deposited to your account on daily bases. Further, there is no minimum limit for a daily withdrawal. Simply put, you withdraw as you earn.
A profit calculator. Using the profit calculator you could simulate what exactly you will earn on your investment.
24/7 Customer Support. If there is ever a problem that you are having on the website, you could get it corrected using the customer support at any time.
A referral program. Earn rewards for bringing more investors to the Miningbank.
Every Bitcoin mining platform in the world has some drawbacks, and Miningbank is no exception.
Cons:
Well, isn't a sign up bonus always a good welcome? Sadly Miningbank is not generous enough.
The lowest amount at which you could buy a Miningbank package is $250, which is a bit on a higher side. Considering, many in the market are offering packages costing as low as $50.
The Packages:
The Miningbank Offers three kinds of mining contracts, light, strong, and Productive.
Light:
Period: 1 Year
Minimum Renting Limit: $250
Minimum Power Offered: 59,050 GH/s
Profit: 144% (An yearly profit of $1440 on the deposit of $1000)
Strong:
Period: 1 Year
Minimum Renting Limit: $3,700
Minimum Power Offered: 873,940 GH/s
Profit: 158% (An yearly profit of $1580 on the deposit of $1000)
Productive:
Period: 1 Year
Minimum Renting Limit: $7,800
Minimum Power Offered: 1,842,360 GH/s
Profit: 179% (An yearly profit of $1790 on the deposit of $1000)
It is Notable that the profit amounts mentioned above are clean profits, profit net of deposit. Which means that at the end of the 1 year contract you will be returned a clean profit plus the initial deposit.
How to Sign Up?
Signing up to the Miningbank is a fairly simple task. Here is the three step simple sign up process:
Choose a Contract. Light, Strong or Productive.
Invest.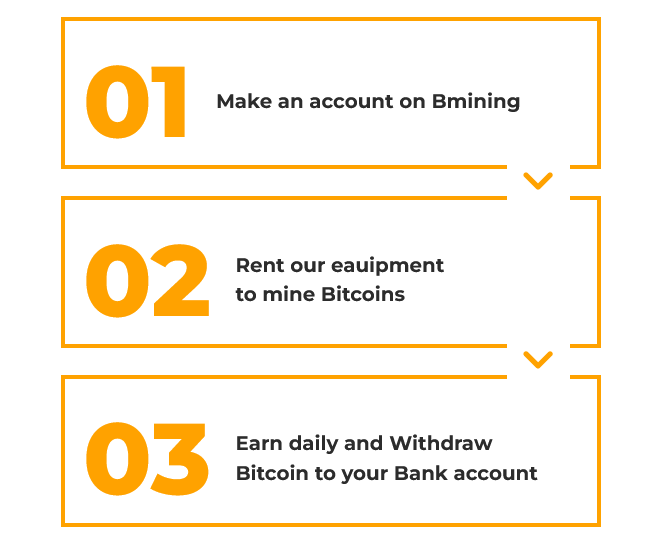 After investing a particular amount you are expected to start making profit within the next 24 hours. Remember, while the initial deposit is locked up for the contract term of 1 year, the profit could be withdrawn at any given moment. You may choose to withdraw the profits, daily, weekly, or whenever you want.