Over 20 Financial Institutions using xRapid – Ripple's Global Head of Banking Confirms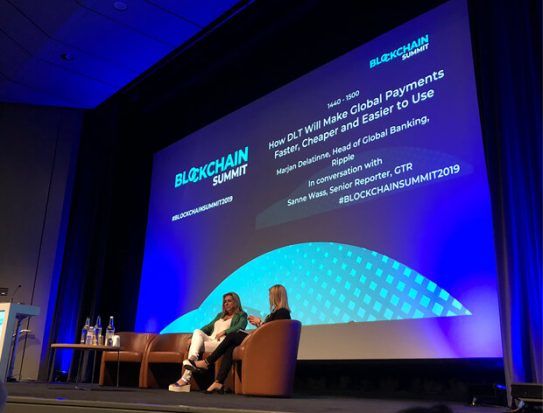 xRapid, a blockchain product by San Francisco based Ripple is witnessing a good amount of reach within a short span of its launch. However, Ripple has already celebrated the success of RippleNet which was earlier counted for having more than 200 fintech players in its bucket.
In the latest interview set on stage at the Blockchain Summit last week, Marjan Delatinne who is the global head of banking at Ripple spoke about XRP, xRapid, xCurrent and her experience of working with both, Swift (earlier) and Ripple (current).
While speaking on a topic "How DLT will make global payments faster, cheaper and easier to use", she confirmed that xRapid went live in last October and henceforth it is still a very new product in the fintech market. Continuing that she stated, despite short span, xRapid a successful application for more than 20 financial institutions. She stated;
The use case that we have around xRapid is that, rather than tying up capital, we reconcile the transfer of the messages and the value itself. xRapid is about sourcing on-demand liquidity, Delatinne, Marjan said. xRapid went live last October, so it's a very new product, but we have more than 20 financial institutions using it.
In actual fact, Ripple isn't urging any firm to use XRP directly – rather, it let banks/fintech players employ xRapid to source on-demand liquidity. Nevertheless, xRapid underlies XRP cryptocurrency which helps users to have "fast and low-cost provision of liquidity when they need it – concerning this, she continued;
Without the obligation of tying up capital in advance in pre-funded accounts.
Image source – gtereview