PwC Venezuela's Twitter Account Hacked, as the Hackers Posts Fake XRP Giveaways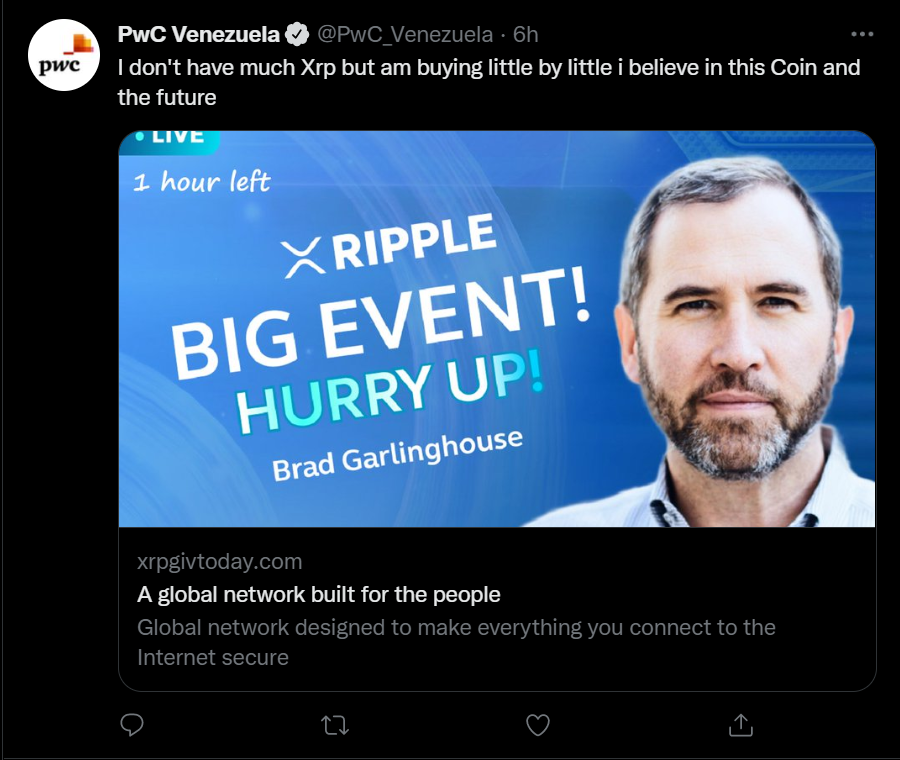 Scammers have recently hacked PwC Venezuela's twitter account and posted fake XRP giveaways to scam the crypto enthusiasts.
PwC's Twitter Account Hacked
The hackers tweeted multiple tweets offering fake XRP giveaways to scam XRP enthusiasts, especially. At 2:13 UTC hackers tweeted with CEO Ripple Brad Garlinghouse's picture "Problem, reaction, solution' with the hashtag XRP. Further, 8 similar posts were tweeted.
Tweets included links, by clicking which people were purported to benefit from the giveaway. In actuality, if any individual clicked on the link, he/she effectively comprised his/her personal information.
Fortunately, the firm's account was recovered later and the tweets were deleted. However, Ripple has yet to give its word on the event. Notably, it was XRP community members who were threatened.
New Twitter Feature Compromising security
The phishing attacks by the hackers are assumed to have been performed by replacing the characters in the original URL with the very similar Unicode character.
Last month twitter had announced that the new edit tweet feature will be introduced at a limited scale for the public. Through the feature people were enabled to edit their tweets even after months of actually tweeting them. The questions were raised by many that the new feature may compromise the security of platform users. There is a sentiment that this feature was. used in the event mentioned above.
One of the experts argued that people could be scammed and their personal information could be stolen by the hacker if the perpetrator modified the viral tweet to a phishing link. The United States Federal Trade Commission reported at the beginning of the month that crypto investors and enthusiasts were deprived of over $1 billion in the first three quarters of the year.