Ripple CEO Meets Prime Minister of Georgia as the Two Discuss Blockchain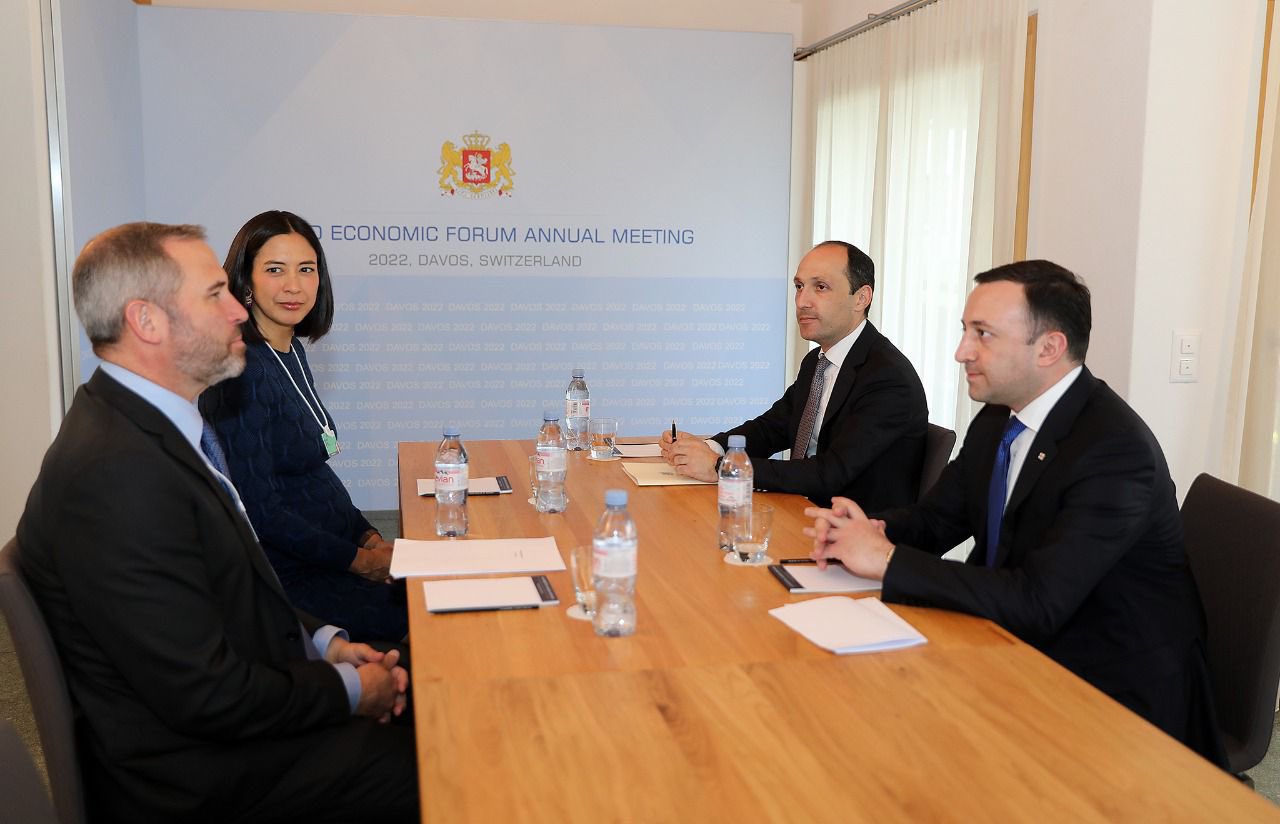 Meeting was disclosed through the Georgian Prime Minister's official twitter handle. PM Irakli Garibashvili stated that he had a great talk with Ripple CEO Brad Garlinghouse as Garibashvili shared Georgia's vision regarding the future of blockchain and regulation. The tweet noted that the country aims to evolve as a tech and innovation hub via its businesses centric and innovative approach. Prime minister also shared with Garlinghouse Georgia's story of becoming the first nation to use blockchain for public service.
It was an honor to meet the Prime Minister of Georgia to discuss #blockchain and #crypto at #wef2022. https://t.co/kGZbvXBgMD

— Ripple (@Ripple) May 23, 2022
According to the reports, PM Garibashvili suggested Garlinghouse to open a corporate service centre in the country as he stated that Georgia has a state location and offers a favourable investment environment. PM added:
"It was noted that with young, experienced and competitive human capital, Georgia is becoming a global and regional multifunctional hub for financial services and technical and innovative industries."
Notably, the meeting was held between the two during the World Economic Forum(WEF) Conference 2022.
Crypto, Not a Bad Word Anymore
Later, in his interview with Fox Business' Maria Bartiromo, when asked to comment about his stay at Davos, Garlinghouse stated that there is a drastic change in people's behaviour as regards to crypto. As when he had come to Davos years ago, crypto was a bad word. Now, on the contrary, the people who are talking of crypto most aggressively are elected officials.
He added that it is obvious that the crypto regulation is currently trying to find a solid footing, particularly in the US. He added that as other G20 countries are developing frameworks that help entrepreneurs and investors in building the next generation of Facebook and Google, the US is far behind them.
Crypto Regulation in the US has been a problem for some time now. As different institutions of the government have completely different views of the crypto. Although the bill passed a month ago is expected to make things better, as it compless different government institutions to coordinate for developing a reasonable crypto framework.
If the US fails to sort the regulation problem out, it is certain that investors will flee the US and invest in other countries, with more favorable crypto policies.