Ripple Gets on Linkedin's 50 Hottest US Startups Again, but Fall Out of Top 10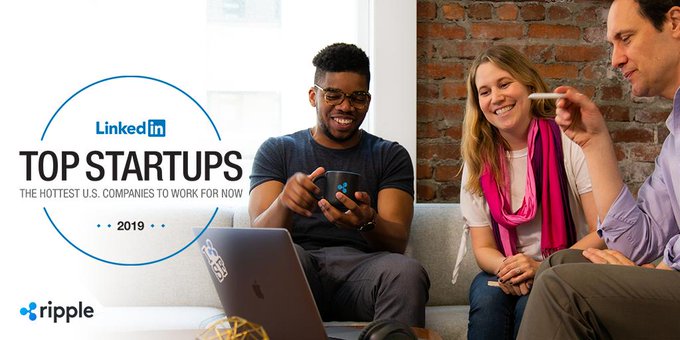 Linkedin, a social media giant released its annual Top 50 startup list on Sept. 4, 2019, suggesting the hottest startups to work in. The list also mentioned San Francisco based Ripple blockchain firm on 28th position and it is the second year in a row that Ripple has made it to Linkedin's hottest list of startups. 
Ripple is one among the top startups to work for in 2019
It's worth noting that Linkedin selects only private companies of the United States, having at least 50 employees and should be in operation for not more than seven years. The San-Francisco based Ripple had clinched 3rd position in 2018 but this year, it is ranking at 28th position. 
Founded in the year 2012, Ripple has been in forefront of burgeoning crypto and blockchain industry and it is one of the rare crypto-blockchain dedicated companies that entered in a 50 hottest startups list of LinkedIn. Nevertheless, Ripple excitedly took to Twitter and shared this update with its community, stating "We are not honored to be named one of the LinkedIn Top Startups again. 
We're honored to be named one of the #LinkedInTopStartups (again!) Interested in joining our award-winning team? Learn more about #RippleLife: https://t.co/cpLCnAt4ne. pic.twitter.com/bFtghTdh3c

— Ripple (@Ripple) September 4, 2019
Besides Ripple, Coinbase crypto exchange and Robinhood are names of the two crypto-focused companies that have been included in this year's 50 hottest startups. As Ripple and Coinbase began their operation since 2012, Linkedin may not consider these companies for its next year's top startups list. This is because, as per LinkedIn's eligibility criteria, only startups that are 7 years old or younger are applicable in a list. 
Moreover, Ripple in late July this year clinched yet another recognition in the Bay Area. The firm was ranked #13 on the SFBTphilanthropy list for its social impact initiatives. During that time, Ripple's Chris Larsen has donated $25 million to the San Francisco State University. Following the success, Eric Van Mitenburg who is the Ripple' head of global operations said; 
Proud of Ripple for earning recognition in the Bay Area for our social impact initiatives. Though it's still early days, there's a huge opportunity to give back. 
Meantime, Ripple is hosting its yearly conference, Swell by Ripple in Singapore for two days, November 7-8. Ripple invited BKash's Kamal Quadir and Raghuram Rajan, the former governor of Central Bank of India, RBI as keynote speakers for Swell 2019. This might be an exciting event for the crypto community, specifically, for Indian crypto enthusiasts who are skeptical about Rajan's session in Swell 2019 due to the ongoing debate on regulations around cryptocurrency in India. 
Image source – Twitter@Ripple