Ripple's Tech Satisfied European Businesses – Insights from Euro Exim Bank, MercuryFX and TransferGo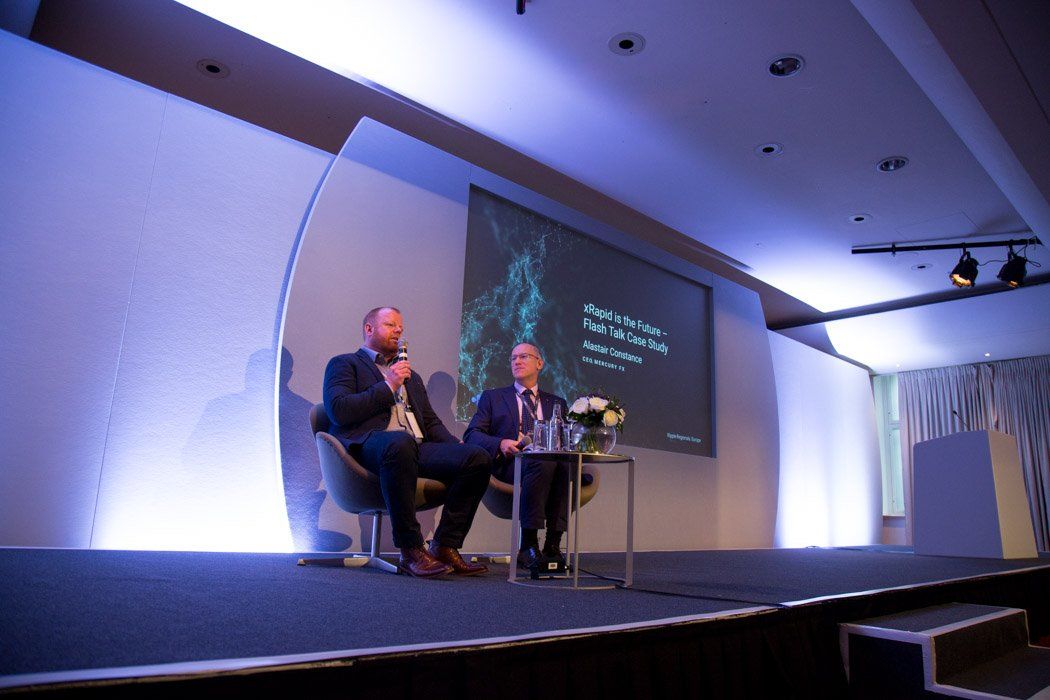 The existing partners of Ripple – Mercury FX, Euro Exim Bank, and TransferGo presented their experiences on Ripple's technology. It came into sight when these European business leaders speaking at the recent Ripple Regional event in London.
Euro Exim Bank – xRapid 
At the event, Graham Bright, the head of Euro Exim Bank speaks about the reason behind working closely with Ripple. He says the key aim of using xRapid is to assure ' faster, reliable, trusted and secure services to the customers of Euro Exim Bank. Presently, the bank serves across 80 countries, particularly having the target audience in Africa and Eastern Asia. He explains that, clients in these regions cannot easily access Euros or Dollars thus bank uses 'Ripple's tech' to facilitate them have easier access to cross-border payments.
Leaders from @euro_eximbank, @mercury_fx_ltd and @transfergo offer key learnings for expanding global payments in new markets around the world: https://t.co/1I65IeRfZe #blockchain #digitalassets pic.twitter.com/DgTJ5PC11I

— Ripple (@Ripple) February 21, 2019
To note, the bank uses xRapid in partnership with Ripple and provides 'on demand liquidity for international transactions'. Speaking at the conference, Bright says that;
"We chose xRapid because we need to make it easy to move funds as quickly and as cost-effectively as possible,"
Mercury FX – xRapid Over SWIFT
Mercury FX uses xRapid beyond the SWIFT network. The firm finds Ripples's xRapid faster than traditional SWIFT network and first tested the innovative technology by sending donations to Mexico based orphanage. As MercuryFX's CEO Alastair Constance explains 'the trial was successful'
We trialed xRapid by sending a donation to an orphanage in Mexico that takes kids off the street and teaches them how to surf. The trial was so successful, that Mercury FX soon started facilitating payments from a UK business that imports Mexican food.

Besides this, the firm had also embraced Ripple's tech – says that – it helps them capture 'expensive Mexico market' which had not been in the plan due to high cost and time-consuming nature. Additionally, while speaking, he adds;
"The really exciting thing that xRapid allows us to open up previously inaccessible markets where our clients can trade freely at optimized speeds and costs."
TransferGo – RippleNet
In a highly competitive market, TransferGo is using RippleNet, a product from Ripple. Tomas Snitka, the company's head of operation addresses the audience and demonstrate how 'RippleNet for TransferGo' works – he does that by the testing transaction to India and showed it just took seven minutes. Snitka emphasized the tech and states;
"The funds are in the account. The recipient can withdraw those funds or go to the shop and spend them. But by next year, even that will be too slow." Which is why TransferGo is looking to use xRapid to settle transactions in as little as two minutes.
Additionally, he says, with Ripple – they enjoy a real competitive edge in India and meantime satisfying the customers. He further believes 'with India, being the largest global cross-border remittance market, the other countries of the world will follow the suits'.
"Our vision is to become a global real-time payments company," states Snitka. "We see Ripple as a strategic partner moving forward."
What do you think about Ripple's technology facilitating its partners to level up the growth? share your opinions