Top 7 Best Cosmos (ATOM) Wallets in 2023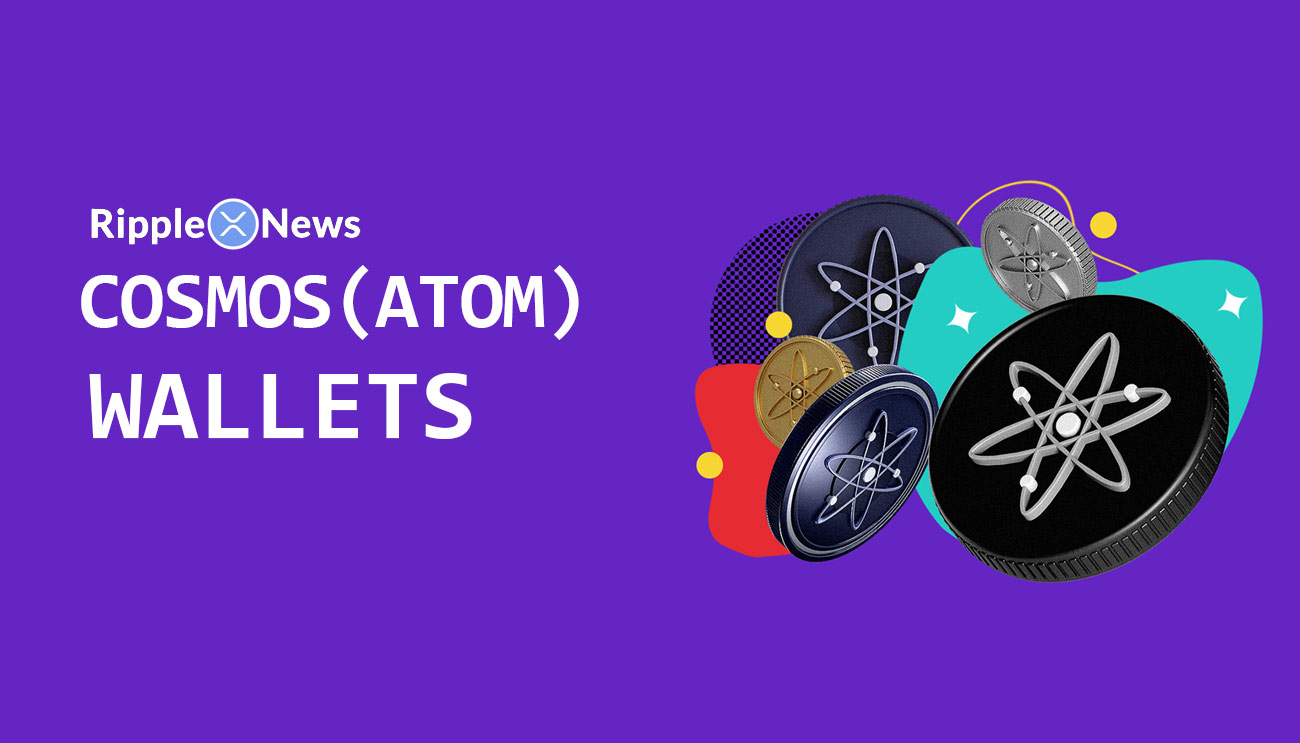 This short guide will get you through the best Cosmos (ATOM) Wallets in 2023. You'll need a reliable wallet app to keep your ATOM tokens safe and manage them. There is constant influx of brand-new wallets into the system, and the ecosystem is expanding fast. All the wallets detailed here may be used with Ledger hardware to the stake, transact, and cast votes on the Cosmos network.
So, without wasting your time, let's begin
About Cosmos
The Cosmos (ATOM) blockchain network is taking a unique approach to the market to turn competition into a community. A desire for victory or recognition doesn't drive Cosmos as opposed to other initiatives in the field. Instead, Cosmos is committed to advancing the entire blockchain business via the use of a set of novel protocols that serve to integrate the sector.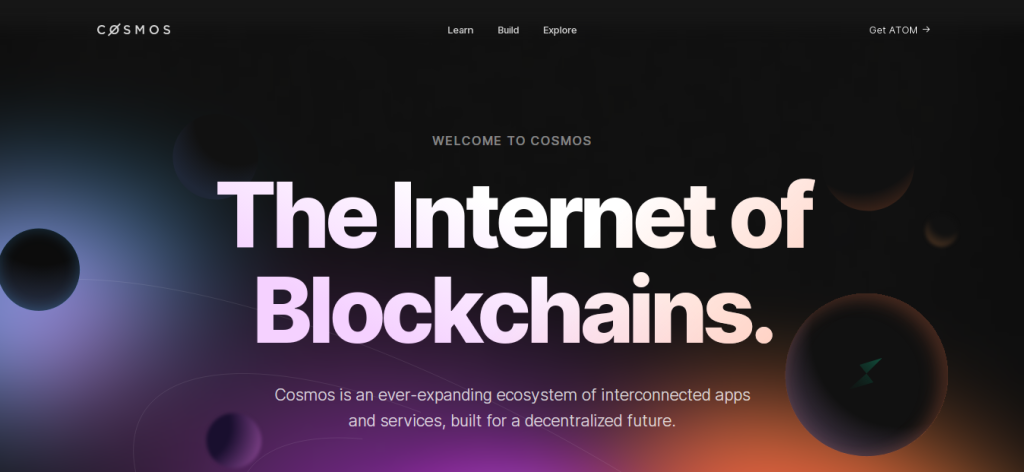 To be more precise, Cosmos is a blockchain network that connects to other blockchain networks. Developers have used the term "Internet of Blockchains" to describe this system. The project's ultimate aim is to provide seamless interaction across various blockchains. Cosmos can turn market friction into a positive driving force for growth by enabling any blockchain to interact, exchange data, and trade with any other blockchain.
Cosmos is more than simply a connection mechanism for different blockchains. This platform is a formidable contender with a broad set of goods and services. To improve the efficiency with which blockchains are created, Cosmos delivers a cutting-edge technological stack that is accessible to developers.
Best Cosmos (ATOM) wallets 2023
The following are the best Cosmos wallets in the crypto market.
It is a very secure hardware wallet that can hold over a thousand different digital currencies, even if your device is infected with viruses. Since it is compatible with Cosmos, you may safely use the Ledger Nano X to store your ATOM tokens.
Because the private keys are never transferred off of the device, you can be confident that no one else will be able to access them. Additional security measures include a PIN, password, and a seed backup in case you lose your Wallet.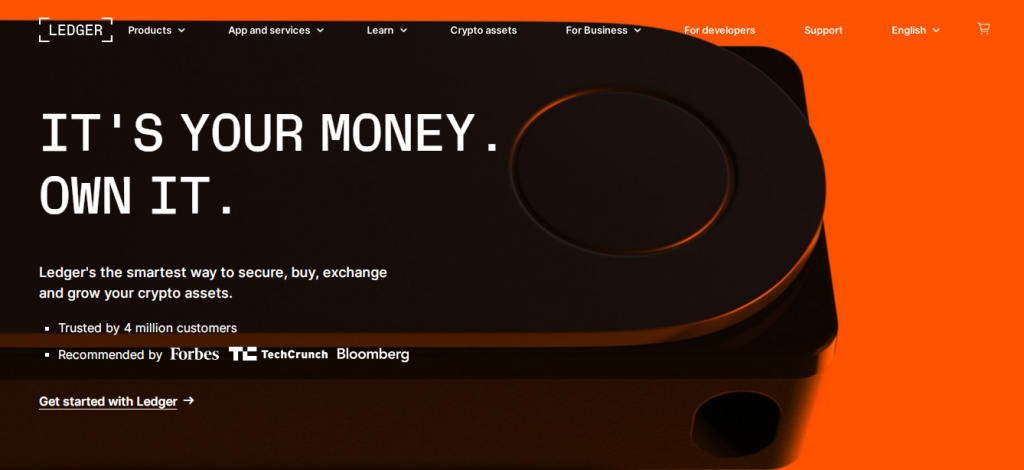 The Ledger Nano X, the follow-up to the Ledger Nano S, is a portable device that can be synced with mobile operating systems like iOS and Android over Bluetooth. You may stake ATOM tokens on the Ledger Nano X, and if you utilize the Lunie wallet, you'll have access to the Cosmos network.
The Ledger Nano X wallet has two-factor authentication and a built-in OLED screen for viewing transaction information. You'll need a computer with a USB connection and the Google Chrome extension to use the Wallet. Setting it up is straightforward, and the user interface is simple and easy to use. You can effortlessly keep track of your ATOM tokens with a mobile device and a Ledger Nano X. Also read : Best Avalanche Wallets
Trust Wallet is a private, untraceable, and open-source cryptocurrency wallet that supports Cosmos Coin and over 20,000 other tokens built on the ERC-20, ERC-223, and ERC-721 standards. Cryptocurrencies based on other popular blockchains, such Bitcoin, Litecoin, DASH, Tron, and others, are also supported in Trust. Since its release in November 2017, the program's popularity among users has grown thanks to the program's powerful features and support for several currencies.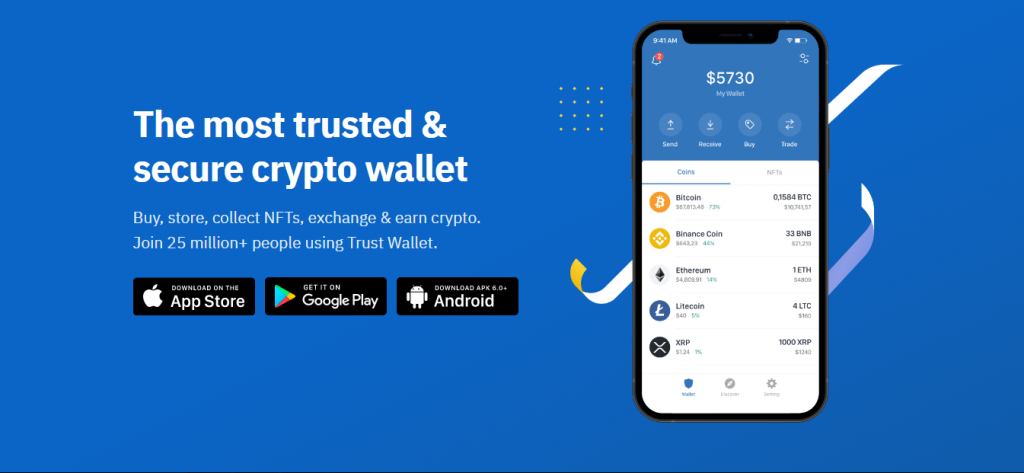 Trust Wallet is a mobile app that has been downloaded over a quarter of a million times from the AppStore and Google Play and has an average rating of 4.7. After purchasing the Wallet in July of 2018, Binance made it their official app for managing thousands of assets.
With the Ledger connected to your Cosmos ATOM wallet, you can rest easy knowing that nobody else can access your private keys.
The Cosmos group's official online Wallet is called Lunie. Sending, receiving, and managing ATOM tokens is easy when using the Cosmos Lunie online wallet. In addition, you may vote in the Cosmos network, monitor the system by seeing blockchain activity, and stake ATOM coins. Line allows you to either generate a new Cosmos address or utilize an existing one.
Lunie's compatibility with the Ledger Nano X hardware wallet is an additional plus since it enables you to enjoy the benefits of both the Wallet's security and the ease of use provided by the software. In addition, the Ledger device allows you to stake your ATOM tokens so that you may take part in the management of Cosmos without having to store them in a vulnerable software wallet.
You may send, stake, and vote on the Cosmos Hub with no hassle using Lunie as your ATOM wallet.
Cosmos Station, or Cosmostation, is a decentralized wallet (ATOM). Cosmotation is a web-based and mobile (iOS and Android) wallet in which the user alone is responsible for maintaining and safeguarding their password and private keys. A password is required since it encrypts data on the user's mobile or another device. Someone with physical access to your device knows this password and may take your Cosmos (ATOM) coins.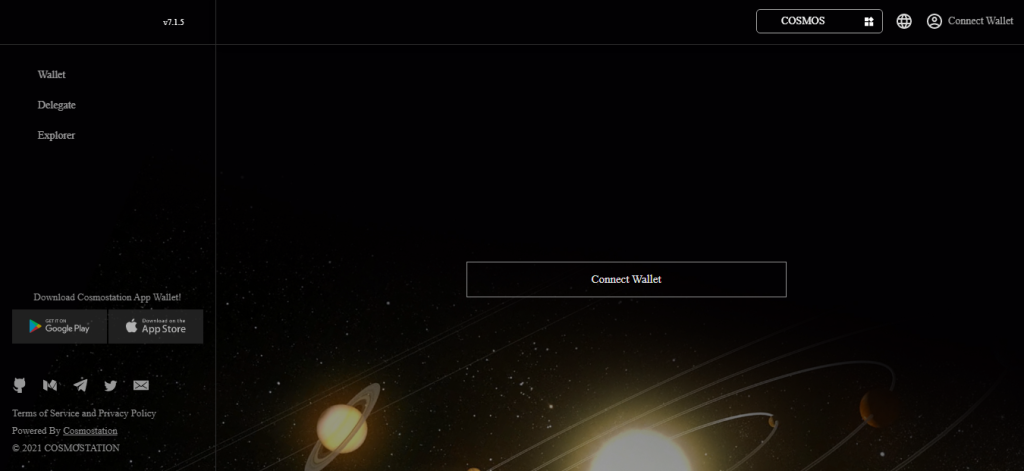 For apps created with the Cosmos SDK, the team also created Keystation, an end-to-end encrypted key management. Mints can, and a universal network explorer made using the Cosmos-SDK were developed by the team. You are given access to data about every validator in the Cosmos network.
On the Cosmos network, delegation, staking, and receiving rewards may all be done with the same Wallet. Finally, the Ledger Nano X hardware wallet with the Cosmostation wallet is an alternative to mobile and online wallets for staking, managing, and delegating on the Cosmos network.
Atomic Wallet is a COSMOS-compatible, multi-asset, non-custodial cryptocurrency wallet that supports over 500 more currencies and tokens. As of now, all Atomic platforms support staking, allowing you to profit passively from holding your ATOM tokens. Atomic supports all ERC20 tokens so that you can add any Ethereum token in seconds, not just Cosmos and the top-40 currencies. It's possible to trade various cryptocurrencies inside the Atomic app itself.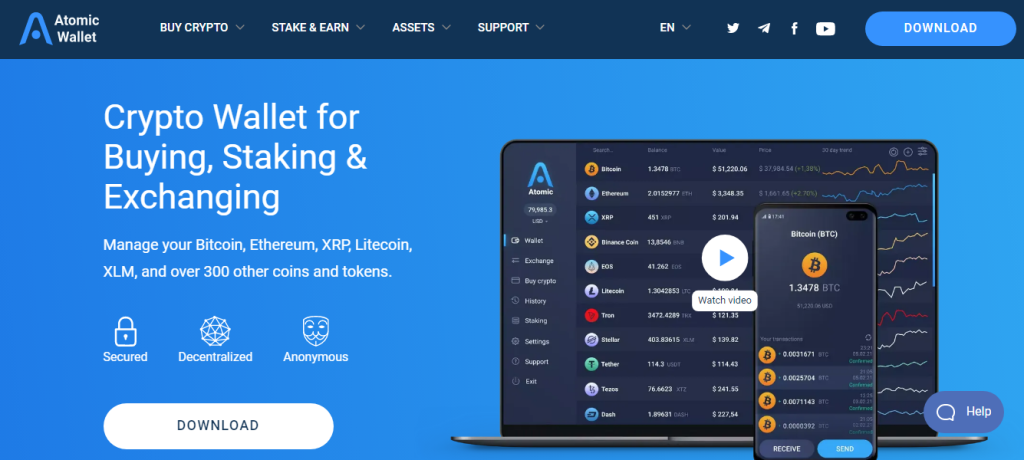 The use of a credit card is an option for investing in Ripple, Bitcoin, Binance Coin, Stellar, Bitcoin Cash, Litecoin, and Ethereum. It would be best if you recorded a mnemonic seed phrase after setting up the program to keep your bitcoin safe. Money is protected as long as you and no one else will ever learn your mnemonic. Support for importing private keys from other crypto wallets is another handy feature.
The Atomic Wallet is secure. Users have complete control over their private keys. It's decentralized and not prone to hacking, DDoS assaults, or central points of failure. The Wallet is cold storage, meaning it may store and handle bitcoin offline. All passwords and data are saved on the user's device. Therefore there are no custody concerns or chances of losing cash via centralized services.
When it comes to keeping your cryptocurrencies safe, the Trezor One is the way to go since it is cold storage, non-custodial Wallet. The Trezor One was the first and is currently a top choice among bitcoin hardware wallets. Initially released in 2014, the Trezor One has now been updated to include a built-in exchange function. Because of this, the Trezor One may be used for a wider variety of coin storage needs.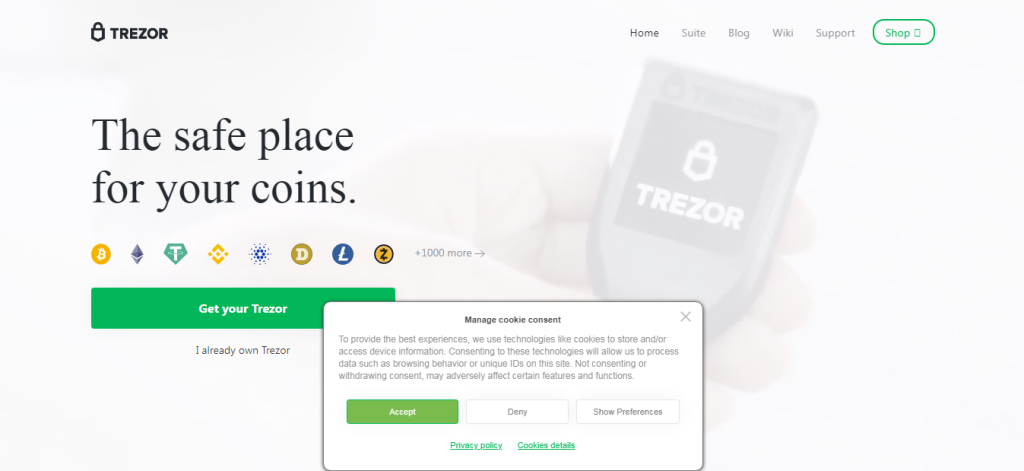 Trezor from a security standpoint, offers cutting-edge encryption, an integrated screen, and buttons that enable you manually check the transactions. Additional safety is provided with a secret PIN code. Trezor's OLED screen displays a random nine-digit PIN and a 24-word recovery seed, and the Wallet can be backed up so that it may be quickly restored if lost. Similarly to Ledger, the wallet interface may be accessed by plugging it into a USB port on a computer.
Finally, there's the imToken Wallet which has many valuable extras. In addition to ATOM tokens, it supports Bitcoin, Ethereum, and several other tokens. You can only get it as a mobile wallet on iOS and Android for now. Generally, good reviews may be found in the iTunes store, with some variations on the Google Play Store.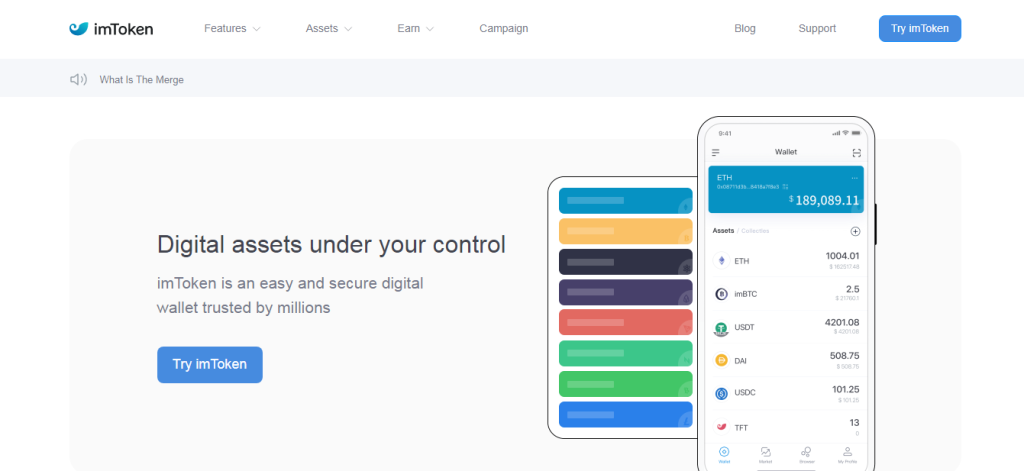 Thanks to the built-in decentralized exchange, you may trade tokens without leaving the imToken Wallet. Unlike the other exchange features of third-party wallets I've encountered, this enables you to make the trade using a smart contract. The token is a decentralized exchange developed using the 0x protocol for decentralized exchanges. If the website's trading data is believed, they processed over 9,000 trades for around $16 million last month.
Tokens may be stored in a cold wallet, and the service also supports the imKey hardware wallet for further protection. Using imToken, staking tokens, and exchanging them for other tickets is simple, and betting returns may reach 20% per year.
What problems does ATOM resolve?
Cosmos' primary objective is to address the industry's poor integration. The blockchain industry, as a whole, offers a wide range of applications and features. However, for the moment, each blockchain functions independently of the others. This reduces the market's potential for achieving key goals, such as advocating for more crypto-friendly laws or other essential industry enhancements.
Cosmos allows for several blockchains to coexist, each with unique use cases. This frees up time and resources that would otherwise be spent on marketing and other competition-related activity and enables creators to concentrate on actual development. Through Cosmos, blockchain may pool different systems' resources to enhance their functionality.
Frequently Asked Questions (FAQs)
Is staking Cosmos safe?
ATOM is risky. If a validator suffers downtime or underperforms, it may lose ATOM. ATOM holders should use several validators to reduce these concerns.
Can Cosmos replace Ethereum?
Cosmos will not replace Ethereum. The Cosmos technology stack includes additional blockchain development frameworks that enable developers to create their blockchains.
Are the cosmos built on Ethereum?
Cosmos has a unique design. A decentralized exchange works on the Ethereum blockchain. Cosmos gives each app its blockchain.
The Bottom Line
What you read above is the final product. Here are the finest six wallets I've found to keep your ATOM safely. Demand for ATOM wallets is expected to increase in parallel with the popularity of the Cosmos Ecosystem. Therefore, this list is expected to grow in the following weeks and months.
A hardware wallet, like the Ledger Nano, offers the highest level of security and is the best option if you want to store cryptocurrency. The Lunie and Cosmopolitan wallets will also allow you to stake your ATOM and participate in the governance process.
These wallets may be used for storage straight away, at least initially. With their mobile applications, you can check your progress and see how your bets are paying off even while you're out and about. On the other hand, Trust Wallet has the endorsement of Binance and supports a wider variety of cryptocurrencies.
In the end, hodl in silence. Once your crypto holdings are known, you become a potential target.