Weiss Crypto Rating Named XRP Number One Crypto in latest Annual Outlook
Announced recently, XRP is rated as number One cryptocurrency in Weiss Crypto Rating's annual outlook of cryptocurrencies. Specifically, XRP stood out as higher as the best combination of technology and adoption.
The Weiss Crypto Rating Agency released a comparison report as the annual outlook of the present stance of over 120 cryptocurrencies entitling ' Dark Shadows with a Bright Future'. The report followed various metrics and showed a result in the form of grades. Weiss's detail study read that;
XRP is the most likely to compete with SWIFT, the global network for money transfers among the world's financial institutions.
Weiss Crypto Rating showed the result in terms of "rank plus reward factors" and the best combination of technology and adoption. Consequently, the agency stated that no coin earn A grade for the former parameter, while XRP ranked #1 with A grade for the latter one. With XRP naming as the number one, other coins such as EOS stood second, followed by Bitcoin whereas the agency reported Ethereum ranked A- and Cardano, Steem NEO, Zcash, Litecoin and Stellar takes B+ Grade.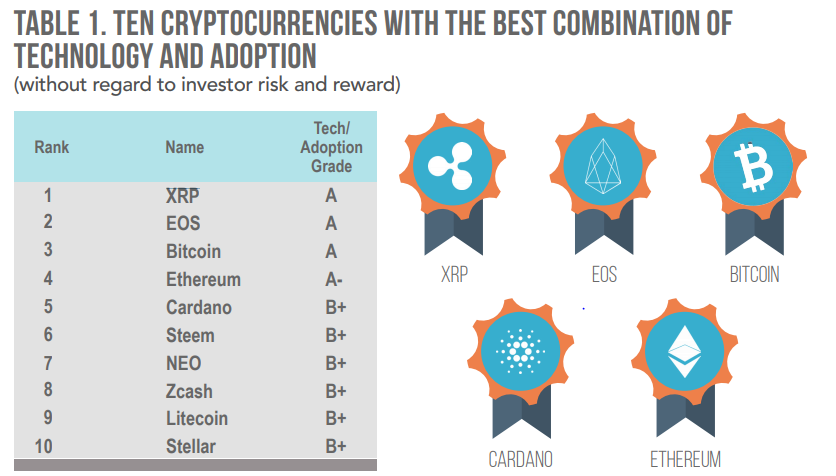 With no doubt, the parent company, Ripple is continuously in partnership with various fintech and payment firms – moreover, its native token, XRP has gained mainstream attention from major players. Indeed, few latest firms that listed or adopted XRP includes Coinbase, Trust Wallet, Rain Exchange and more. In addition, the report noted that XRP can be a direct threat to SWIFT payment system. It states;
XRP, managed by the Ripple company, is leading the charge to compete with SWIFT, the global network for money transfers among the world's financial institutions. Looking further into the future, XRP may contribute to a banking system grounded in Distributed Ledger Technology that helps provide consumers higher returns, enhanced protection against risk and lower borrowing costs
You can read complete report of Weiss Crypto Agency here – weisscryptocurrencyratings.com
So readers, do you think the agency presented an effective study? What's your view on XRP's upcoming value growth? share your opinion with us