XRP Currency is Used in Cross-Border Transfers. Cuallix (Cuallet)
This Article Published on: Feb 25, 2018
In a few articles written last year, I said that Ripple is just one step away from realizing his plan for XRP. The final plan of Ripple is to use XRP coin through the XRapid instrument in cross-border crossings. Well we do not expect this to happen right now. I was thinking that the first XRP live use of the XRapid instrument will take place in the summer or autumn this year. Officials from Cuallix's management, you said the tests with XRapid were successful.
Yesterday at the Cuallix official site, the Cuallet tool was released. Cuallet is the first tool in the world to use the XRP currency in cross-border transfers. Undoubtedly, a very important news. At the moment, this news had no effect on the XRP price. This is due to both the red tendency on Crypto Market and the fact that news has not yet appeared on Internet news sites. That matters less. Importantly, MoneyGram, Western Union, MercuryFX and FlashFX have announced they will use the XRapid and XRP currency in cross-border payments.
In conclusion, the first step was made. Ripple's cross-border transfer technology will revolutionize cross-border transfers. By using the XRapid service and the XRP currency, the transfer costs will be reduced by 60% and the transfer time will be reduced to 4 seconds. Yesterday afternoon, due to the huge number of visits, the site www.cuallet.com fell. At this time, the site works partially.
To check the ones written in this article, you can access these links:
http://www.cuallet.com/en/ripples-global-financial-network-will-work-with-cuallet/
They may not work, so I saved an image with the announcement of the Cuallet tool: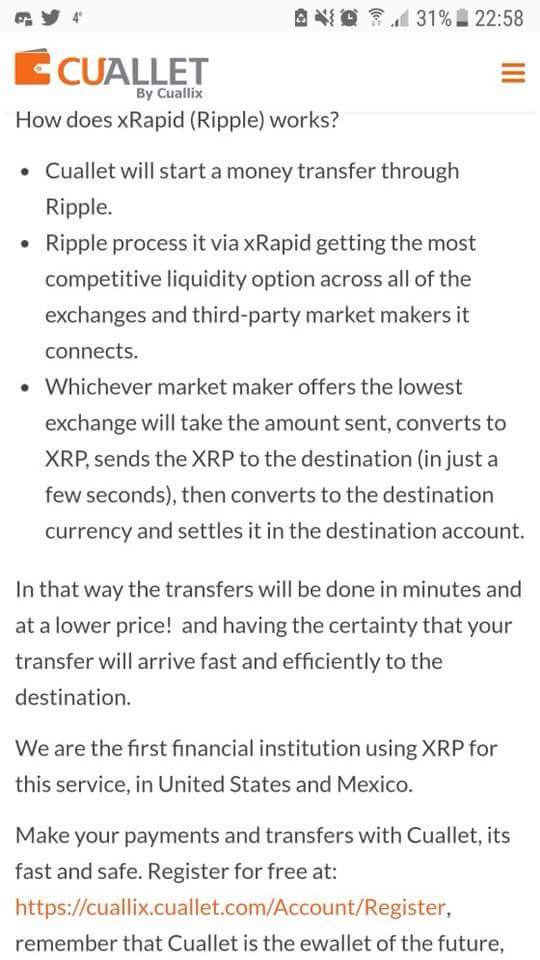 Associated with the Cuallet wallet, there is a Cuallet debit card (pre-paid). Here's a YouTube link that explains more:  https://www.youtube.com/watch?time_continue=6&v=r1Xj78X