XRP Surged By 14% In 12 Hours, Once-In-A-Lifetime Chance to Gain 1000%+ Profit!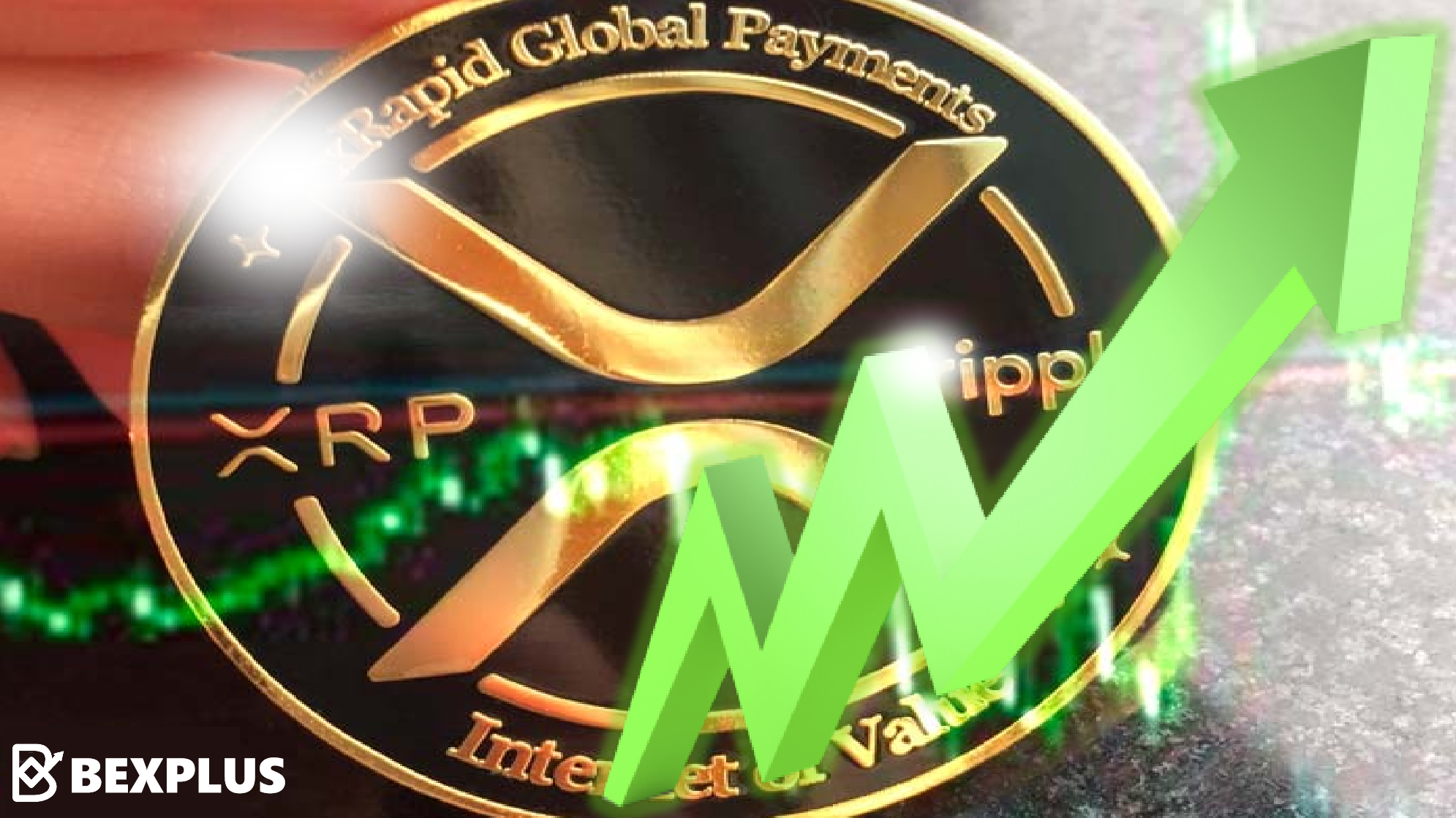 Ripple's XRP is one of the few large cryptocurrencies that has not traded flat in the last 12 hours but has increased by an impressive 14% to $0.37. The most recent development in the company's case against the Securities and Exchange Commission appears to be well received by market participants.
Critical Court Decisions in the SEC-Ripple Lawsuit
Fox Business reporter Eleanor Terrett recently tweeted that two decisions are imminent and expected within the next week.
Presiding judge Sara Netburn is expected to issue the first ruling. She will decide whether emails and other documents pertaining to William Hinman's 2018 speech are protected by the attorney-client privilege. Magistrate Judge Analisa Torres will make the second decision. She will make a decision "on the SEC's motion to seal its opposition to JohnE Deaton's request to file an amicus brief on the agency's expert witness Patrick Doody."
As previously stated, these decisions are expected within the next week, and there is a good chance that the case will take a decisive leap forward as a result of the decisions.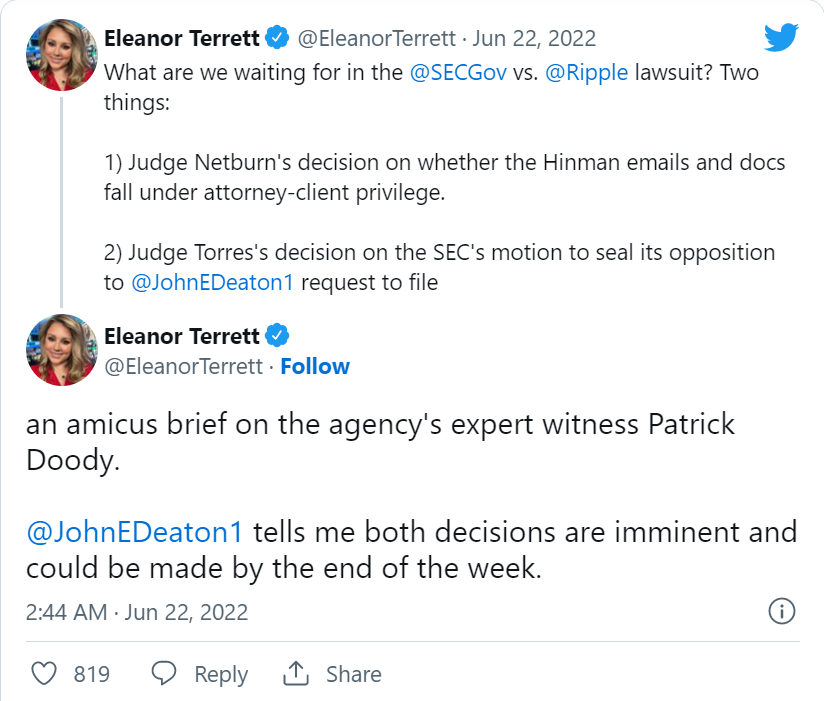 A Crypto Hub Opened in Toronto with 50 New Employees
Ripple has opened a new office in Toronto, Canada, that will serve as an engineering hub for cryptocurrency innovation. The company's global expansion includes this new location.
This was announced on Wednesday by the company behind the XRP cryptocurrency. According to the announcement, Ripple will initially hire 50 engineers before expanding its office to include hundreds of blockchain engineers ranging from data scientists and machine learning scientists to product managers.
"Crypto and blockchain present an incredible opportunity for engineers to tackle difficult problems, with the potential for these solutions to impact the movement of value around the world," says Ripple CEO Brad Garlinghouse.
The Golden Time to Buy XRP
Since reaching the low point of $0.30 on June 18, XRP has skyrocketed to around $0.37, surging by 14%. In other words, if you bought an XRP spot at $0.30, your assets have expanded by 14%. Even if Bitcoin revives next, it will be difficult to make gains in the short term like XRP.

This is a once-in-a-lifetime positive market, and traders are strongly recommended to buy XRP and profit from the current surge. At this point, choosing a reputable exchange is crucial for traders, but many exchanges have not listed or removed XRP due to the previous XRP lawsuit.
However, Bexplus has always been bullish and believes in XRP, making Bexplus one of the few places where traders can trade XRP with confidence. As a result, Bexplus is one of the few places where traders can confidently trade XRP. Traders can easily profit from this rare uptick by investing less, thanks to Bexplus' signature 100x leverage tool.
More Profits with 100x Leverage & 100% Deposit Bonus
Bexplus offers a 100x leverage tool so that traders can open a position with only a 1% margin required. Take an example, a trader opens a long position of 1,000,000 XRP at the price of $0.37 with Bexplus 100x leverage. Then, the price goes up to $0.40. As a result, he will make a profit of  ($0.40 – $0.37) * 1,000,000 XRP/$0.40 = 75,000 XRP. However, the margin he needs to prepare is only 10,000 XRP. That makes 750% ROI in total.
To welcome our new users and thank our regular users, each user is eligible to apply for the 100% deposit bonus. Now, with Bexplus' 100% bonus, our initial investment would be 20,000 XRP, and our realized profit made with these 20,000 XRP will be 150,000 XRP, and the ROI will also be doubled to 1500%. That's how traders make more profit with the 100x leverage tool provided by Bexplus.
Bexplus: A Recommended 100x Leverage Futures Exchange
Bexplus is a leading crypto derivatives trading platform offering 100x leverage futures trading on various trading pairs: XRP, BTC, ETH, ADA, DOGE, etc. Bexplus is popular among over two million traders from over 200 countries/regions. In addition, it is safe for being accredited by the U.S. FinCEN MSB (Money Services Business). Furthermore, It also boasts of the following features:

100x Leverage is offered to maximize trading profits.
100% Bonus for every deposit.
A Bitcoin Wallet with an annualized interest rate of up to 21%.
No KYC requirement, registration with Email verification within a few minutes.
Demo Account with 10 BTC for traders to get familiar with leverage trading.
Intuitive and full-featured App on Apple App Store and Google Play.
7/24 hours one-to-one service to solve your problems at any time.
Fast withdrawal without any time limit, and no deposit fee.
Copy Trading is provided to allow superior traders to make profits for you.
Up to $5,000 Rewards to Welcome new users.
Click here to register and get a 100% bonus and share the $5000 reward! Opportunity is fleeting, seize the once-in-a-lifetime opportunity to buy XRP and make the most profits!