XRP – Japanese Largest Crypto Exchange "DMM Bitcoin" Adds XRP Support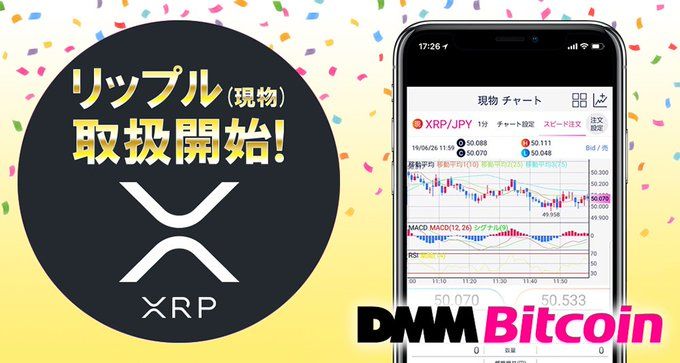 Announced on July 10, 2019, one of the famous Japanese crypto exchanges, DMM Bitcoin is supporting the third-largest cryptocurrency, XRP. Initially, it is paired with Japan's fiat currency JPY (Japanese Yen). According to its announcement, the trading has already begun from July 10, 2019.
This exchange was launched back in 2018 as "DMM Bitcoin". It was initiated with a plan to support 7 cryptocurrencies, 14 trading pairs and with the feature of margin trading. This exchange operates under the name of popular Japanese entertainment conglomerate DMM Group which is the operator of popular e-commerce site DMM.com.
Per the announcement, the seven cryptocurrencies were Bitcoin (BTC), Ether (ETH), NEM (XEM), Ripple (XRP), Litecoin (LTC), Ethereum Classic (ETC), and Bitcoin Cash (BCH). Among all these, only two cryptocurrencies, Bitcoin and Ethereum were set for fiat-to-crypto trading with JPY so far – whereas other cryptocurrencies were leveraged trading only. Following the latest announcement, users can also access XRP cryptocurrency in pair of JPY.
DMM Bitcoinは、本日(7/10)の週次メンテナンス後の18時00分より、リップル(現物)の取扱いを開始したことをお知らせいたします。
▼詳しくは、当社お知らせページをご覧ください。https://t.co/KhmracVkgr#仮想通貨 #ビットコイン pic.twitter.com/YJEhn8Nftx

— DMM Bitcoin(DMMビットコイン) (@DMM_Bitcoin) July 10, 2019
Ahead of DMM Bitcoin, its parent, DMM Group had a small crypto trading platform called "Toky0 Bitcoin Exchange Inc". Reportedly, Tokyo Bitcoin Exchange Inc was approved by the Japanese Financial Service Agency (FSA) on Dec 1, 2017. In fact, this exchange was one of the rare names among the 15 approved exchange in Japan. Later DMM Group renamed "Tokyo Bitcoin Exchange to DMM Bitcoin" and suspended its earlier services.
DMM Bitcoin's update of supporting XRP is quite exciting news for the whole XRP community. Subsequently, XRP member "CryptoEri" took to Twitter and adds that "there were over 700,000 downloads of the DMM trading app tied to an XRP promotional campaign". The tweet posted on July 10 reads that;
More than 700,000 downloads of the DMM trading app tied to a XRP promotional campaign. Will cover this in a video today.

— CryptoEri (@sentosumosaba) July 10, 2019
Despite this news, there's no positive moment in the price of XRP. In fact, other altcoins also declining with the severe fall. At the press time, XRP is trading at the price $0.33 against USD by plunging at 15.39 percent over the past 24 hours.
Image Source – DMM Bitcoin Twitter