Technical Analysis XRP/USD 17/09/2017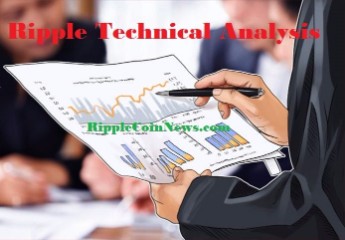 In the latest technical analysis I was saying that the BTC could try a recovery from the $3600 usd area. I was saying that if there is no recovery around that value, the BTC could go down to $2900 usd (last resistance area, current support area). Bitcoin, due to panic sales, has reached the support area ($2940 usd). After the BTC reached that value, the upward movement that followed was strong enough and the volumes traded were high. The candle formed on the daily chart is quite long. This and the volumes traded could mean that the bottom of the pit was reached. It's too early to talk about it. We need a confirmation from AT to be able to say that the downward trend is invalidated.
Let's move to XRP/USD. As I said, it followed exactly the BTC trend. S2 $0.15 usd support was broken and the price dropped to $0.146 usd. This means S3 $0.15 usd has been temporarily broken. Against the backdrop of the upward movement of the BTC, the XRP / USD parity also had a strong upward movement of up to $0.19 usd.
The resistance lines are:                                             The support lines are:
    R1 –  $0,19 usd                                                                 S1 – $0,15 usd
    R2 –  $0.23 usd                                                                 S2 – $0,128 usd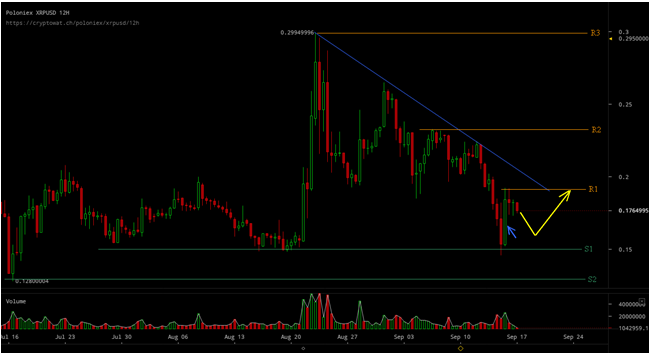 To be able to talk about reversing the down trend, the $0.19usd area (now the resistance area R1) must be broken up. Also in the upper part, we have a decadent trend line (drawn in blue on the chart). Next, we need to see to what level the downward trend wave will descend. The tendency is very fragile right now. The price BTC will try to find a balance in the coming days. If the BTC does not complete the correction and goes down, XRP / USD will also go down, the support area S1 $0,15 usd will be broken and we will descend to S2 $0,128 usd.
An interesting fact about the XRP/BTC parity would be worth mentioning. When the entire Crypto Market was red, over a period of about 5 hours XRP/BTC managed to keep green, with a 6% increase at some point. This means that there were new BTC entries on the XRP/BTC.  For the next two days, the possible evolution of the XRP/USD price is drawn in yellow on the chart.