Ripple (XRP) Should Benefit from Bitcoin's Lightning Network Low Reliability: Ripple Technical Analysis (June 28, 2018)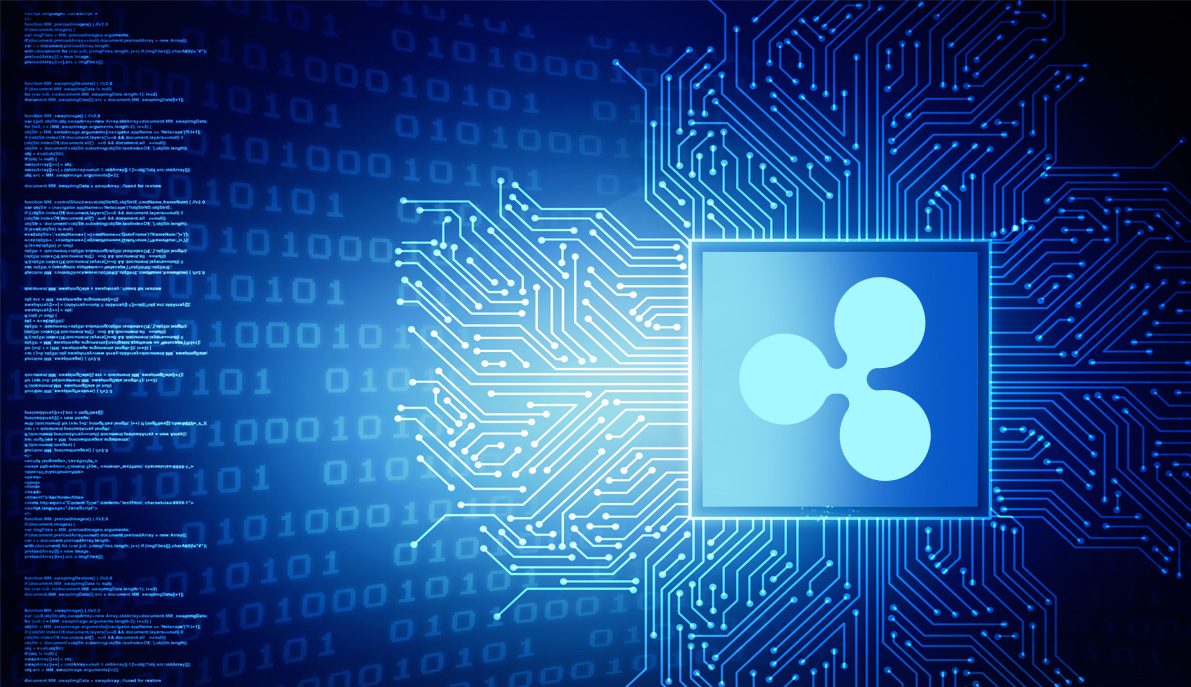 The trend is bearish but in the midst of this strong value erosion, there are pockets of buys. Yesterday's bullish candlestick might spur a recovery but as always, the best remedy is time. I recommend staying neutral for today as we wait for our trade conditions to be met.
From the News
The crypto market is not short of drama and apart from EOS woes, the fact the much hyped lightning Network is already crumbling from criticism. Yes, it still remains open source and there are several companies including Blockstream working on its development. Even in their knee deep accusations, we should understand that the technology is still nascent and is the first attempt to solve the Bitcoin scalability problems and high fees prohibitive for small merchant payments. Like Ripple, Lightning Network, an off-chain, layer two solution riding on Bitcoin blockchain promise fast speeds, scalability and low costs. 
However, at the moment and according to Diar, a company that gives analysis on the latest development in the crypto-verse, LN has a reliability problem. Well, according to their strong findings-which had been echoed before, while the number of nodes are increasing, the fact that the reliability of transacting large amounts of money (less than $200) stands at one percent is alarming and an outright deterrence. Besides, for movement of cash, both parties must always be online and the transacting nodes must be liquid. 
It's solely because of this that we have seen some sort of centralization where 0.4 percent of nodes controls more than 50 percent of the LN. This is undesirable and as long as a combination of these deflating developments continue to take center stage, we project a future where use of XRP and RTXP would take center stage. It's actually not rocket science not to see this. Companies using xRapid have access to on-demand liquidity which XRP provides. Transactions here settles instantaneously and participants don't need to be online all the time. In a nutshell, Bitcoin's LN predicament is an adrenaline boost for XRP and Ripple as a company.
Ripple (XRP) Technical Analysis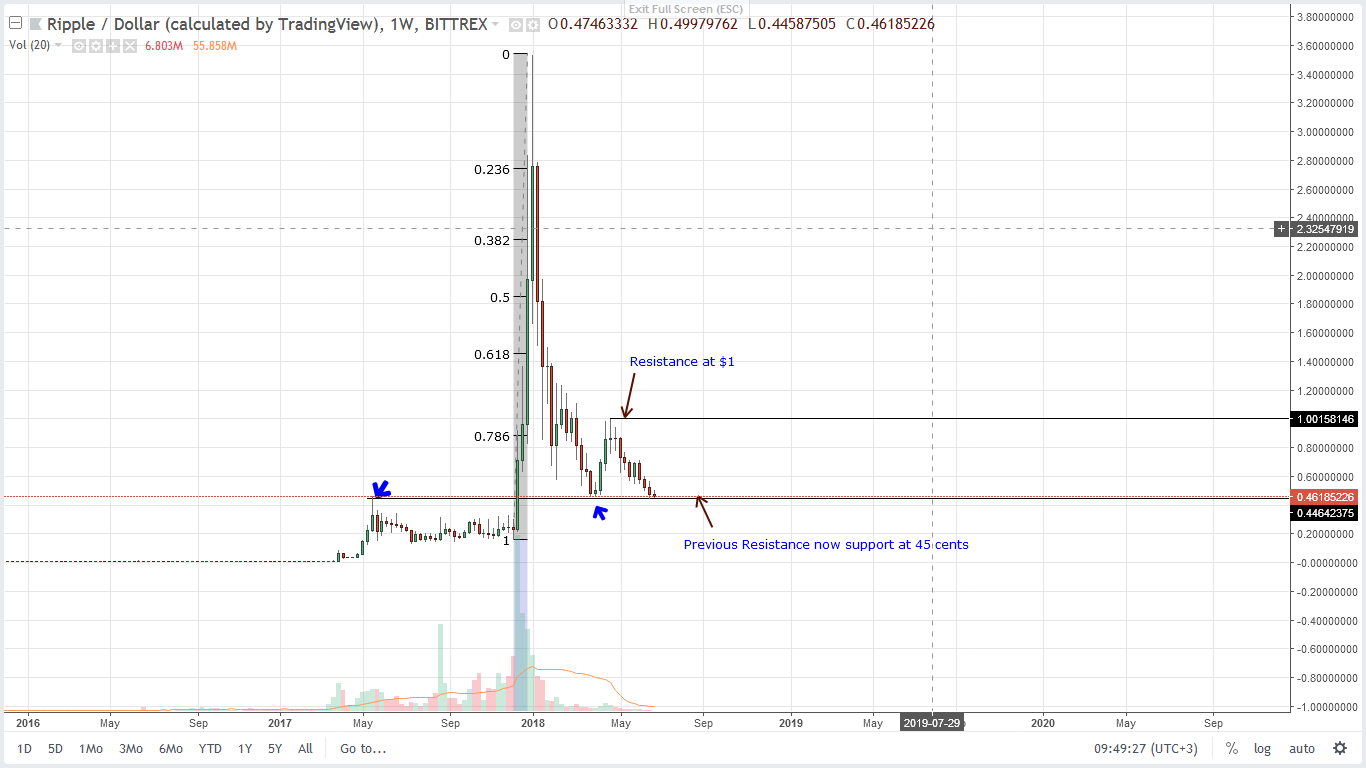 Week over week, the south paw of bears become more pronounced. It's down 15 percent in the last week alone and while at it, XRP prices are trending near the main support line at 45 cents. By all accounts, those planning to get in now should pause their trading and wait. Why? Well, first of all, we have been in a bearish run for the last two months and we can even argue that we are in a long covering simply because of the effort versus result factor: Sellers took two months to reverse April's gains. 
That's not all though, we need to admit that 45 cents is an anchor point and marks previous resistance-in 2017 before the bullish run-now 2018 main support. Any break below is contingent to how BTC performs while a recovery would happen if there are strong fundamentals like it being listed at CoinBase for example. Simply because of this, I remain neutral on this time frame while locking in my profits.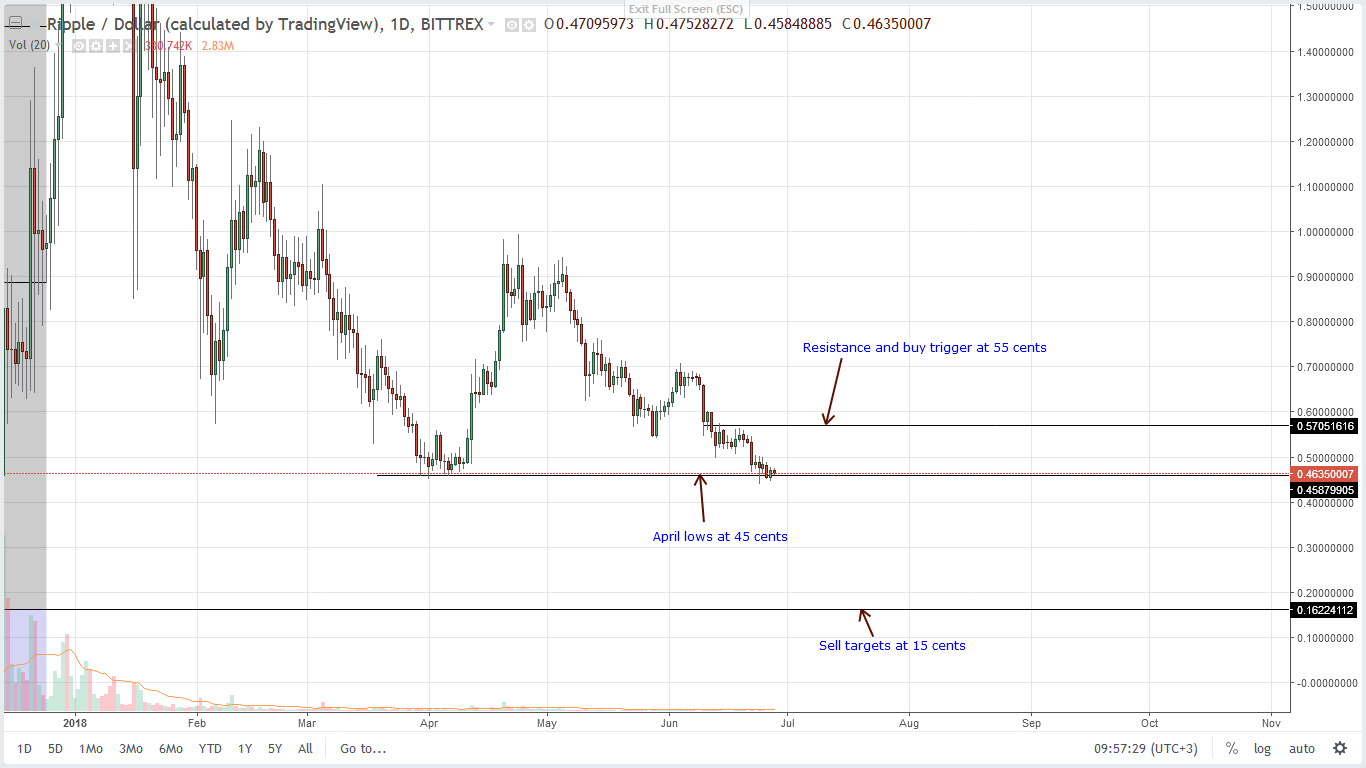 Encouragingly, XRP is up roughly one percent in the last 24 hours but that's not a key take away in the past day. We have a clear double bar reversal pattern right at 45 cents, our main support line. As aforementioned, our stand is clear: Patience. That's until there is a break below 45 cents with high volumes and in that case 15 cents would be a feasible target. Or, buyers push prices above 55 cents, our immediate buy trigger. Before either happens, being neutral with a short term bullish skew looks like a nice trade plan.