Ripple (XRP) Price Analysis (May 18, 2018)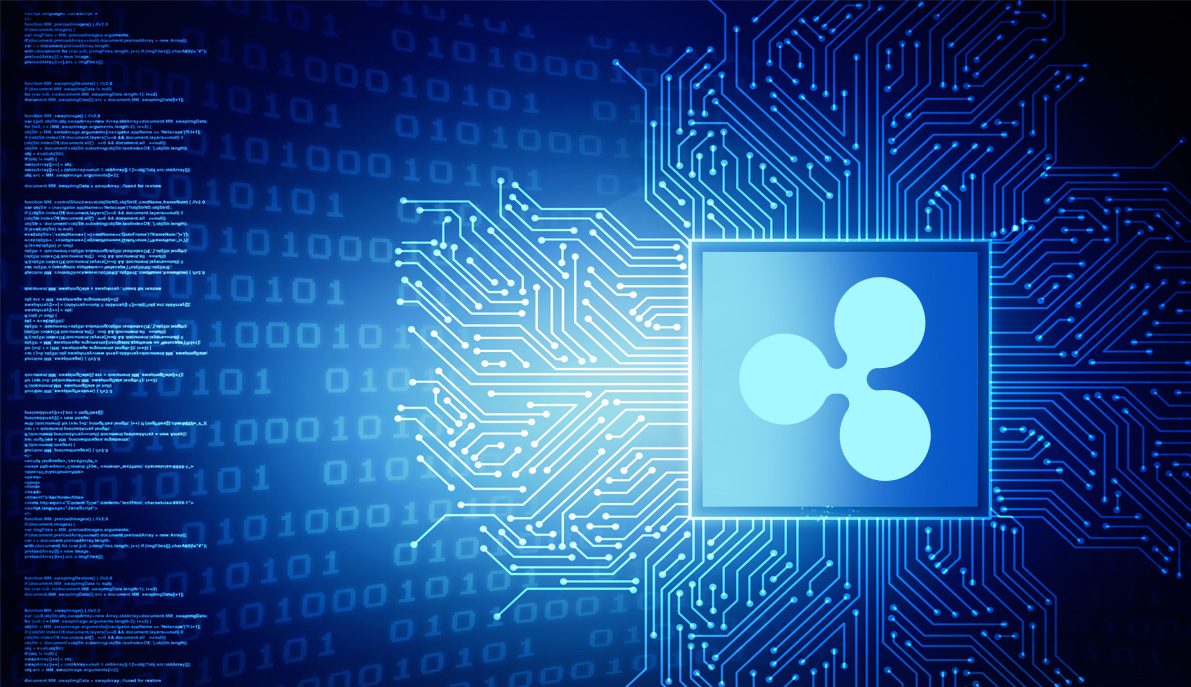 Judging from price action, most alt coins are bearish and likely to lose more if key support levels fail to hold. Ripple is one of them and as long as prices are above 60 cents, there are hopes of recoveries. As it is, Ripple is down three percent in the last 24 hours but up one percent in the last seven days. By all accounts, that is good and it is actually outperforming in the top 20.
From the News
Just like blockchain start-ups creates a community around their product, Ripple wants to create a valuable ecosystem around their XRP token. To enable this, they came up with a start-up centric initiative called Xpring where companies who primarily focus on Ripple and implements their solutions shall benefit from Ripple, the company. Some of the benefits include grants, investment and incubation. Ultimately, the more companies realize that Ripple technology is easier to understand and implement, it might help diffuse the notion that Ripple platform is "complicated" and not meant for small businesses. Hopefully, if this drive progresses and more entrepreneurs are identified, the demand for Ripple shall increase in the future. For now though, let's see what Ethan Beard, the leader in charge of Xpring, has to do to make this a reality.
Talking of adoption, you might actually use Ripple to pay for your private jet travels. All courtesy of Tap Jets, an app that claims to be the leader in making arrangement for private jet travels, now there are possibilities that Ripple token (XRP) might be used for settling payments. In an announcement, Tap Jets said they have been asked by their "cryptocurrency friends" if their project can incorporate cryptos as a payment method. To implement this, they are running a poll where Ripple and two other coins are contenders. With 53, 000 votes casted, it's obvious that people are actually taking this seriously. Of course, it would even be nice if Ripple comes up on top.
Ripple (XRP) Technical Analysis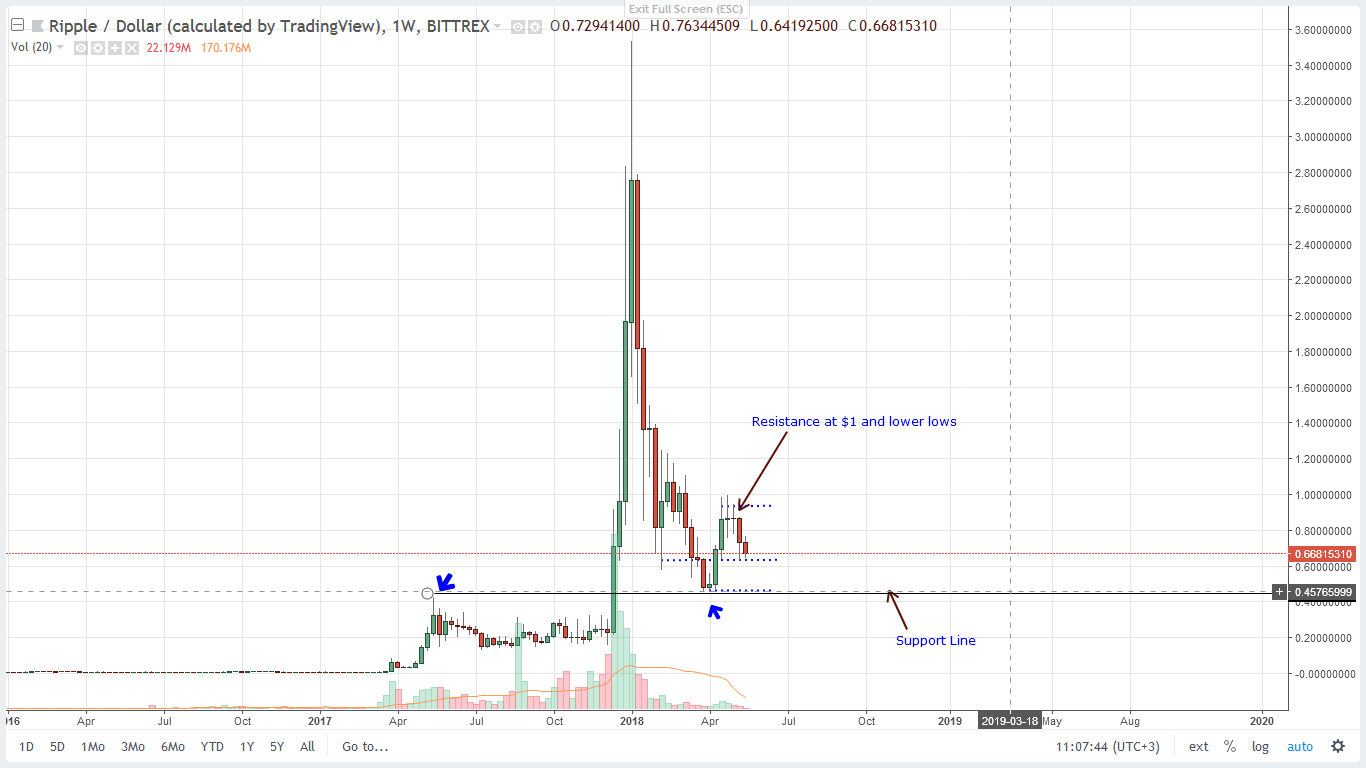 There are two ways to interpret current price action. First, the area around $1 is influential and should be taken seriously if at all prices were to appreciate. It's obviously a resistance zone and an important one in this case. Notice that after week ending May 6, there was a strong bearish candlestick breaking below the consolidation or mid-range distribution with tops at around $1. From there on, we are seeing a confirmation of that sell move since this week's candlestick is bearish. 
On the flip side, we can view recent lower lows as long coverings anchored at 40 cents main support line. Note that prior to this depreciation we had long bull candlesticks with high volumes peaking at 125M. Now, in this case, strong supports can be found at 60 cents and in case there is a break below that, 40 cents should be seller's targets in lower time frames.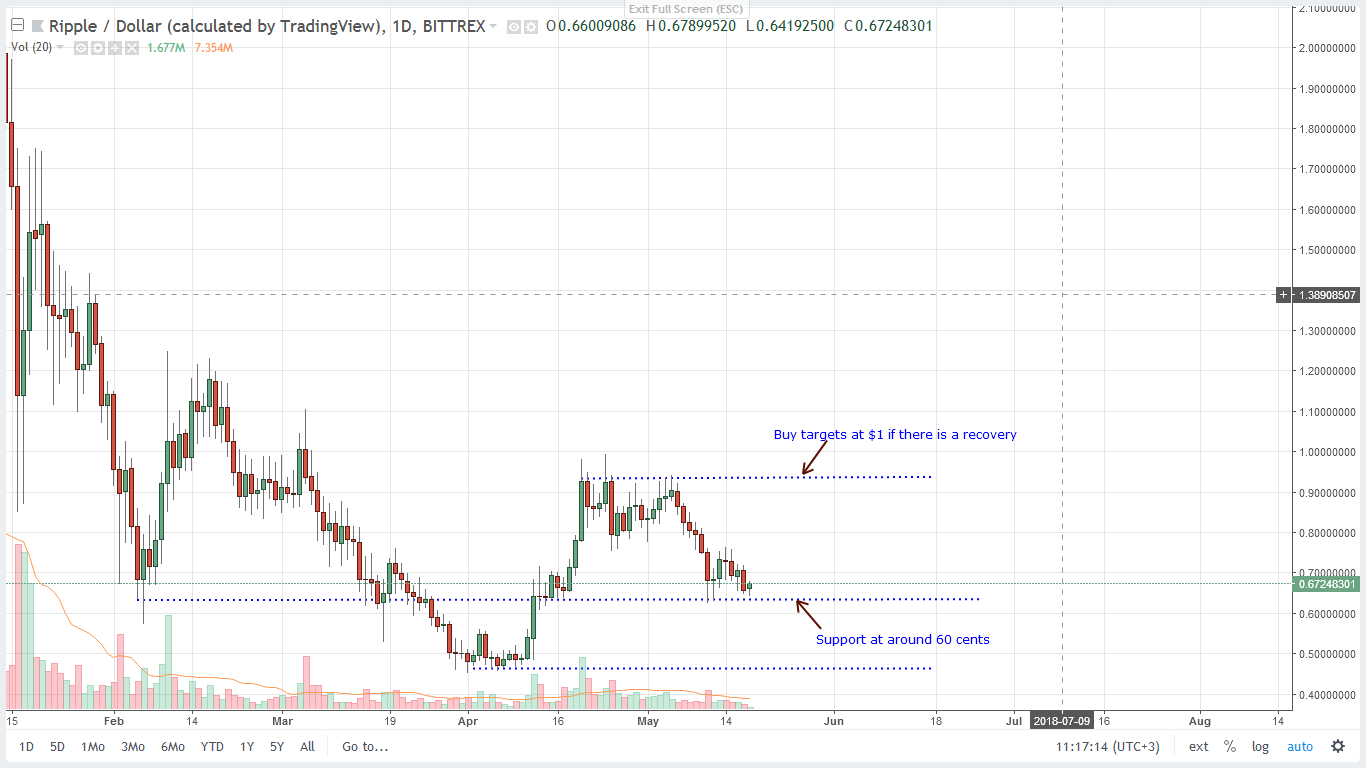 Here, we are seeing some form of consolidation, an accumulation we might say. If anything, this is where Ripple might fight the bears especially if there is no break below 60 cents as we have reiterated above. Note that, May 12 candlestick is a spring rejecting lower lows and shall bear some significance today acting as our minor support. If bears push lower then expect strong volumes to show sellers participation with targets at 40 cents. Otherwise, any rejection of lower prices would be accompanied by buy volumes. In that case, our buy triggers would be set above May 13 highs of 76 cents. Because of this set up, it's better to wait until we see strong movement in the chart syncing with our trade conditions.