Ripple Price Technical Analysis XRP/USD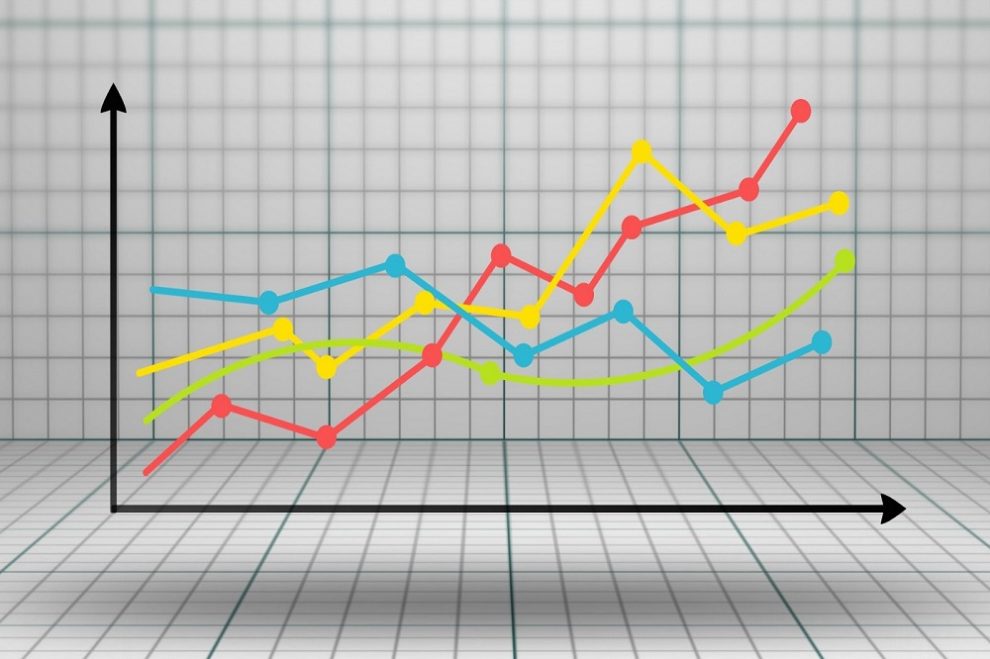 There is a market wide recovery but it seems like XRP is not responding to BTC recovery. Technically it is poised to but fundamentally, SEC failure to give their stand on this coin is negatively affecting this coin. Already, several funds are not channeling their money to XRP with some fund managers saying XRP is not a cryptocurrency but "digital money".
From the News
Unlike Bitcoin and Ethereum, coins that the US Security and Exchange Commission consider utilities, XRP is still mired and struggling for identity. Yes, XRP and Ripple figureheads are on the forefront insisting that the coin is but a utility and even going ahead to state that Ripple and XRP are two separate, unrelated entities. Ripple, they say is a software company that is geared towards providing solutions to businesses and is a company that came in existence in 2012. 
Of course, to change the public perception would be hard as they two are now synonymous. However, what remains a thorn is that categorization by the SEC. Billionaire Cohen for example isn't investing in XRP anytime soon and the reasons were elaborated by Autonomous Partners MD, Arianna Simpson. 
Simpson stated that there were concerned about the possibilities of XRP being centralized and being listed as a security by the SEC. This is not only the concern of the fund but that of Ripple the company who admitted that should that declaration be made, then XRP will significantly drop in market valuation. To make worse the situation, funds and even institutions would wade clear off XRP further making the coin illiquid.
All in all, we continue to take a neutral stand expecting the listing by SBI Group backed VC Trade to set the trend of exchange listing globally. This kind of exposure helps bring demand to XRP and that's what investors want to see.
XRP Technical Analysis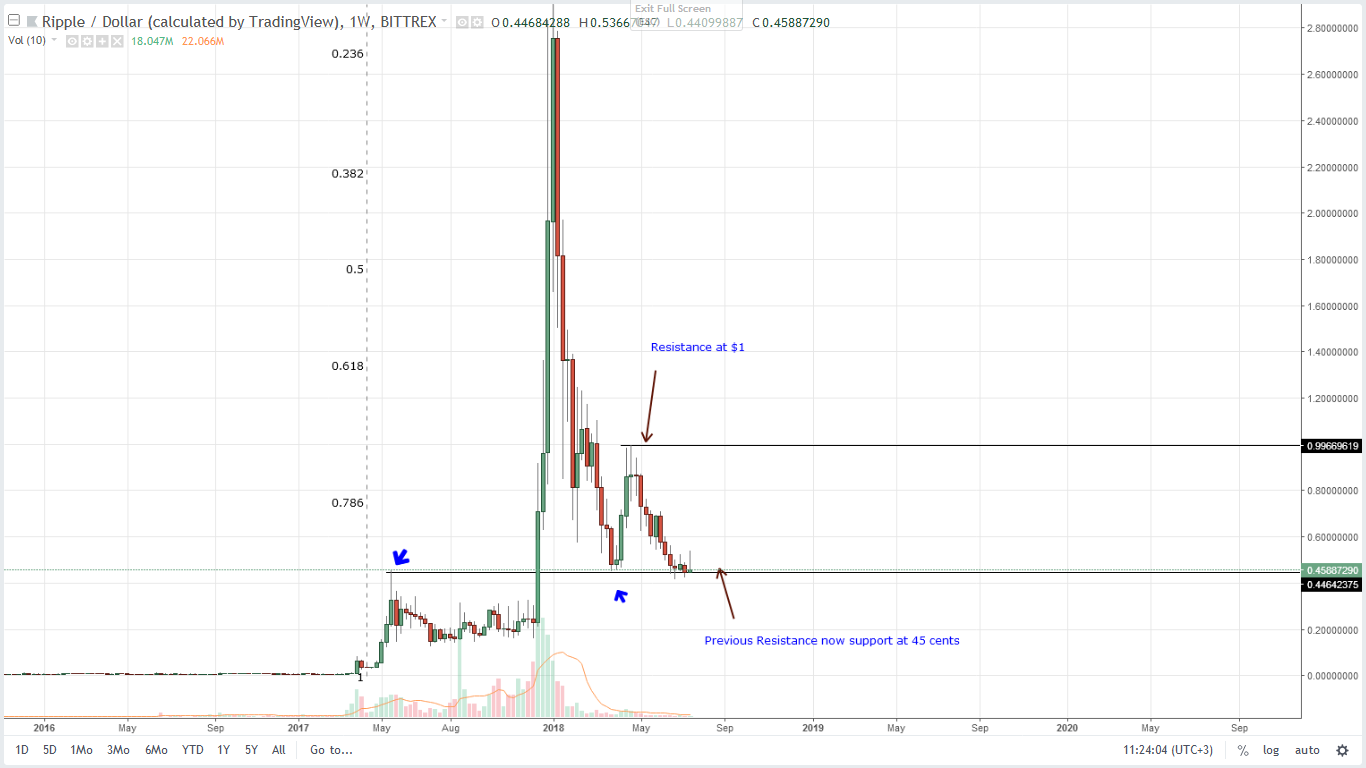 Simply put, XRP prices are in a limbo. The negativity from the fundamental side is not helping either but the good thing is that prices are not trading below key support line at 45 cents. From the weekly chart, we can see that not only are sellers having an upper hand but prices are literally swinging within a 10 cents range between 45 cents and 55 cents with sellers taking the lead in the last three days. 
In my view, we shall retain the same neutral to bearish stand as long as bears are trading below 55 cents. It's after all easy to see why: sellers have been in charge for the last two months and one week of positivity won't likely change that preview unless we see a follow through.
Any strong break and close below 45 cents would usher in sellers who might drive XRP back to 15 cents as earlier projected.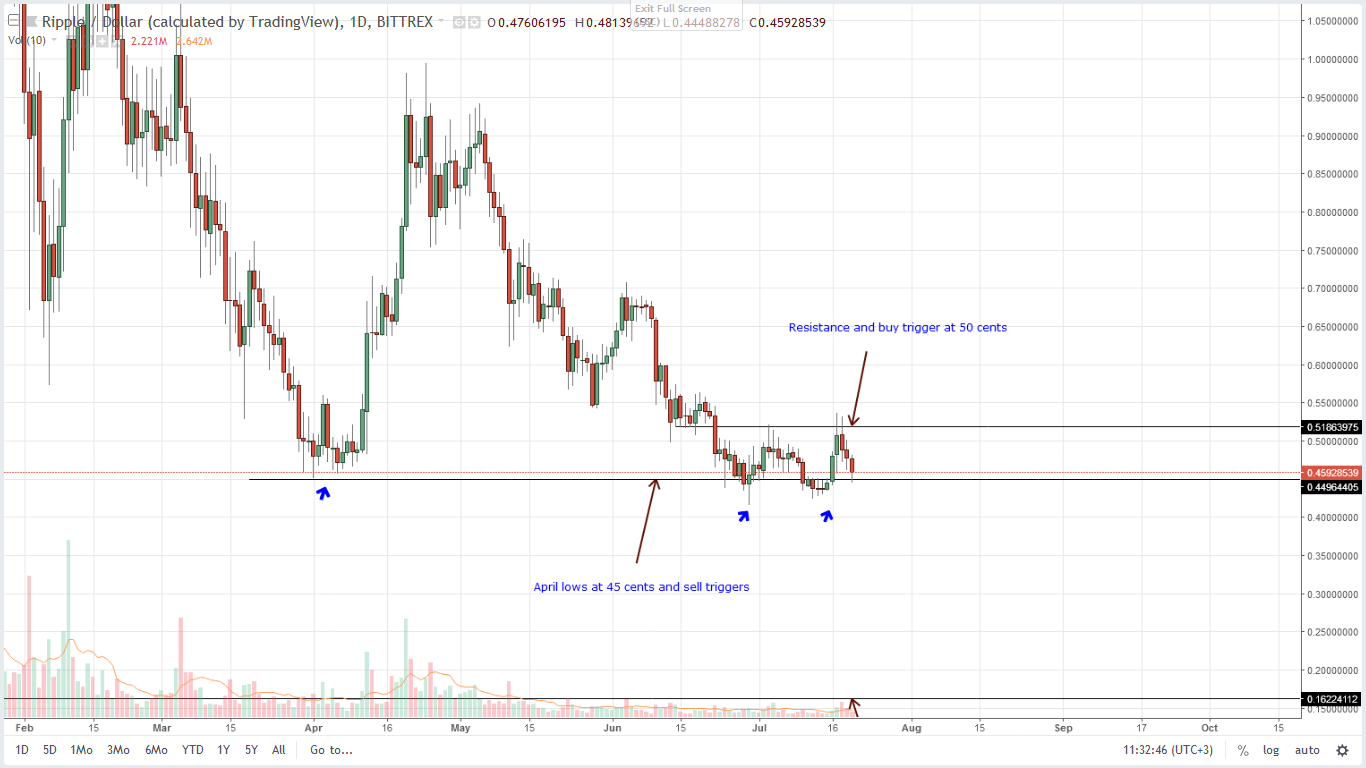 Now in this time frame, it's clear that prices are oscillating within a 10 cents range with buy triggers at 55 cents. Earlier in the week, the series of higher highs might have propelled prices higher but even after that, these three days of sell pressure is yet to reverse July 16 and 17 gains. This is a case of effort versus results and because of that there is a tinge of positivity as we expect bulls to resume their trend and loss reversal. Anyhow, like before, we shall need strong close above 55 cents to trigger possible gains towards 70 cents and ideally $1.