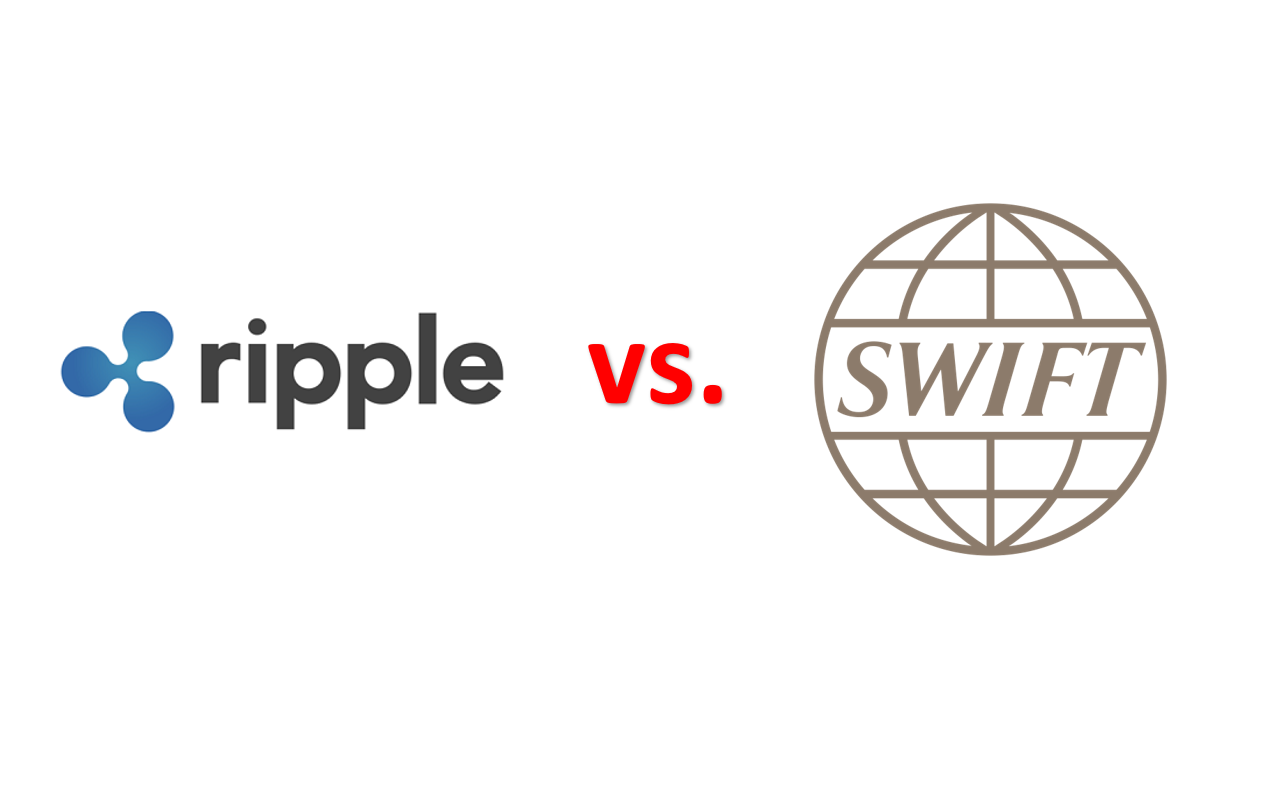 Published on: Dec 20, 2017  –  Last update: Mar 03,2018
Such an article was necessary! Why? Because the two companies are direct competitors on the same market segment. An old company dominating the cross-border transfer market and a new revolutionary technology company that wants to take over some of this huge cross-border transfer market.
The company Ripple is the creator and developer of the Ripple payment protocol and exchange network. Originally named Opencoin and renamed Ripple Labs until 2015, the company was founded in 2012 and is based in San Francisco, California.
Its creators are: Ryan Fugger, Jed McCaleb and Chris Larsen.
Ripple is a privately funded company. It has closed five rounds of funding, including two rounds of angel funding, one round of seed funding, one round A and one round B round.
Date

Funding
type
Investor

Amount
(million $)

April 2013

Angel

Andreessen Horowitz, FF Angel LLC, Lightspeed Venture Partners, Pantera Capital,  Vast Ventures,  Bitcoin Opportunity Fund

2.5

May 2013

Angel

3.0

November 2013

Seed

Core Innovation Capital,  Venture51, Camp One Ventures, IDG Capital Partners

3.5

May 2015

Series A

IDG Capital Partners,  Seagate Technology,  AME Cloud Ventures, ChinaRock Capital Management,  China Growth Capital,  Wicklow Capital, Bitcoin Opportunity Corp, Core Innovation Capital,  Route 66 Ventures, RRE Ventures,  Vast Ventures, Venture 51

28

October 2015

Series A

4

September 2016
Series B
Standard Chartered,  Accenture,  SCB Digital Ventures,  SBI Holdings,  Santander InnoVentures, CME Group, Seagate Technology
55
Ripple provides one frictionless experience to send money globally using the power of blockchain. By joining Ripple's growing, global network, financial institutions can process their customers' payments anywhere in the world instantly, reliably and cost-effectively. Banks and payment providers can use the digital asset XRP to further reduce their costs and access new markets.
With offices in San Francisco, New York, London, Sydney, India, Singapore and Luxembourg, Ripple has more than 100 customers around the world. At present, it has about 200 employees.
In the summer of this year Ripple created three specialized tools: xCurrent, xRapid, XVia. Each of the three tools used to address a particular segment of the transfer market. XCurrent is the on demand application that uses banks to process customer payments. XVia is the tool through which businesses connect to RippleNet to send payments.
XRapid is the instrument by which XRP liquidity can be offered to those interested. In October of this year, Ripple announced: "Cuallix has become the world's first xRapid-Ripple solution to use the XRP as a liquidity tool to reduce the cost of sending US cross-border payments to Mexico." This means that soon XRP will be used in cross-border transfers.
<< The Ripple Net Accelerator program is designed to allocate up to $300 million to create incentives to accelerate adoption. It's not dissimilar to the early days of Visa. The rough idea is "we will pay you Mr. Bank or Mrs. Bank to accelerate your use of this program. We will pay you in XRP. "If they do not want XRP, they have an option to use US dollars. >>
This is the answer given by Brad Garlinghouse, CEO of Ripple to a reporter who has asked him how he will convince banks to use the XRP currency in cross-border payments.
On November 28, 2017, at CoinDesk's consensus: Invest in New York, TechCrunch founder Michael Arrington revealed that he had raised $ 100 million for a hedge fund that will buy and hold encrypted assets while investing in token sales and shares and debts.
Launched under a new entity called Arrington XRP Capital, the fund will be the first to require all limited partners (LPs) to invest in XRP, the encryption that RippleNet's Ripple software runs. The fund will also use XRP for all distributions and fees.
Through its technology, Ripple has revolutionized cross-border money transfers. Through blockchain technology and XRP, the cost of cross-border transfers have decreased by 60%. Also, the most important aspect is to reduce the time that a money transfer used to take. Currently, through SWIFT and the outdated chain of correspondent banks, a cross-border money transfer takes between 3 and 5 days. Through Ripple technology and the XRP, a cross-border money transfer will take place within 4 seconds.
SWIFT
The Global Interbank Financial Telecommunication Company (SWIFT) based in La Hulpe, Belgium, was established in 1973. Its field of activity is the transmission of financial messages via the international SWIFTNet network.
Financial messages are used to facilitate cross-border money transfers. The company currently has about 2,000 employees.
SWIFT carries financial messages but does not hold accounts for its members and does not make any form of clearing or settlement.
SWIFT does not facilitate funds transfer: rather, it sends payment orders, which must be settled by correspondent accounts that the institutions have with each other. Each financial institution, to exchange banking transactions, must have a banking relationship by either being a bank or affiliating itself with one (or more) so as to enjoy those particular business features.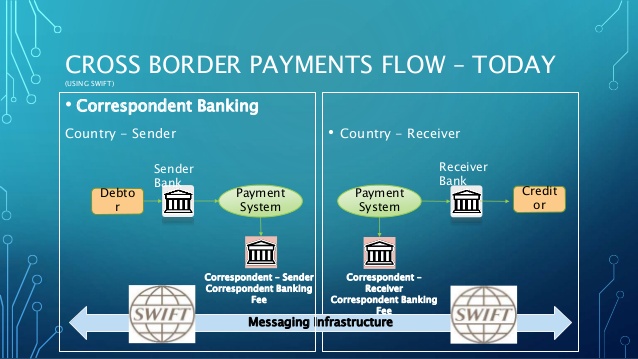 SWIFT has become the industry standard for syntax in financial messages. Most international interbank messages use the SWIFT network. SWIFT now manages $150 trillion in its messaging service.
In 2016, an 81 million usd theft from the Bangladesh central bank via its account at the New York Federal Reserve Bank was traced to hacker penetration of SWIFT's Alliance Access software, according to a New York Times report. It was not the first such attempt, the society acknowledged, and the security of the transfer system was undergoing new examination accordingly.
Soon after the reports of the theft from the Bangladesh central bank, a second, apparently related, attack was reported to have occurred on a commercial bank in Vietnam. Both attacks involved malware written to both issue unauthorized SWIFT messages and to conceal that the messages had been sent.
In response to the challenge raised by Ripple, SWIFT launched its Global Payments Innovation Initiative (GPII) initiative. Using the current SWIFT messaging system and banking correspondence, which is the backbone of the old cross-border payments, the GPII is essentially a set of rules that obliges banks to behave more rationally in cross-border payments, supported by tracking payments and data to monitor their compliance with new rules. However, as you will see in the conclusions of this article, GPII is far from being a real competitor for Ripple. GDPII remains an enhanced messaging service, and Ripple has a blockchain technology.
Conclusions.
Today, the world sends more than $150 trillion across borders. These amounts are almost entirely managed by SWIFT through its financial messaging service. Below, you can see a comparison between RIPPLE and GDPII.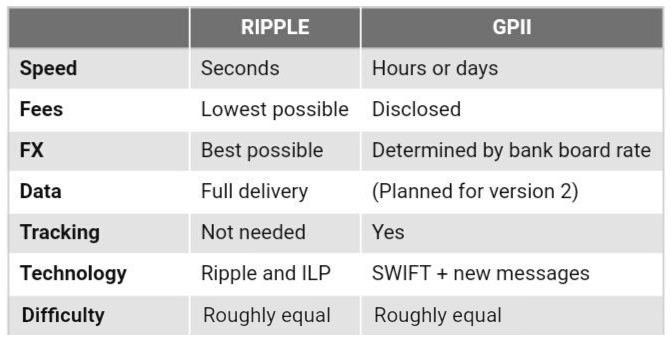 I see many enthusiasts on various websites that already see Ripple managing these colossal sums. I say we are more realistic. The road that Ripple goes through is not easy. I say just as much: if Ripple succeeds to manage at least 2% of these in the first 5 years, it will be very good.
The 200 employees team at Ripple is very efficient. If he did not have an efficient team, Ripple would not be in this final stage of development. The fact that Ripple has convinced over 100 banks to test their technology proves this. There will be a battle between traditionalism and the new blockchain technology. The war of conquering this huge market will be tough and will last for years. No doubt the blockchain technology will be imposed. Ripple and XRP will slowly but surely win a slice of this huge cross-border transfer market.
I think the year 2018 will be an important year in the development and use of the XRP as the buffer currency in cross-border payments. At the time I am writing this article, XRP/USD is quoted at $0.70. Everyone asks when we have a new leap in the XRP price? New partnerships with banks will be announced soon. According to latest information, XRP will be traded on Coinbase. But no doubt the news that will move the XRP price to $3-5 will be the use of XRP in cross-border payments. By then, HOLD!
"I don't think you can make a horse and buggy keep up with a race car"
(Brad Garlinghouse, Ripple CEO)