Ripple (XRP) Prices Raving, Hints Of A Possible Money Gram Induced Rally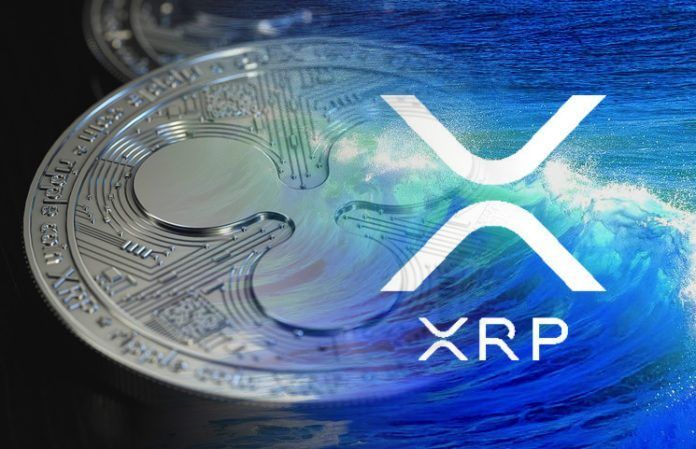 Latest Ripple (XRP) News
True, there is a lot of hype and even "bullshit" in the blockchain and cryptocurrency space. The misconception around what cryptocurrency is and what it represents can sometimes be offsetting. On one end, cryptocurrencies like Bitcoin blasted barriers, demonstrating successfully that a trustless platform powered by the masses is possible. 
Completely trustless and open source, the pioneering cryptocurrency has the attention of Ripple's CEO, Brad Garlinghouse. Insisting that the coin is never a threat to XRP and their solutions, he even said he is long BTC and expect the coin to surge in days ahead. 
Meanwhile, for all the media attention Facebook's Libra has generated, during the Fortune's Brainstorm Finance in Montauk, N.Y, the crypto leader said he'll gladly send a "case of champagne to David Marcus" because it's "going to be a record week for Ripple." 
Indeed, it has been a blast for Ripple. Not to be outdone and eclipsed by Facebook's Libra, the company announced their partnership with Money Gram. Through this deal, the struggling Fund Transfer firm will receive a $50 million injection and in exchange, they will incorporate xRapid in their platform. If anything, this is massive considering that Money Gram has a presence in over 200 countries, supporting over 72 fiat currencies. 
With xRapid, there will be demand for XRP which is nothing more than a bridge currency allowing for a simple yet effective point-to-point transfer of funds in a trustless, compliant and cheap manner eliminating the need of Nostro vostro accounts. It's a step in the right direction but even so, XRP is stagnant, stuck within a 10 cents range below the capping 50 cents liquidating level.
XRP/USD Price Analysis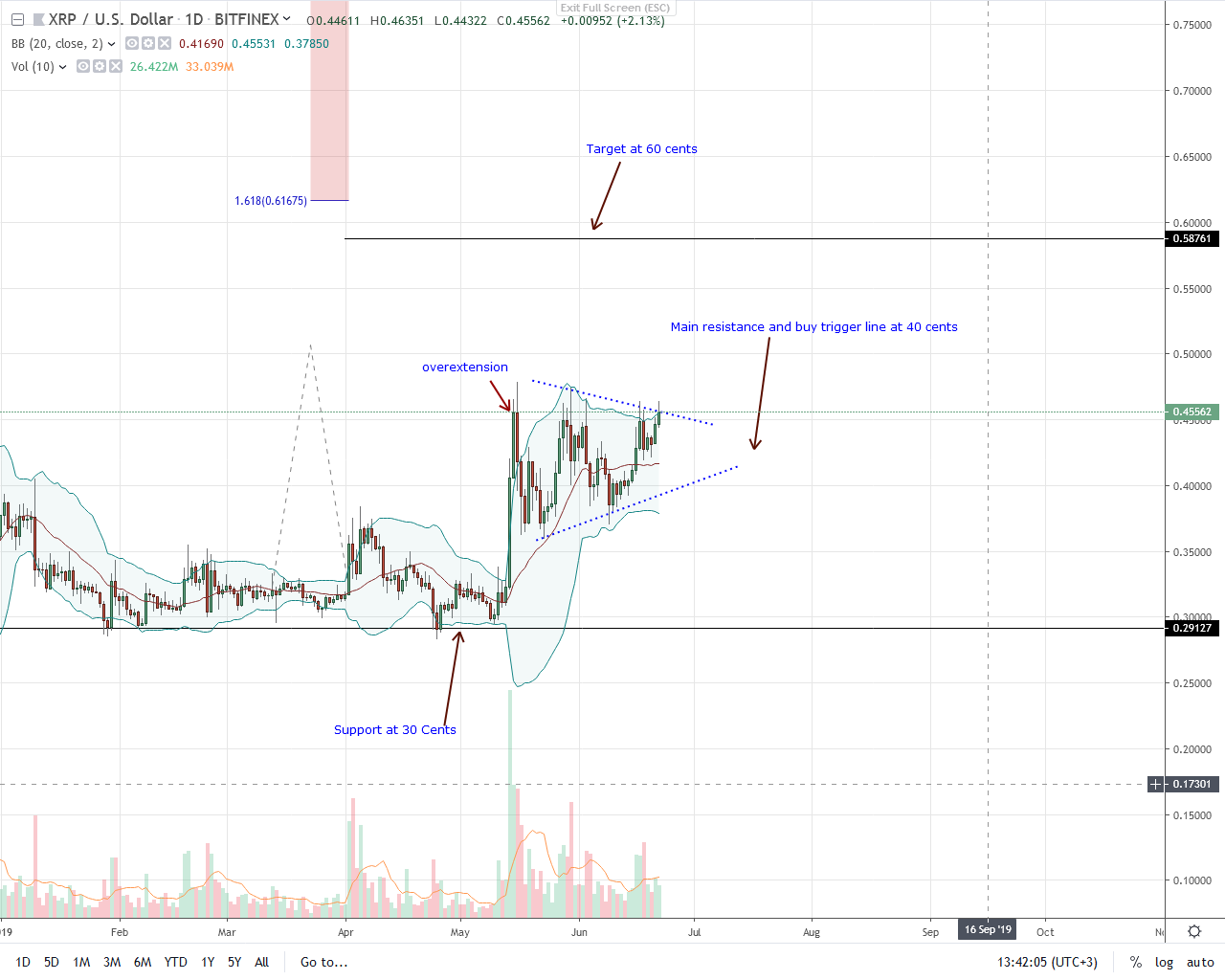 Keeping up with BTC rapidity, XRP is equally on a roll in the last week. Over the last week, it is trading 13.1percent higher and from this set-up, the path of least resistance is northwards. Note that XRP is technically bullish against the green back. 
In a bullish breakout pattern of mid-May 2019, the week ending May 19th anchors this trade plan. The bar was wide-ranging with a spike in participation levels retesting highs of 45 cents and setting the impetus for better XRP prices. 
Currently, XRP prices are within a bull flag with although conservative traders should wait for better entries once there is a clear cut surge and close above 50 cents, there is opportunity for aggressive traders to buy the dips. 
As long as bulls are maintaining XRP prices above 34 cents and most importantly 30 cents, targets will remain at 60 cents and later 80 cents. After all, Sep 2018 bull candlestick leads this trade plan as it is extensive with peaks at 80 cents from where current XRP/USD prices are oscillating in. 
Technically, any break above May highs of 50 cents with high trading volumes ideally exceeding 94 million will affirm underlying momentum and buyers of May 2019 and 80 cents as a target would be feasible.
Chart courtesy of Trading View—BitFinex
Disclaimer: Views and opinions expressed are those of the author and aren't investment advice. Trading of any form involves risk and so do your due diligence before making a trading decision.