Technical Analysis XRP/ USD 31/ 08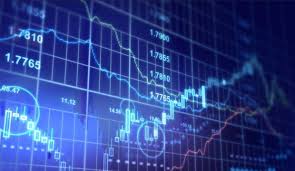 As we mentioned two days ago, the price moved within the range of $0.19 – $0.23 usd. The price oscillated very little, in a very narrow price channel of  $0,215-$0,225 usd. This move seems to be a consolidation, an attempt of the price to accumulate energy in order to break up the resistance line R1-0,23 usd.
You will also notice that a downward trend line has also formed (blue line).  To go up to R 2 – $0.30 usd, the price should break the two lines of resistance (downward trend line and R1 -$0.23).  The combination of these two lines of resistance will make it difficult to break  them. This break can be triggered  for  two reasons: the appearance of positive news or the appearance of whales to buy large volumes.
The resistance lines are:                                              The support lines are:
the descending trend line                                            S1 – 0,19usd
R1 – 0,23usd                                                                   S2 – 0,175usd
R2 – 0,30usd                                                                   S3 – 0.15usd
R3 – 0.42usd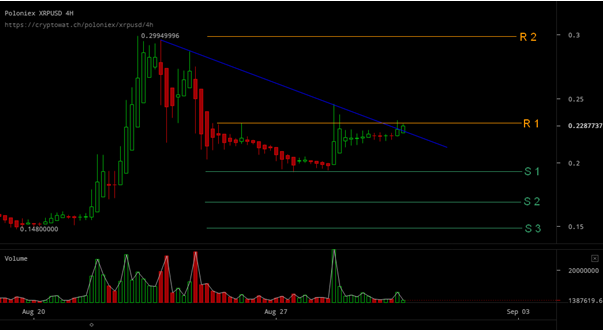 XRP / USD  tried yesterday a break of the two resistance lines. Traded volumes were small.
If these price levels are maintained, we have good news. Time will work in our favor. As time passes, the descending trend line will descend lower and lower. If the price does not go down, it will be able to stay above the trend line. It will be interesting to keep track of whether the price will stay above the trend line or it will fall below it. This way we will get rid of one of the resistance lines. We'll see what's going on.
Probable direction for the next two days:
Very hard to anticipate, right now  . If the price is kept above the descending trend line (blue) we may see a slight upward move to 0.25usd. However, we need to be aware that this move will be difficult to achieve without increasing traded volumes. It is very possible to see only a lateral, consolidation movement.
XRP / USD may be the best investment opportunity by the end of the year.  The basic rule to guide you is: buy cheap and sell high.
It should also be noted that the exchange of Poloniex on the Ripple XRP / BTC parity is a sales wall of about 60 million XRP. It's a big wall. For the price to go up that parity, that wall must be eaten by buyers.
Please watch traded volumes.  Volumes are an important indicator of large buyers entering the market.
Any positive news about Ripple, or negative movements of the Bitcoin price, may positively or negatively influence this technical analysis.