Technical analysis XRP/ USD 04/09/2017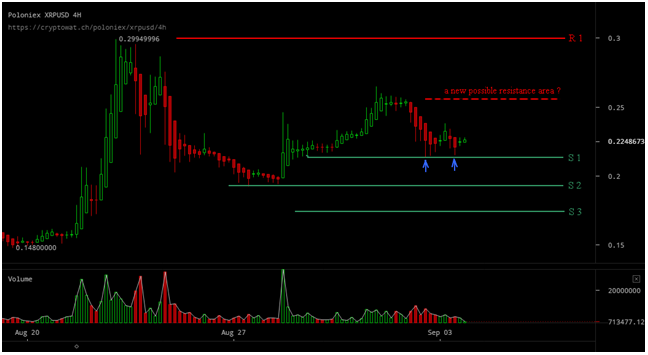 In the technical analysis two days ago, under the heading "Probable Direction for the next two days," we had two possible scenarios. Scenario 1, in which the BTC price dropped, and also XRP / USD synchronized on the decrease and the scenario 2 in which the price evolved normally. Whenever there are likely to occur such events, or we are waiting for news, I will offer two scenarios of price movement. So I think it's right. Readers of the analysis are given two possible scenarios, precisely in order to make informed decisions.
Yesterday, with the start of the BTC decline, the XRP/USD price synchronized perfectly with its decline. However, this downward movement, which has also occurred on XRP/USD, is not that bad, as it seems at first glance. This downward movement created a new S1 support area at $0.215. The price was rejected up twice at that level (blue arrows).
Further, the movement of the XRP / USD price will depend on the BTC price movement.
   The resistance lines are:                                               The support lines are:
           R1 –  0,30usd                                                                    S1 – 0,215usd
           R2 –  0.42usd                                                                    S2 – 0,19usd
                                                                                                      S3 – 0,175usd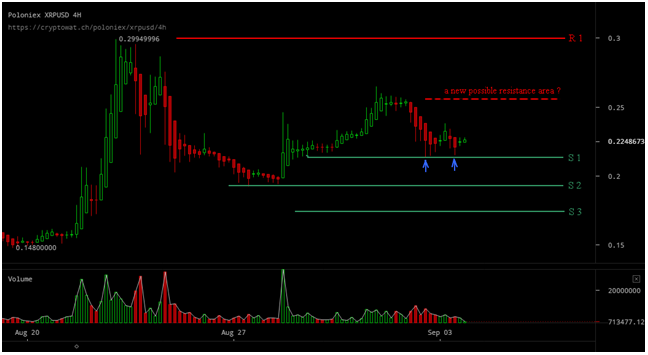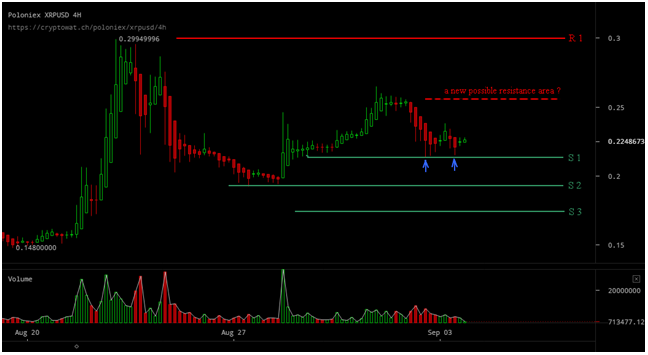 In order to be able to make an accurate technical analysis on XRP / USD, I should make a brief technical analysis on the BTC. It can be seen that $4350 usd represents a strong support area on the BTC. In the past that area was very hard to break and was a very difficult resistance area. The downward movement on the BTC is not aggressive at the moment. There have been previously down, much more aggressive moves on the BTC.
A more likely move would be a recovery, but we'll see what's going on.
Probable direction for the next two days: 
Uncertain, according to many technical indicators. XRP/USD will follow the BTC move.    XRP/USD could be decoupled from the BTC move, if really important news is coming up. The $0.265 usd area could represent a new XRP/USD resistance area.
For daily traders and for buy and hold buyers, this drop was an ideal opportunity to buy cheap XRP / USD.
Any positive news about Ripple, or negative movements of the Bitcoin price, may positively or negatively influence this technical analysis.